W. Tennis Tops No. 20 Cal, 5-2, for Yaroshuk-Tews' 400th Win
CORAL GABLES, Fla. – The University of Miami women's tennis team won a top-20 showdown Saturday afternoon at the Neil Schiff Tennis Center, defeating No. 20 Cal, 5-2.
No. 16 Miami (4-1) took the first four points of the match on the way to clinching the 400th victory of head coach Paige Yaorshuk-Tews' illustrious 22-year tenure at The U.
"Listen, honestly, it's an accumulation of some unbelievable players that have come through this program and an incredible athletic department that believes in me and supports me. [It has come from] just a whole lot of fun, a whole of competition and a whole lot of good times on the tennis court," Yaroshuk-Tews shared. "Honestly, 400 is a number I can't even wrap my head around, but the kids have put in the work. The players have put in the work … and that's their number. That's not my number."
Featuring a new doubles lineup, Miami got off to a fast start behind the strong play of junior Audrey Boch-Collins and freshman Mia Mack. The duo raced past Berta Passola Folch and Hannah Viller Moeller, 6-1.
The other two matches were both tight, but the Hurricanes pushed through for a victory in a top-20 affair atop the lineup. Fifth-year senior Daevenia Achong and redshirt sophomore Alexa Noel, together ranked No. 17, edged No. 12 Jessica Alsola and Katja Wiersholm, 6-4, to give Miami a 1-0 lead.
The Cal (2-2) tandem of Haley Giavara and Erin Richardson held 6-5 advantage and a match point on the Miami pair of junior Isabella Pfennig and fourth-year junior Maya Tahan when play stopped.
Each team took three opening sets in singles, but the Hurricanes quickly erased any hopes of a comeback by the visitors by closing out all three of their advantageous matches.
First, Boch-Collins sealed a 6-4, 6-0 decision versus Richardson and then, minutes later, No. 14 Noel defeated Giavara, 6-3, 6-1, to increase the edge to 3-0.
It did not take long for Tahan to then lock up Yaroshuk-Tews' milestone triumph with a 6-3, 6-4 win over Passola Folch.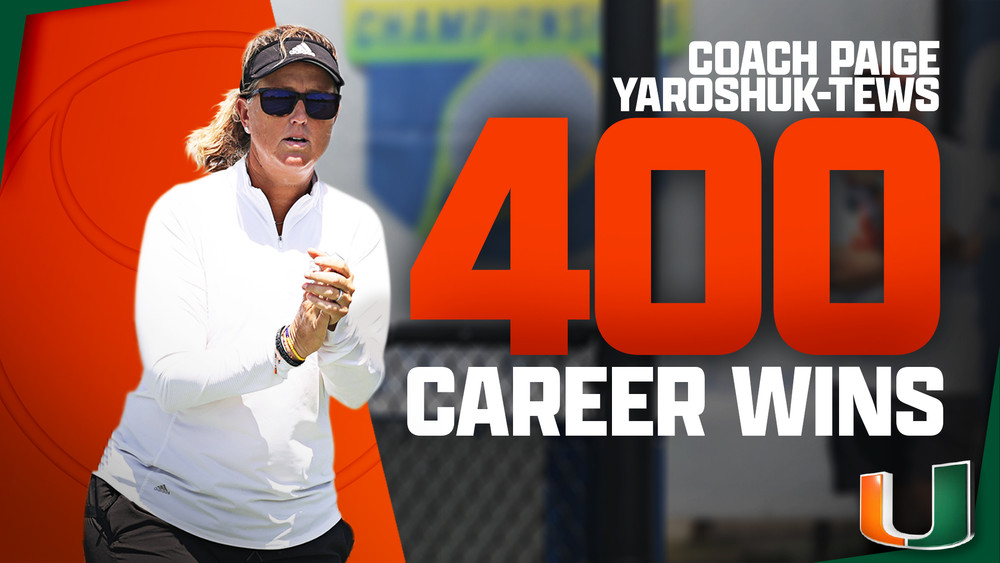 The remaining three matches were all played out, with Wiersholm getting the Golden Bears on the board by downing No. 121 Achong, 6-2, 6-2.
Each of the final two matches featured a split and a 10-point tiebreaker, with both staying on-court for approximately 50 minutes after the prior five ended. They then ended nearly simultaneously.
Mack defeated Viller Moeller in comeback fashion, 3-6, 6-3, 1-0 (11-9), to tack on Miami's fifth and final point of the day. No. 22 Alsola then held off a valiant effort from Pfennig to earn a narrow 6-4, 6-7 (2-7), 1-0 (10-4) victory and make it a 5-2 final score.
"Cal is a great team. They play a tough type of tennis. They play California tennis, which means you're up on the baseline … and you're making us feel uncomfortable," Yaroshuk-Tews said. "They're ball-strikers. We did a good job today of figuring it out. Not entirely happy with the tennis we played. We did not play good doubles and we played good singles in a couple spots, but we need to play good singles in six spots. We count the 'W' today, which is what we needed to do, but [there are] lots of things we need to improve upon, quite honestly, as a program."
With the win, Yaroshuk-Tews improved to a dazzling 400-139 (.742) in her decorated coaching tenure, all of which has come at Miami.
A member of the University of Miami Sports Hall of Fame, Yaroshuk-Tews is a two-time ITA Southeast Region Coach of the Year. She owns 349 victories as an ACC head coach, good for fifth-most in league history and just two shy of fourth place.
The Hurricanes are back in action Feb. 24 at 4 p.m. when they square off with Boston College in Weymouth, Mass., to begin ACC play.
To keep up with the University of Miami women's tennis team on social media, follow @CanesWTennis on Twitter, Instagram and Facebook.
RESULTS
Doubles Competition
1. No. 17 Daevenia Achong/Alexa Noel (UM) def. No. 12 Jessica Alsola/Katja Wiersholm (CAL), 6-4
2. Haley Giavara/Erin Richardson (CAL) def. Isabella Pfennig/Maya Tahan (UM), 6-5, unf.
3. Audrey Boch-Collins/Mia Mack (UM) def. Berta Passola Folch/Hannah Viller Moeller (CAL), 6-1
Singles Competition
1. No. 14 Alexa Noel (UM) def. Haley Giavara (CAL), 6-3, 6-1
2. No. 22 Jessica Alsola (CAL) def. Isabella Pfennig (UM), 6-4, 6-7 (2-7), 1-0 (10-4)
3. Katja Wiersholm (CAL) def. No. 121 Daevenia Achong (UM), 6-2, 6-2
4. Mia Mack (UM) def. Hannah Viller Moeller (CAL), 3-6, 6-1, 1-0 (11-9)
5. Maya Tahan (UM) def. Berta Passola Folch (CAL), 6-3, 6-4
6. Audrey Boch-Collins (UM) def. Erin Richardson (CAL), 6-4, 6-0