Six from W. Tennis Named to All-ACC Academic Team
CORAL GABLES, Fla. – Six members of the University of Miami women's tennis team garnered All-ACC Academic Team recognition, as announced Thursday afternoon.
Daevenia Achong, Audrey Boch-Collins, Diana Khodan, Isabella Pfennig, Eden Richardson and Maya Tahan all received the distinction for their success on the court and in the classroom during the 2021-22 academic year.
Since the honors were started in 2006, this is the first time six Hurricanes have made the cut, eclipsing the prior record of five in both 2012 and 2019. Miami is one of just three schools with at least a half-dozen designees this year, alongside Duke and North Carolina.
An ITA All-American and First Team All-ACC pick, Achong co-led Miami in both singles (29-13) and doubles (29-11) wins, en route to finishing No. 42 and sixth in the nation, respectively. The fourth-year junior, who reached the NCAA Doubles Championship final, graduated in May with a 3.748 GPA and a degree in finance. She previously made the All-ACC Academic Team in 2019.
Boch-Collins, a sophomore in her first year at The U, co-led the Hurricanes in singles wins with a splendid 29-10 mark that included a 17-5 ledger in dual matches. A criminology major with a 3.744 GPA, Boch-Collins also went 17-10 in doubles and posted the first ranked singles win of her career.
Khodan, a third-year sophomore, recorded a superb 19-9 singles record before suffering a season-ending injury in early April. Khodan, who owns a 3.542 GPA as an art major, also went 18-10 in doubles, including 5-3 versus ranked opponents, on her way to taking the No. 55 spot in the year-end ITA rankings. She also received All-ACC Academic Team plaudits in 2021.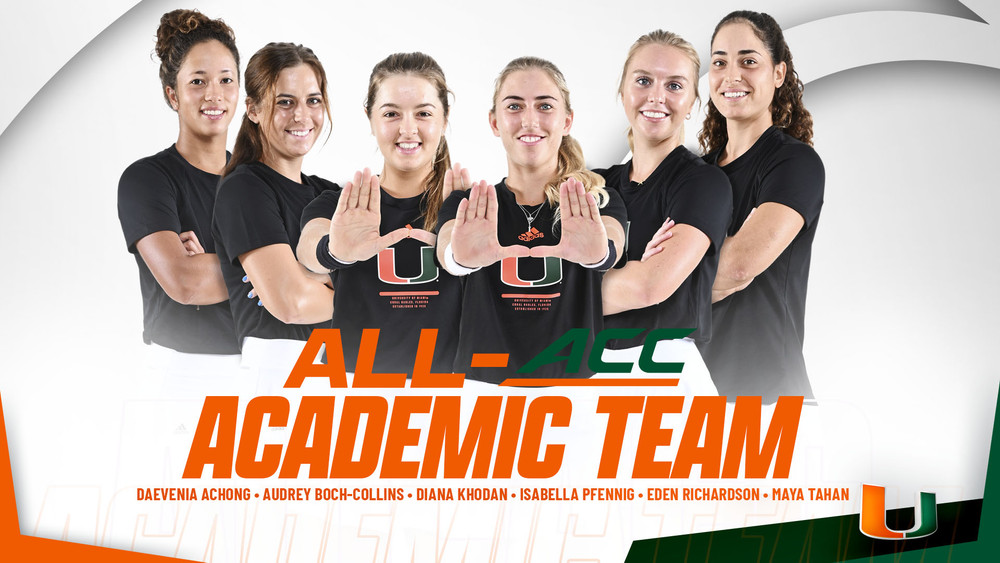 A Third Team All-ACC selection, Pfennig finished 23-15 in singles, including 17-5 in dual matches, as well as 18-11 in doubles. An economics major who also made the All-ACC Academic Team last year and finished the year No. 88 nationally in singles, the sophomore sports a spectacular 3.987 GPA as an economics major.
An ITA All-American, First Team All-ACC honoree and NCAA Doubles Championship finalist, Richardson played atop the lineup in both singles and doubles, en route to ending 2021-22 with 19-15 and 29-11 respective marks. Richardson, who placed No. 46 nationally in singles and sixth in doubles, tallied a 3.875 GPA in her graduate sport administration program, earning a master's degree from Miami in May.
Tahan finished the 2021-22 campaign with a 19-14 singles ledger that included the first ranked triumph of her career. A psychology major with a 3.311 GPA who particularly excelled this spring with a 3.88 mark, she also went 20-12 in doubles action, including 5-4 versus ranked duos, and finished No. 55 in the country.
Miami has placed at least one player on the All-ACC Academic Team each year since the honor started in 2006. At least three players have made the cut all but twice (2006 and 2017).
In order to be eligible for the All-ACC Academic Team, an individual must have at least a 3.0 GPA for the spring semester and for her collegiate tenure as a whole. The complete selections can be found HERE.
To keep up with the University of Miami women's tennis team on social media, follow @CanesWTennis on Twitter, Instagram and Facebook.