W. Tennis Tops No. 23 Notre Dame, 5-2
CORAL GABLES, Fla. – The University of Miami women's tennis team wrapped up its 2023 regular season home slate with a top-25 victory Saturday afternoon, defeating No. 23 Notre Dame, 5-2, at the Neil Schiff Tennis Center.
After dropping the doubles point, No. 14 Miami (13-5, 8-3 ACC) dominated singles play and tallied five straight-set victories to improve to 6-4 this year against top-25 foes, including 6-3 in its last nine such outings.
"I wasn't happy with the way we played [in doubles]. We got up, we got a little sloppy, we lost our rhythm and we just simply weren't good enough to get it back, period," Miami head coach Paige Yaroshuk-Tews said. "They play a little unorthodox and we just kind of let them take the rhythm away from us. In singles, I thought we did a great job. We played straightforward, played smart. They're a little tricky at one, two and three, but we took care of business. We did what we needed to do."
Notre Dame (13-9, 4-7 ACC) opened the day with a 6-3 doubles win from Carrie Beckman and Bojana Pozder against junior Audrey Boch-Collins and freshman Mia Mack.
The Hurricanes, though, quickly leveled the tally. Fifth-year senior Daevenia Achong, who was honored before the match during senior day festivities, and fourth-year junior Maya Tahan, together ranked No. 52, defeated Page Freeman and Maria Olivia Castedo, 6-4.
The decisive match, though, went to the Fighting Irish in narrow fashion. Rylie Hanford and Yashna Yellayi edged redshirt sophomore Alexa Noel and junior Isabella Pfennig, together ranked No. 16, by a slim 7-5 margin to put the visitors on top.
Once singles began, Miami quickly turned the tide, taking five opening sets. It closed out all five of those without needing a third and even got a split in the sixth.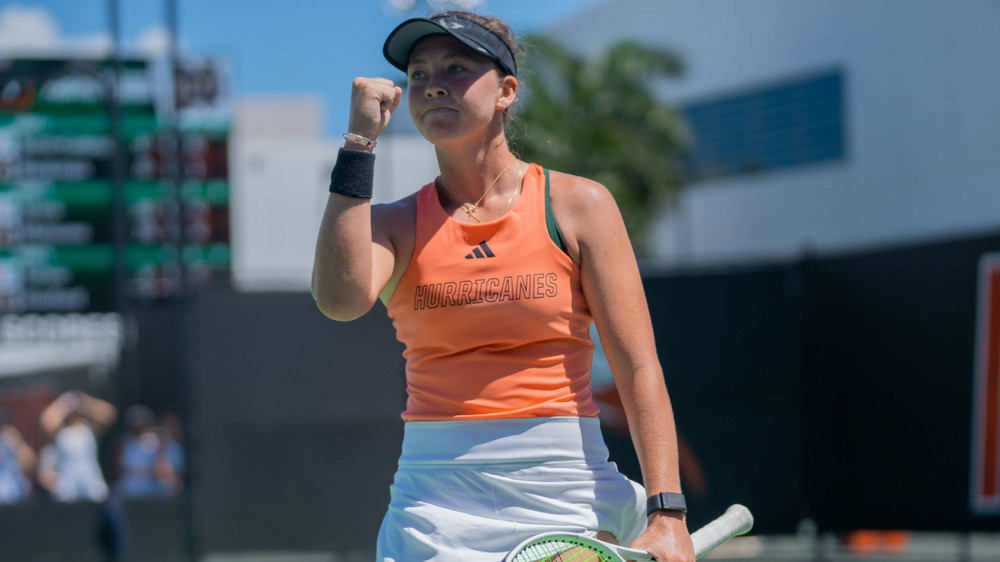 Tahan evened the score at 1-1 by beating Hanford, 6-1, 6-0. With minutes, No. 84 Pfennig gave Miami a lead it would not relinquish by topping Yellayi, 6-0, 6-1.
Boch-Collins extended the margin to 3-1 with a 6-3, 6-1 victory over Beckman and then, in the lone matchup between two ranked players, seventh-ranked Noel took down No. 53 Freeman, 6-3, 6-4, to seal the win.
Both remaining matches were played out, with the first triumph going to Miami, as Mack logged a 6-2, 6-4 result versus Akari Matsuno.
Although No. 106 Achong dropped a hard-fought 4-6, 6-2, 0-1 (4-10) decision to Pozder, it did not dampen the celebration of her illustrious career Saturday.
A two-time All-ACC honoree, two-time All-ACC Academic Team selection, four-time ACC Player of the Week, 2022 ITA All-American and 2022 NCAA Doubles Championship finalist—alongside Eden Richardson, who flew in to attend Saturday's match—Achong is one of the most accomplished players in the program's storied history.
"Daev has been an incredible leader for the program. I think she's been an incredible representative for the school. She's a very hard-working, straightforward student-athlete. She leads the program well. She's an extension of myself in the locker room and, I think, outside of the locker room. As a coach, that's what you always need on your team. She has at ton to do with our success, playing where she plays in the lineup, but more importantly, just controlling the locker room in different aspects of the team that need to be controlled, especially when you're always bringing in new blood. So, [she is] an incredible girl who means a lot."
Miami begins the final weekend of the regular season in Clemson, S.C., where it plays Friday at 3 p.m. against No. 32 Clemson.
To keep up with the University of Miami women's tennis team on social media, follow @CanesWTennis on Twitter, Instagram and Facebook.
RESULTS
Doubles Competition
1. No. 52 Daevenia Achong/Maya Tahan (UM) def. Page Freeman/Maria Olivia Castedo (ND), 6-4
2. Rylie Hanford/Yashna Yellayi (ND) def. No. 16 Alexa Noel/Isabella Pfennig (UM), 7-5
3. Carrie Beckman/Bojana Pozder (ND) def. Audrey Boch-Collins/Mia Mack (UM), 6-3
Singles Competition
1. No. 7 Alexa Noel (UM) def. No. 53 Page Freeman (ND), 6-3, 6-4
2. Bojana Pozder (ND) def. No. 106 Daevenia Achong (UM), 6-4, 2-6, 1-0 (10-4)
3. No. 84 Isabella Pfennig (UM) def. Yashna Yellayi (ND), 6-0, 6-1
4. Audrey Boch-Collins (UM) def. Carrie Beckman (ND), 6-3, 6-1
5. Mia Mack (UM) def. Akari Matsuno (ND), 6-2, 6-4
6. Maya Tahan (UM) def. Rylie Hanford (ND), 6-1, 6-0