W. Tennis Opens 2022 with Strong Showing at Home
CORAL GABLES, Fla. – The University of Miami women's tennis team started its 2022 campaign this weekend on its home court at the Neil Schiff Tennis Center.
Facing stiff competition from top-ranked Texas, eighth-ranked NC State and Vanderbilt, the Hurricanes went 14-12 overall at the Miami Spring Invite. The mark includes a 10-10 tally in singles and a 4-2 ledger in doubles, the latter of which featured three fewer matches than initially planned, due to Sunday rain.
"We played a lot of great tennis this weekend. [We faced] high-level teams and had quite a bit of success," Miami head coach Paige Yaroshuk-Tews said. "I'd like to see us defining our weaknesses a little earlier and then just being relentlessly disciplined in taking the right path and not looking back."
To open the weekend, Miami went 3-4 in singles against the Commodores. Fifth-year senior Eden Richardson topped Dasha Kourkina, 7-5, 6-7 (3-7), 6-0, in a lengthy affair. Third-year sophomore Nada Dimovska also went three sets before defeating MaryAnn Rompf, 2-6, 6-4, 6-2. Sophomore Audrey Boch-Collins, meanwhile, turned in a dominant 6-0, 6-1 win against Yufei Long.
The Hurricanes wrapped up play on Saturday by posting a 2-1 doubles mark against Texas, the reigning national champion. Eden and fourth-year junior Daevenia Achong, together ranked No. 40, tallied a 6-3 win over Kylie Collins and Peyton Stearns, the former of whom made the 2021 NCAA Doubles Championship title match. Boch-Collins and sophomore Isabella Pfennig blanked Gabby Cusano and Simran Kortikere, 6-0.
Sunday morning, Miami played NC State in singles and split six matches, while a seventh remained unfinished due to weather, which also wiped out the planned doubles contests against Vanderbilt.
Richardson posted the biggest win of the weekend, with an impressive comeback victory over eighth-ranked Jaeda Daniel. After dropping the first set, the Bath, England, native took each of the next two to log a 2-6, 6-4, 6-4 triumph.
No. 104 Achong defeated Priska Nugroho, 6-3, 7-6 (7-4), while Boch-Collins also earned a comeback decision, topping Sophie Abrams, 4-6, 6-3, 6-1. Third-year sophomore Maya Tahan did not finish her match versus Amelia Rajecki until Monday, but she won in a 4-6, 6-1, 7-6 (7-2) result to give the Hurricanes a 4-3 mark versus the Wolfpack.
After Tahan's victory to open play Monday, Miami met NC State in three singles matches, notching a 2-1 mark and dropping the third in a 13-11 tiebreaker. Achong and Richardson downed Racjeki and Abigail Rencheli, 6-3, while Khodan and Tahan beat Daniel and Nell Miller, 6-4.
To conclude the invitational, the Hurricanes met Texas in six singles matches and registered a 3-3 mark. Boch-Collins tacked on another win to finish the weekend 3-0 in singles and did so by taking down the ranked player for the first time as a collegian, earning a 7-6 (7-5), 6-2 decision against No. 117 Malaika Rapolu.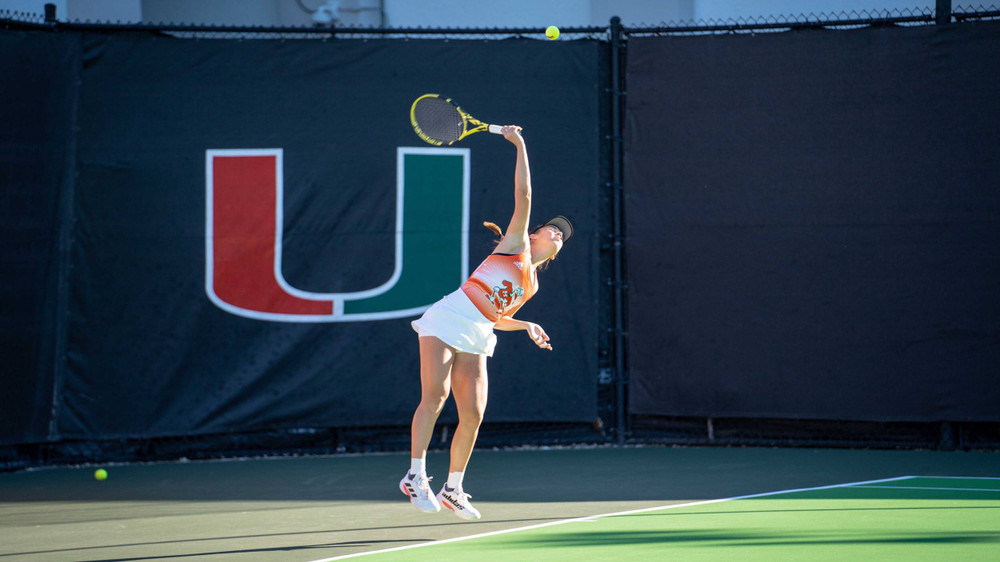 "Boch-Collins and Richardson had pretty incredible weekends," Yaroshuk-Tews said. "They both stayed true to their tennis and played complete matches; it showed in their results. They've been refreshing additions."
Tahan posted a 6-2, 6-1 victory over Cusano, while Khodan added a 6-1, 6-2, triumph versus Kortikere to seal the split against the Longhorns.
Up next for the Hurricanes is their first dual match of the season, slated for Wednesday at 1 p.m. against FGCU in Fort Myers, Fla.
To keep up with the University of Miami women's tennis team on social media, follow @CanesWTennis on Twitter, Instagram and Facebook.
SATURDAY RESULTS

Singles
Anna Ross (VU) def. No. 76 Isabella Pfennig (UM), 6-4, 6-3
No. 112 Anessa Lee (VU) def. No. 104 Daevenia Achong (UM), 6-4, 6-3
Eden Richardson (UM) def. Dasha Kourkina (VU), 7-5, 6-7 (3-7), 6-0
Audrey Boch-Collins (UM) def. Yufei Long (VU), 6-0, 6-1
No. 96 Marcella Cruz (VU) def. Diana Khodan (UM), 6-4, 6-1
Holly Staff (VU) def. Maya Tahan (UM), 7-5, 6-3
Nada Dimovska (UM) def. MaryAnn Rompf (VU), 2-6, 6-4, 6-2
Peyton Stearns (TX) def. No. 8 Jaeda Daniel (ST), 6-4, 6-3
No. 40 Kylie Collins (TX) def. No. 25 Abigail Rencheli (ST), 2-6, 6-1, 6-4
Charlotte Chavatipon (TX) def. Priska Nugroho (ST), 6-7 (6-8), 6-1, 6-4
No. 117 Malaika Rapolu (TX) def. Sophie Abrams (ST), 7-5, 3-6, 6-2
Nell Miller (ST) def. Gabby Cusano (TX), 6-0, 6-1
Sara Nayar (ST) def. Simran Kortikere (TX), 6-3, 6-1
Amy Stevens (VU) def. Amelia Rajecki (ST), 3-6, 6-4, 6-2
Doubles
No. 40 Daevenia Achong/Eden Richardson (UM) def. Kylie Collins/Peyton Stearns (TX), 6-3
Charlotte Chavatipon/Malaika Rapolu (TX) def. Diana Khodan/Maya Tahan (UM), 7-6 (7-3)
Audrey Boch-Collins/Isabella Pfennig (UM) def. Gabby Cusano/Simran Kortikere (TX), 6-0
Amelia Rajecki/Abigal Rencheli (ST) def. Dasha Kourkina/Anna Ross (VU), 6-4
Jaeda Daniel/Nell Miller (ST) def. Marcella Cruz/Amy Stevens (VU), 6-4
Yufei Long/MaryAnn Rompf (VU) def. Sara Nayar/Priska Nugroho (ST), 6-3
SUNDAY RESULTS

Singles
Eden Richardson (UM) def. No. 8 Jaeda Daniel (ST), 2-6, 6-4, 6-4
No. 25 Abigail Rencheli (ST) def. No. 76 Isabella Pfennig (UM), 4-6, 6-3, 7-5
No. 104 Daevenia Achong (UM) def. Priska Nugroho (ST), 6-3, 7-6 (7-4)
Audrey Boch-Collins (UM) def. Sophie Abrams (ST), 4-6, 6-3, 6-1
Nell Miller (ST) def. Diana Khodan (UM), 6-4, 6-2
Sara Nayar (ST) def. Nada Dimovska (UM), 6-3, 6-4
Peyton Stearns (TX) def. No. 112 Anessa Lee (VU), 6-3, 6-0
Anna Ross (VU) def. Charlotte Chavatipon (TX), 6-3, 6-4
No. 40 Kylie Collins (TX) def. No. 96 Marcellz Cruz (VU), 6-3, 6-3
Malaika Rapolu (TX) def. Holly Staff (VU), 4-6, 6-4, 6-3
Dasha Kourkina (VU) def. Simran Kortikere (TX), 6-2, 6-0
Yufei Long (VU) def. Gabby Cusano (TX), 6-3, 6-3
Doubles
CANCELED DUE TO WEATHER
MONDAY RESULTS 
Singles
Maya Tahan (UM) def. Amelia Rajecki (ST), 4-6, 6-1, 7-6 (7-2) (started Sunday)
Peyton Stearns (TX) def. Eden Richardson (UM), 6-3, 6-2
No. 40 Kylie Collins (TX) def. No. 76 Isabella Pfennig (UM), 3-6, 6-4, 6-4
Charlotte Chavatipon (TX) def. No. 104 Daevenia Achong (UM), 6-2, 6-4
Audrey Boch-Collins (UM) def. No. 117 Malaika Rapolu (TX), 7-6 (7-5), 6-2
Maya Tahan (UM) def. Gabby Cusano (TX), 6-2, 6-1
Diana Khodan (UM) def. Simran Kortikere (TX), 6-1, 6-2
Anna Ross (VU) def. No. 8 Jaeda Daniel (ST), 7-5, 6-1
No. 112 Anessa Lee (VU) def. No. 25 Abigail Rencheli (ST), 6-3, 7-5
Priska Nugroho (ST) def. Holly Staff (VU), 6-1, 6-2
Nell Miller (ST) def. Amy Stevens (VU), 6-3, 6-3
No. 96 Marcella Cruz (VU) def. Sophie Abrams (ST), 6-3, 6-3
Amelia Rajecki (ST) def. Dasha Kourkina (VU), 6-3, 6-7 (4-7), 7-6 (7-2)
Sara Nayar (ST) def. MaryAnn Rompf (VU), 7-5, 6-4, 1-0 (10-8) 
Doubles
No. 40 Daevenia Achong/Eden Richardson (UM) def. Amelia Rajecki/Abigail Rencheli (ST), 6-3
Diana Khodan/Maya Tahan (UM) def. Jaeda Daniel/Nell Miller (ST), 6-4
Sara Nayar/Priska Nugroho (ST) def. Audrey Boch-Collins/Isabella Pfennig (UM), 7-6 (13-11)
Charlotte Chavatipon/Peyton Stearns (TX) def. Anna Ross/Holly Staff (VU), 6-3
Marcella Cruz/Yufei Long (VU) def. Kylie Collins/Malaika Rapolu (TX), 6-4
Dasha Kourkina/Anessa Lee (VU) def. Gabby Cusano/Simran Kortikere (TX), 6-2