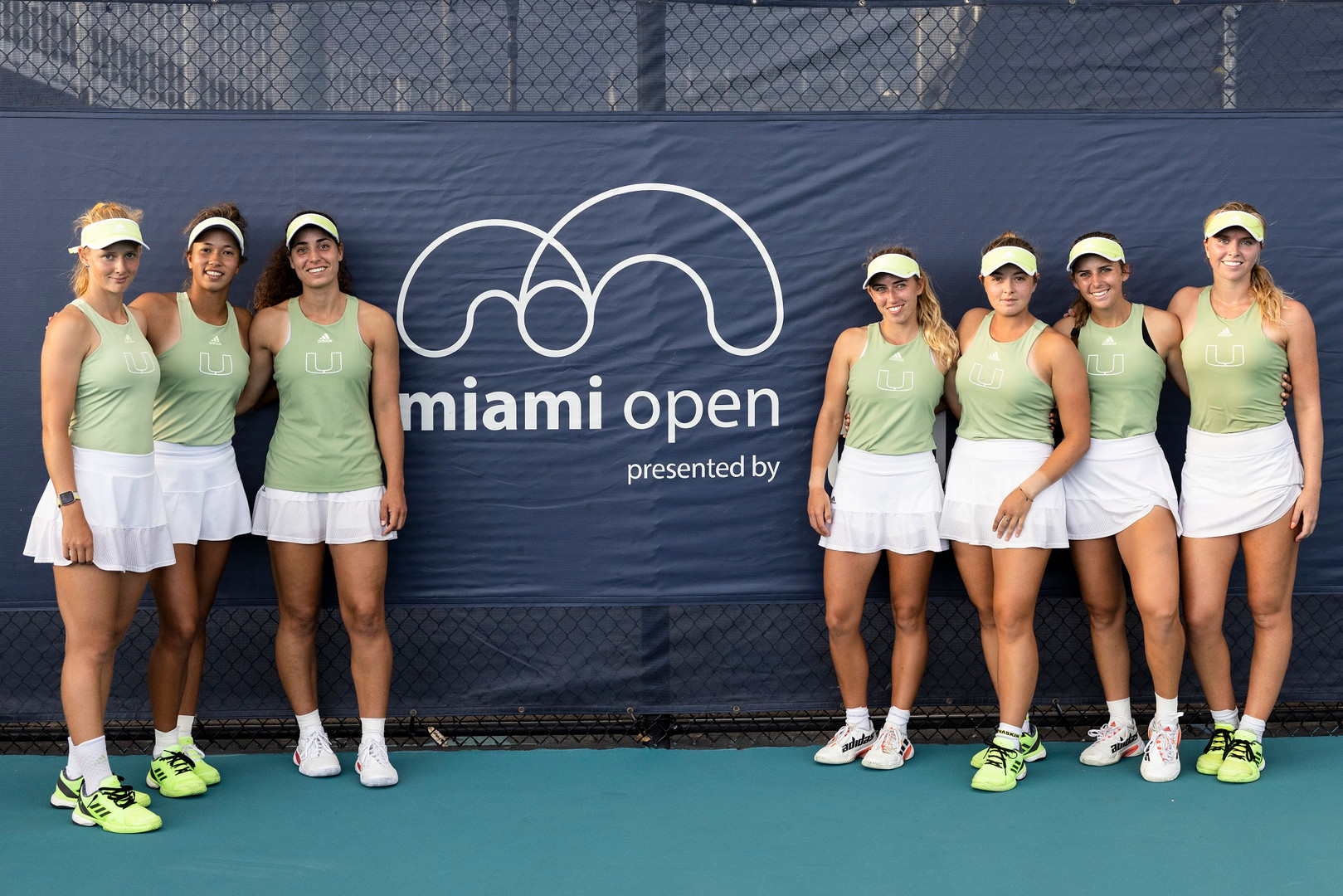 MIAMI GARDENS, Fla. – There was a point Friday afternoon when Maya Tahan glanced up at the large video screen that dominates the outer façade of Hard Rock Stadium and it hit her.
She was playing tennis at the Miami Open at the very same time some of the world's top professionals were doing the exact same thing on Stadium Court.
It was a surreal – and very exciting – thought.
"Everything was amazing, actually," Tahan said. "From the vibe and all the people that came and cheered, the courts. You see the big screen and the pros are playing while we're playing. It was such a great experience. It was different, but I just really enjoyed the atmosphere."
Tahan and her teammates had the opportunity of a lifetime Friday when Miami's women's tennis team took to some of the outer courts at the Miami Open to face Columbia as part of the first collegiate match ever played at the prestigious tournament that regularly hosts some of the biggest names on both the ATP and WTA tour.
And with the match scheduled in between the tournament's men's semifinals, the Hurricanes found themselves playing before a spirited group of tennis fans who made their way out to the courts and filled not only the bleachers, but a nearby rooftop patio and lounge overlooking the playing area.
Some of those fans even watched through the windscreens bordering the courts, while others wandered through the open walkways for a closer look at the action.
The sixth-ranked Hurricanes put on a show for all of them, earning a dominant 6-1 victory over No. 58 Columbia. Miami (13-3, 7-2 ACC) won the first six points of the match and dropped just four total sets on the day.
That the Hurricanes did that in an unfamiliar setting, with plenty of spectators watching and distractions all around only made their performance that much more significant, Miami head coach Paige Yaroshuk-Tews said after the win.
"I'm always a coach that's very careful of the situations you put your kids in. You've got to be careful. You've got to make sure that they have fun and they enjoy it, but they stay on task, stay in their lanes," Yaroshuk-Tews said. "That's kind of what we were talking about this week. I wanted them to have fun and enjoy this, but I also wanted them to understand Columbia's a solid team and they're out here to take us down. That's what it comes down to and I think they did a great job. I give Columbia a lot of credit. They played well."
Playing Friday's match on-site wasn't the only part of the Hurricanes' Miami Open experience.
The team traveled to Hard Rock twice last week for practices and had the opportunity to meet with tournament director James Blake, a former ATP pro who was ranked as high as No. 4 in the world during his career and was also recognized as the tour's Comeback Player of the Year in 2005 and Arthur Ashe Humanitarian of the Year in 2008.
That meeting, too, left an impression on the Hurricanes.
"He shared his experience and told his story about playing tennis in college and it was great to just meet him, talk to him and hear from someone that has so much experience," said Hurricanes tennis player Diana Khodan. "It was nice to meet with him."
Added fourth-year junior Daevenia Achong, "It was really cool to have him out there and talk to him about his college experience. We got to ask him a couple questions, so it was definitely really nice to have him."
As to what the Hurricanes hope to take from their experience at Hard Rock Stadium and the Miami Open, Yaroshuk-Tews said she believes playing in a larger venue in uncomfortable situations can only help make Miami's players better as ACC play continues and the conference championships loom later this month.
Yaroshuk-Tews also said she hopes the Miami Open will continue to showcase collegiate tennis at future tournaments, adding that she'd love for the Hurricanes to return in coming years.
"You're always looking to grow your team, develop your team and get them tougher in tough situations, uncomfortable situations. This was not a comfortable situation, but it was fun," the veteran coach said. "It was rather neutral, I think.  Just a lot of people that wanted to watch good tennis. It's only going to make them better. It's going to make everyone better. Columbia better, us better, college tennis better…
"I think every year we should bring out teams and grow this, for our kids, for other kids, for everyone. I want this to be like a destination where people are like 'Wow, we want to play Miami at the Miami Open.' Why not?"