W. Tennis Sweeps Boston University, 4-0, in NCAA Opener
CORAL GABLES, Fla. – Competing in the NCAA Team Championship for the 27th consecutive time, the No. 14-seeded University of Miami women's tennis team started in style with a 4-0 win Friday afternoon against Boston University.
No. 15-ranked Miami (16-7, 9-4 ACC) took the doubles point and then dominated singles play from start to finish at the Neil Schiff Tennis Center to earn a 21st straight appearance in the Round of 32, a streak that goes back to head coach Paige Yaroshuk-Tews' first season in charge back in 2002.
In addition, the Hurricanes moved to 28-1 in NCAA Team Championship play at home, logging a 27th such win in a row. Miami has now posted a first-round sweep all 15 times it has hosted (2005-16, 2018 and 2022-23) and in 17 of the last 18 tournaments in total.
"It's where the program is. We're shooting to be a top team in the country. So, you've got to come out here and take care of your first round of the NCAA tournament," Miami head coach Paige Yaroshuk-Tews said. "You've got to take care of your second round and you've got to get into the third round of the tournament and try to make some noise. [We are] just kind of doing our job and doing what we're supposed to do, I think."
The Hurricanes got off to a strong start in doubles, as the No. 51-ranked duo of fifth-year senior Daevenia Achong and fourth-year junior Maya Tahan rolled past Erica Di Battista and Kaitlin Tan, 6-1. The other two matches, though, were close.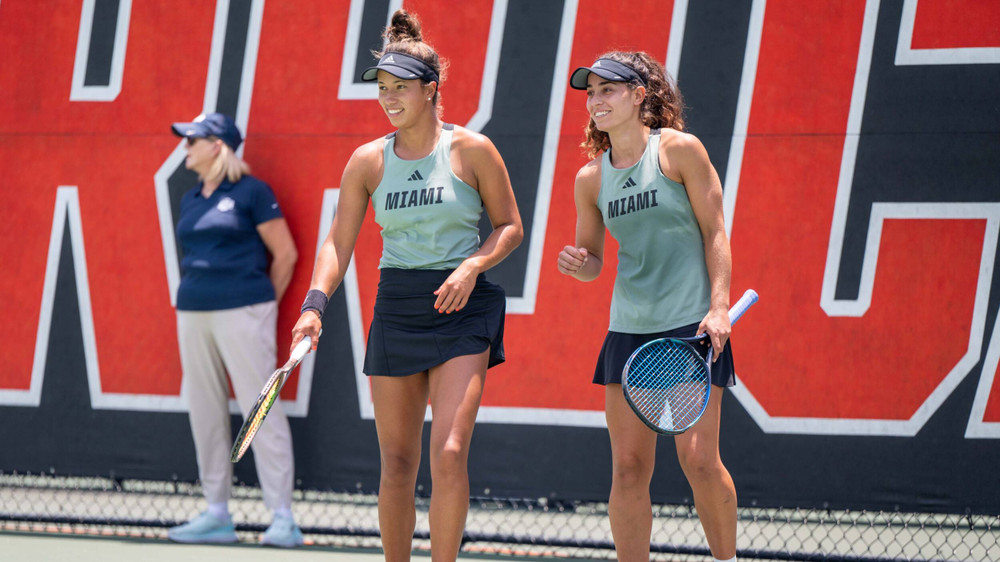 Redshirt sophomore Alexa Noel and junior Isabella Pfennig, together ranked No. 32, dropped the first three games against the Boston University (19-5, 5-0 PL) pair of Michelle Kleynerman and Shelly Yaloz. However, they rattled off six wins in a row to take the match, 6-3, and give Miami a 1-0 lead.
Junior Audrey Boch-Collins and freshman Mia Mack ended their match versus Victoria Carlsten and Emily Zhao in a 4-4 deadlock.
The Hurricanes jumped out to a commanding lead on nearly every singles court, taking 30 of the first 31 games across the six matches. Four different Miami players won their opener without a dropping a single game.
Tahan cruised to a 6-0, 6-0 victory—the first by a Hurricane in 2022-23—over Zhao to double the edge. Her unblemished win was the first by a Miami player since Boch-Collins' result against No. 10 Duke's Margaryta Bilokin on March 27, 2022.
Approximately 20 minutes later, Mack extended the advantage up to 3-0 by defeating Navya Vadlamudi, 6-0, 6-3.
A trio of Hurricanes were in a clinch game at the same time, with each possessing the chance to seal the triumph for Miami. Ultimately, No. 88 Pfennig did so with a 6-1, 6-3 decision versus Carlsten.
Fifth-ranked Noel and No. 105 Achong both held 6-0, 5-2 leads and were two points away from winning when play was halted against Yaloz and Kleynerman, respectively.
Additionally, in the lone match not close to completion, Boch-Collins led Tan, 6-4, giving Miami the edge on all six courts.
"I think we played pretty clean tennis. I think we did our job," Yaroshuk-Tews said. "I asked the girls to make sure they're in a good spot getting off the court today, heading into tomorrow, and I think we did that."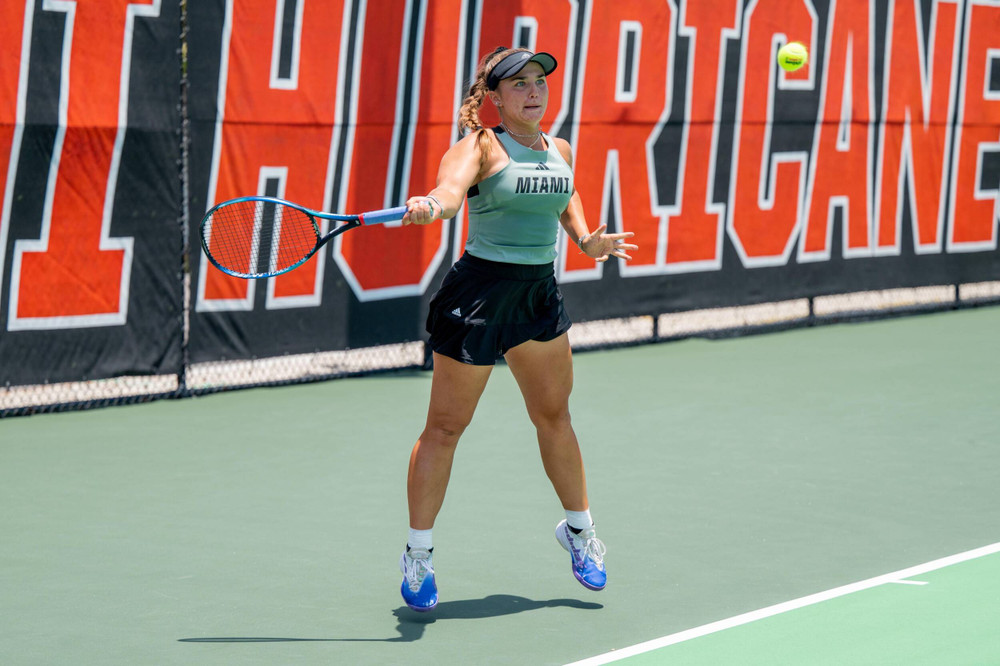 Miami has now recorded at least one sweep in 20 of its last 21 NCAA appearances, with 2019 the lone exception. In total, Yaroshuk-Tews now owns 170 sweeps in her 22 years as the Miami head coach, including 113 since 2009 and 74 since 2013. Nine the team's 16 wins this season have come via shutout.
The Hurricanes, with Friday's victory, improved to 58-36 all-time in the NCAA Team Championship, good for the 10th-most wins of any Division I program in the country.
Miami now squares off with No. 18 Auburn in a Round of 32 matchup slated for Saturday at 1 p.m. at the Neil Schiff Tennis Center, with the winner advancing to the Sweet 16 next weekend.
To keep up with the University of Miami women's tennis team on social media, follow @CanesWTennis on Twitter, Instagram and Facebook.
RESULTS
Doubles Competition
1. No. 51 Daevenia Achong/Maya Tahan (UM) def. Erica Di Battista/Kaitlin Tan (BU), 6-1
2. No. 32 Alexa Noel/Isabella Pfennig (UM) def. Michelle Kleynerman/Shelly Yaloz (BU), 6-3
3. Audrey Boch-Collins/Mia Mack (UM) vs. Victoria Carlsten/Emily Zhao (BU), 4-4, unf.
Singles Competition
1. No. 5 Alexa Noel (UM) vs. Shelly Yaloz (BU), 6-0, 5-2, unf.
2. No. 105 Daevenia Achong (UM) vs. Michelle Kleynerman (BU), 6-0, 5-2, unf.
3. No. 88 Isabella Pfennig (UM) def. Victoria Carlsten (BU), 6-1, 6-3
4. Audrey Boch-Collins (UM) vs. Kaitlin Tan (BU), 6-4, unf.
5. Mia Mack (UM) def. Navya Vadlamudi (BU), 6-0, 6-3
6. Maya Tahan (UM) def. Emily Zhao (BU), 6-0, 6-0