W. Tennis Finishes Third in ITA Southeast Region
CORAL GABLES, Fla. – The University of Miami women's tennis team placed third in the ITA Southeast Region year-end rankings, as announced Friday.
The Hurricanes have now finished top-six in the Southeast every year since the 2010 regional realignment. Miami has earned a top-four positions in all but two of those years (2018 and 2021).
In 2023, the Hurricanes logged a 19-6 (9-4 ACC) record and advanced to the NCAA Team Championship Round of 32. They capped the season at No. 16 in the ITA national rankings.
Three Hurricanes also claimed spots in the final ITA Southeast Region singles rankings, with redshirt sophomore Alexa Noel checking in at second to pace the group. Junior Isabella Pfennig took the No. 10 spot and fifth-year senior Daevenia Achong came in at No. 13.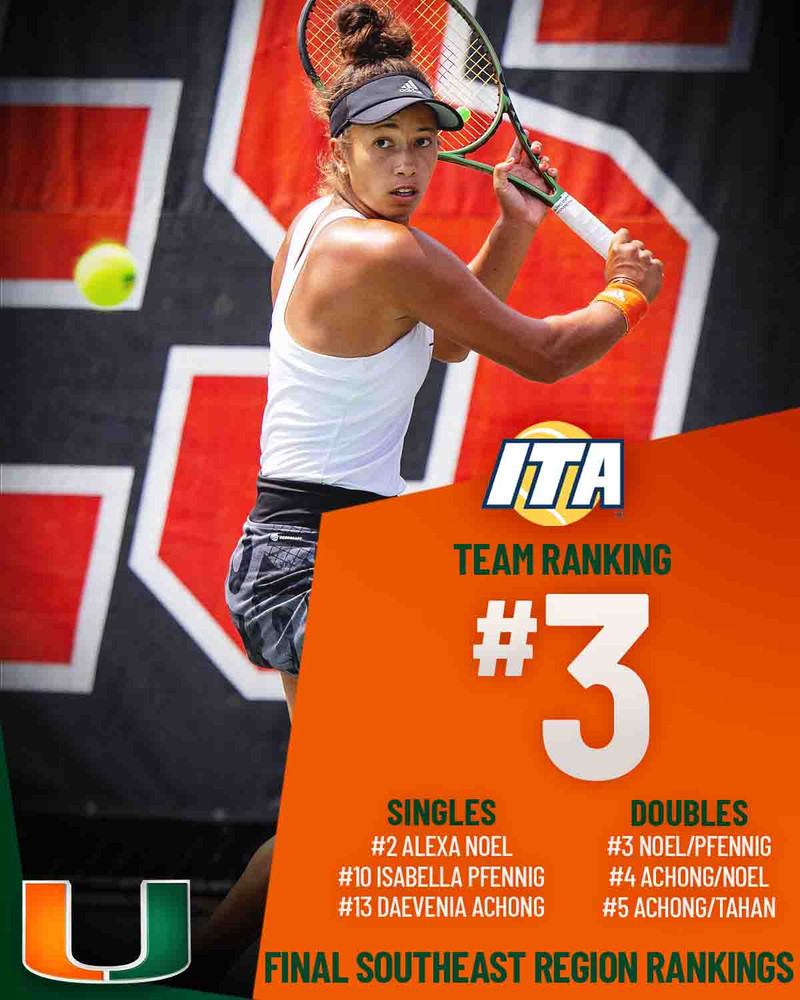 Miami and Georgia were the only two schools with three-plus singles players on the top 15 of the 20-player list.
Additionally, a trio of Miami tandems made the cut in doubles, finishing back-to-back-to-back. Noel and Pfennig placed third, followed by Achong and Noel at fourth and then by Achong and fourth-year junior Maya Tahan at fifth.
While Miami had three doubles teams in the top five, no other schools were represented thrice in any spots on the 10-pair list.
The year-end ITA rankings across all 12 regions can be found HERE.
To keep up with the University of Miami women's tennis team on social media, follow @CanesWTennis on Twitter, Instagram and Facebook.