W. Tennis Drops 4-3 Heartbreaker to No. 24 Iowa State
CORAL GABLES, Fla. – After conceding the doubles point, the University of Miami women's tennis team raced out to a 3-1 lead Sunday afternoon against No. 24 Iowa State, but could not find the decisive final point in a 4-3 setback.
No. 10 Miami (2-1) won eight sets in singles during the three-and-a-half-hour contest, but needed one more in the ITA Kick-Off Weekend finale at the Neil Schiff Tennis Center.
"I think the better team won, quite honestly. I think you have to give credit to Iowa State," Miami head coach Paige Yaroshuk-Tews said. "They played very aggressive from beginning to end and we were playing a little too short in the court. They were putting themselves in positive positions and we were struggling to get out of them."
Iowa State (4-1) jumped out to a 3-0 lead on all three doubles courts, but the Hurricanes quickly began to work their way back on each one. However, the early deficits proved too much to overcome.
Sofia Cabezas and Miska Kadleckova defeated junior Audrey Boch-Collins and freshman Mia Mack, 6-3, for the Cyclones' first point. Minutes later, Anna Supapitch Kuearum and Thasaporn Naklo edged fifth-year senior Daevenia Achong and fourth-year junior Maya Tahan, 6-4, to clinch the opening point.
Redshirt sophomore Alexa Noel and junior Isabella Pfennig, who won five straight games after dropping the first three, held a 5-4 lead on Ange Oby Kajuru and Xinyi Nong when play stopped.
The Hurricanes began to turn the tide in singles play, as they took five of six opening sets, including each of the first four.
Tahan gave Miami its first point of the day, as she completed an impressive 6-2, 6-1 showing against Chie Kezuka.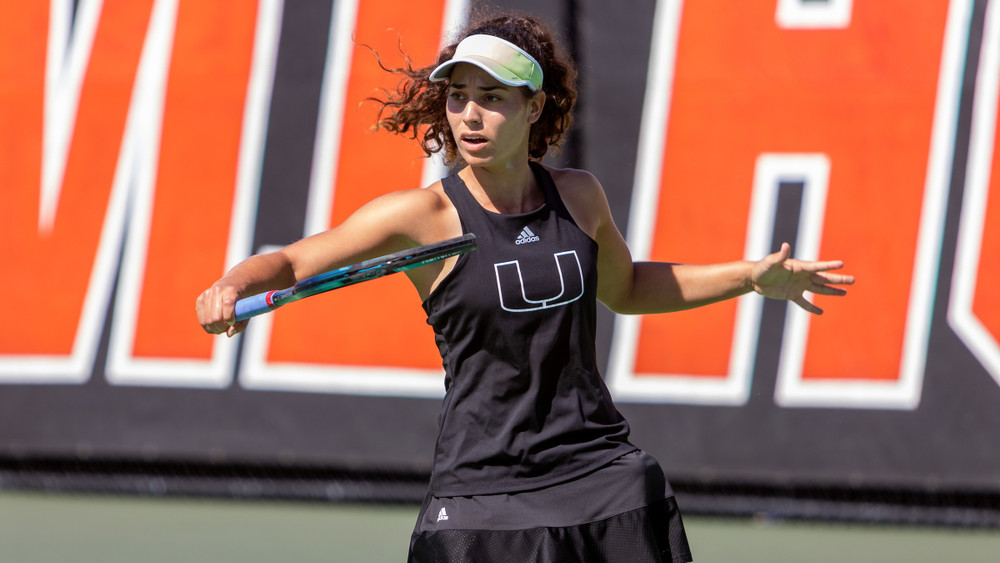 Within 10 minutes, No. 123 Pfennig gave the Hurricanes their first lead of the day, as she took down No. 80 Kuearum, 6-3, 6-4. The Gauting, Germany, native clinched the ranked showdown by breaking at deuce.
Mack eventually extended Miami's edge to 3-1 in stellar fashion, as she fought off four break points in the 10th game of set two to hold and earn a 7-5, 6-4 decision against No. 114 Cabezas. It marked the first ranked win of her young career.
Just moments later, Iowa State doubled its point total, as Kadleckova took the final six games against Boch-Collins for a 6-3, 6-4 result to make it 3-2, still in favor of the home team.
The Cyclones forced third sets in each of the final two matches and, once there, took command in each. Kajuru raced out to a 5-2 lead on No. 60 Achong, while No. 57 Naklo grabbed a 5-3 advantage over No. 14 Noel.
Miami, though, would not go away. Achong took three straight games to make it 5-5, while Noel fought off a match point and then went up 40-15 in the 10th game. That was as close as the Hurricanes got in each, though.
Naklo won the final three points to defeat Noel, 4-6, 6-3, 6-4, in the latter's first collegiate dual match defeat. Kajuru then won the last four points on the adjacent court to claim a 2-6, 6-4, 7-5 decision over Achong and give Iowa State a 4-3 victory.
"I think that, kind of, the rhythm of the match went their way after doubles. Typically, if we lose the doubles point, we don't really carry it forward. But I think that doubles affected us today a little bit and we can't let them happen," Yaroshuk-Tews said. "But, once again, listen, I give a lot of credit to Iowa State. I think their energy, their enthusiasm, the way they played, they way they came after us—I think it caught us by surprise a little bit at some positions. We can't let that happen if we want to win matches like that. But, look, I'm proud of the effort. Our girls laid it out there today. It was just that they were a little bit better than us."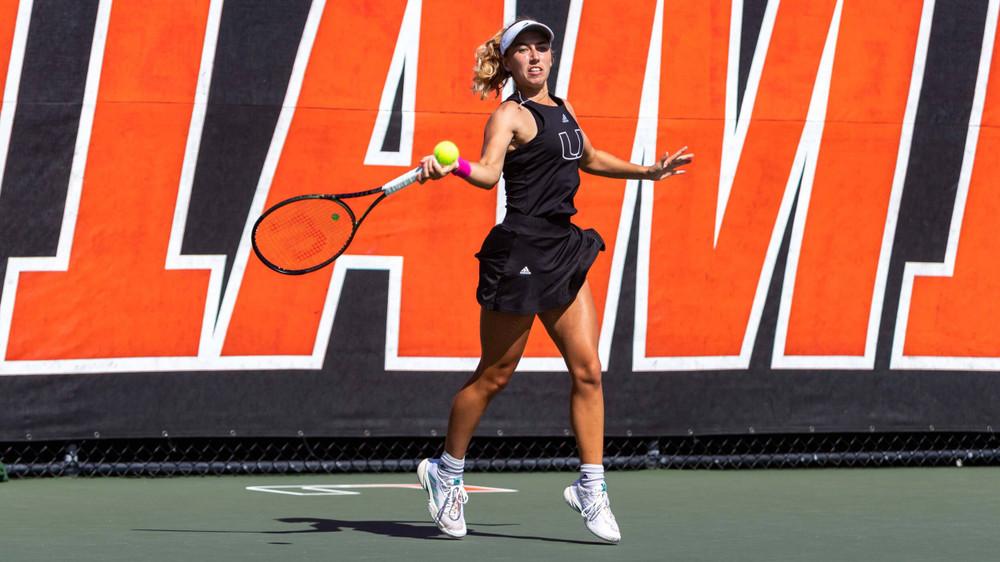 The Hurricanes are back in action Friday at noon when they square off with FGCU at the Neil Schiff Tennis Center.
To keep up with the University of Miami women's tennis team on social media, follow @CanesWTennis on Twitter, Instagram and Facebook.
RESULTS
Doubles Competition
1. Anna Supapitch Kuearum/Thasaporn Naklo (IS) def. Daevenia Achong/Maya Tahan (UM), 6-4
2. Alexa Noel/Isabella Pfennig (UM) vs. Ange Oby Kajuru/Xinyi Nong (IS), 5-4, unf.
3. Sofia Cabezas/Miska Kadleckova (IS) def. Audrey Boch-Collins/Mia Mack (UM), 6-3
Singles Competition
1. No. 57 Thasaporn Naklo (IS) def. No. 14 Alexa Noel (UM), 4-6, 6-3, 6-4
2. Ange Oby Kajuru (IS) def. No. 60 Daevenia Achong (UM), 2-6, 6-4, 7-5
3. No. 123 Isabella Pfennig (UM) def. No. 80 Anna Supapitch Kuearum (IS), 6-3, 6-4
4. Miska Kadleckova (IS) def. Audrey Boch-Collins (UM), 6-3, 6-4
5. Mia Mack (UM) def. No. 114 Sofia Cabezas (IS), 7-5, 6-4
6. Maya Tahan (UM) def. Chie Kezuka (IS), 6-2, 6-1