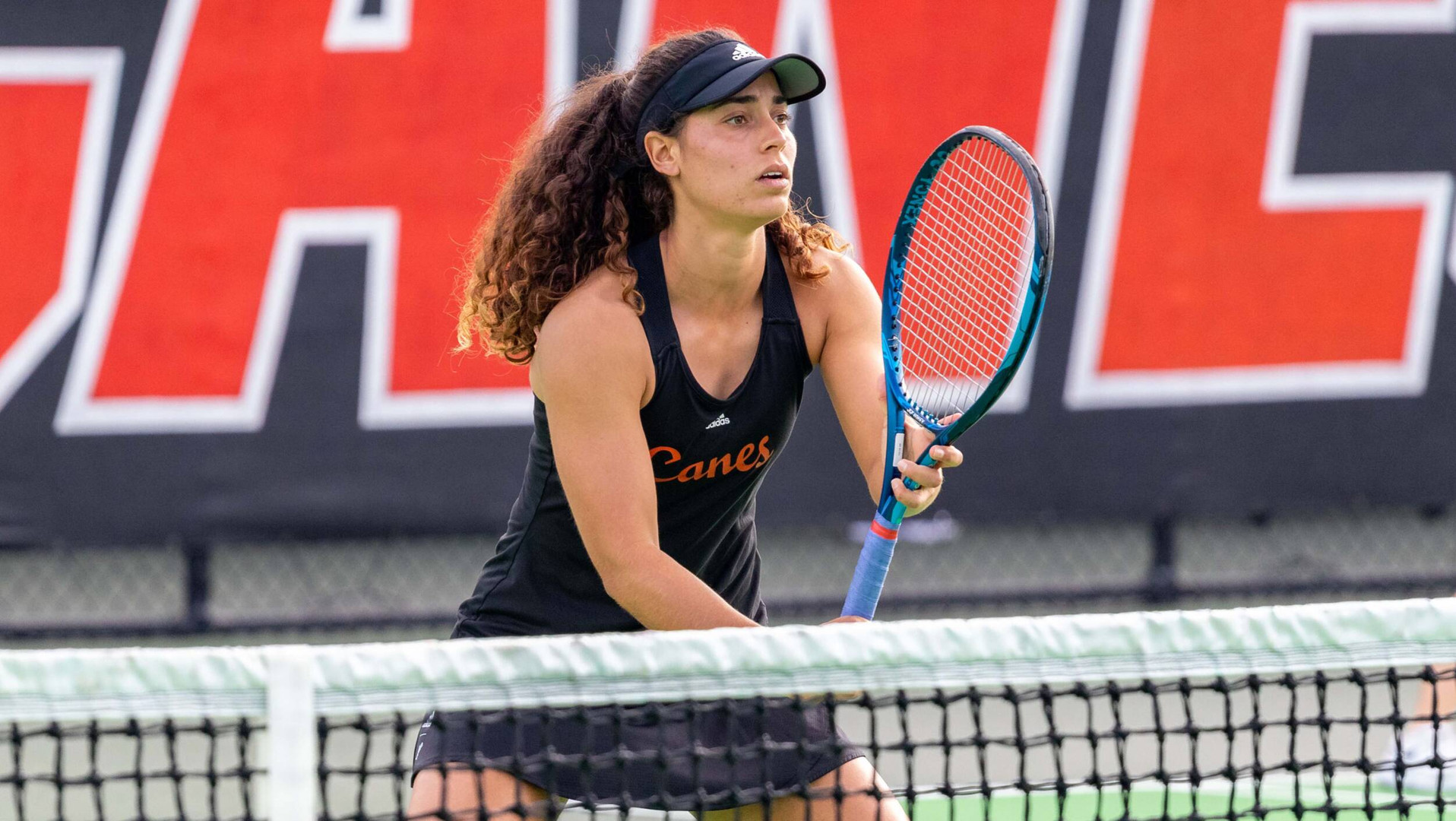 CORAL GABLES, Fla. – The University of Miami women's tennis team is now ranked sixth in the country, its highest mark in six years.
The Hurricanes have moved up on the ITA list in seven consecutive weeks behind consistent impressive performances against some of the toughest teams in America.
Most recently, Miami (12-3, 7-2 ACC) faced two of them in a three-day span at the Neil Schiff Tennis Center. After falling to top-ranked, undefeated North Carolina, 6-1, in a match that was much closer than the score indicated, the Hurricanes rebounded to defeat No. 10 Duke, 4-3, Sunday afternoon.
Coming off a dominant 6-1 win at No. 11 Virginia, the team's performance against back-to-back top-10 foes showed its resolve and depth of talent, both of which have been on display all season long.
"Well, obviously, we knew it was going to be a tough weekend," third-year sophomore Maya Tahan said. "…After Virginia, I think we were, overall, in a very good position as a team and we were very motivated to play this weekend, especially at home, against those teams. I think, after Friday, we all felt it was very close. I think almost every match [was tight and] even if it was two sets, it was like 7-6 or 7-5. So, we felt like [it was] the first date. We feel like if we meet them again, it would be much better. We believe in ourselves and our team and our teammates. And then on Sunday, it ended up being 4-3; I think we didn't play great, but we found a way to win."
Tahan, individually, had a strong performance in the Hurricanes' win over Duke when he team needed her most in an eventual one-point decision.
The Tel Mond, Israel, native logged the first ranked singles win of her career by defeating No. 89 Emma Jackson in an impressive 7-6 (7-4), 6-1 decision.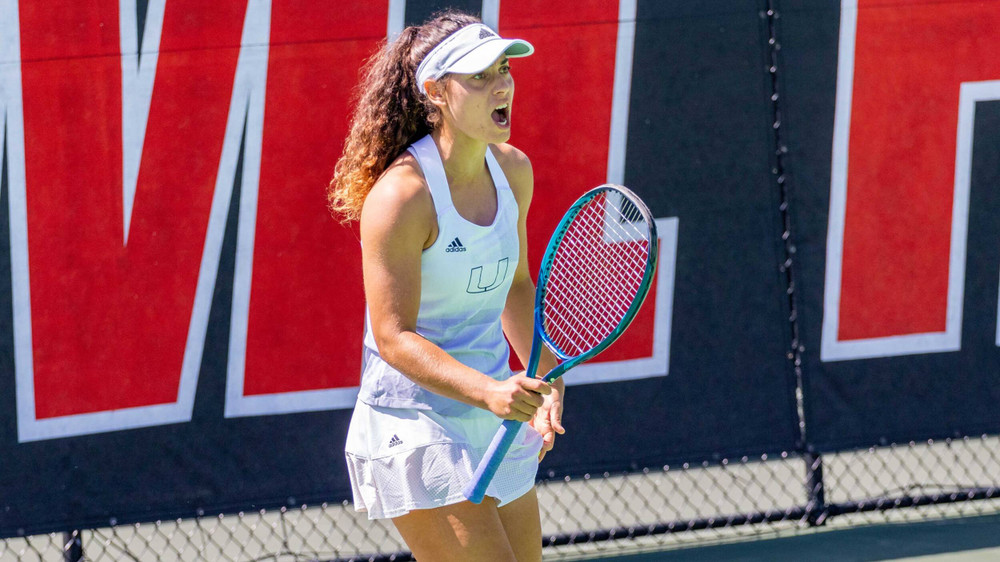 Tahan did not go into the match thinking about her opponent's ranking, though. In fact, she did not even know of it.
Rather, she went in focused on earning a point for Miami. The play of sophomore Audrey Boch-Collins on the next court over only amplified that goal.
"I'm just playing for my team. I was next to Audrey [and she] won, 6-0, 6-0," Tahan said. "I was like, 'Alright, that's really good.' [That is] someone to look to, to get motivated. Again, I think that we are all playing for the team and for each other. We are trusting the teammates playing next to us. We are trusting the coaches. We are having fun on the court and actually off the court, too. We are just going out there and doing work. If it works, good. If not, we keep going and working hard and going for the next match."
For Miami, that next match is a special one.
Friday at 3 p.m., the Hurricanes will face No. 58 Columbia at Hard Rock Stadium as part of the Miami Open. Action will take place on Courts 8-13 at the gorgeous Miami Gardens, Fla., venue.
While the team must approach this match as it would any other, there is no doubt it has some special sentimental value and 'wow' factor.
"We all think it's really cool. I don't think there is another team that does something like that," Tahan shared. "Wednesday was the first practice that we did there and we felt the court, we felt the vibe. We all really like it, but at the end of the day, we are going to play a college match there. So, we are still focused on the match and … the atmosphere, it's like a bonus. But at the end of the day, it's a business trip."
The Hurricanes are, of course, familiar with the Miami Open. Most people in South Florida—and many well beyond—are.
In fact, several members of the team went to Miami Gardens to take in the action Sunday evening after defeating Duke.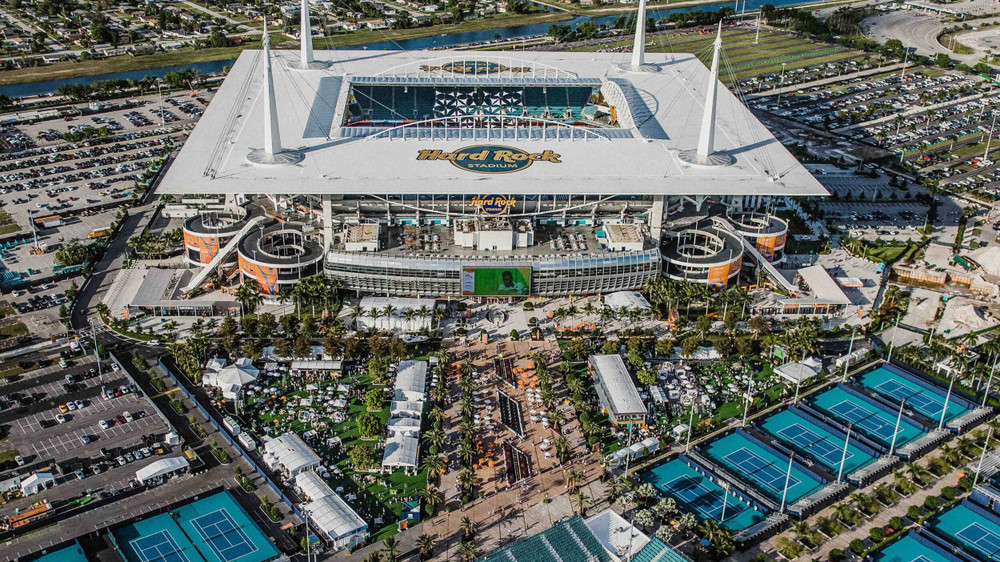 Tahan was part of that group and the 5-foot-8 right-hander could not help but ponder about what it will be like when she and her teammates are playing there. The chance to play on the same courts as high-level professionals only added additional excitement.
"Actually, when I watched it, I thought about how [it would be] to play there. Obviously, in the pro tour, it's very different," Tahan said. "It's pretty quiet … [whereas] in college matches, it's very loud and we all [have a lot of] energy and we're all playing as a team, it's not individual. So, to watch there and see the pros, you see the level, but you also see different things, it was cool.
"It gets you more motivated to see the level that the players [who play there are at, knowing] you are going to play there in the same week," Tahan continued.
Miami heads into Friday evening's matchup with three ranked singles players, as fifth-year senior Eden Richardson places No. 46, followed by fourth-year junior Daevenia Achong at No. 52 and sophomore Isabella Pfennig at No. 64.
The Hurricanes also have two doubles pairs in the ITA rankings. Achong and Richardson check in at No. 20 nationally, while Tahan and fellow third-year sophomore Diana Khodan hold the No. 62 spot.
Columbia started the season by winning 10 of its first 13 matches and now sports a 10-7 (0-1 Ivy) on the year. The Lions do not have any players or pairs featured in the national rankings.
Miami won the lone prior match between the two programs, posting a 6-1 home decision on March 14, 2016.
To purchase tickets for the Hurricanes' match at the Miami Open, fans can click HERE and use the promo code CANES22.
To keep up with the University of Miami women's tennis team on social media, follow @CanesWTennis on Twitter, Instagram and Facebook.