W. Tennis Sweeps Louisville, 7-0
CORAL GABLES, Fla. – The University of Miami women's tennis team recorded a 7-0 win Thursday afternoon against Louisville in its penultimate home match of the regular season.
No. 14 Miami (12-5, 7-3 ACC) did not drop a single set at the Neil Schiff Tennis Center and earned its sixth shutout victory of 2023.
"I think, in doubles, we could have started a little better. Obviously, we always want that, but at the same time, we ended up getting that point, which is 25 percent of [what we need to win] the overall match," Miami associate head coach Alex Santos said. "In singles, I think we did a good job overall, one to six. There are always things to work on, to implement and to execute better. At the end of the day, everybody is good and everybody will challenge us. I think we responded well to that."
Louisville (8-12, 0-10 ACC) pushed the Hurricanes in doubles, but not enough to snag a victory on any of the three courts.
Fifth-year senior Daevenia Achong and fourth-year junior Maya Tahan, together ranked No. 52, cruised their match, claiming a 6-1 win against Andrea Di Palma and Rhea Verma. The other two contests were both close.
Junior Audrey Boch-Collins and freshman Mia Mack tallied a 6-4 decision against Maria Campos and Sasha Gorchanyuk to give the opening point to Miami.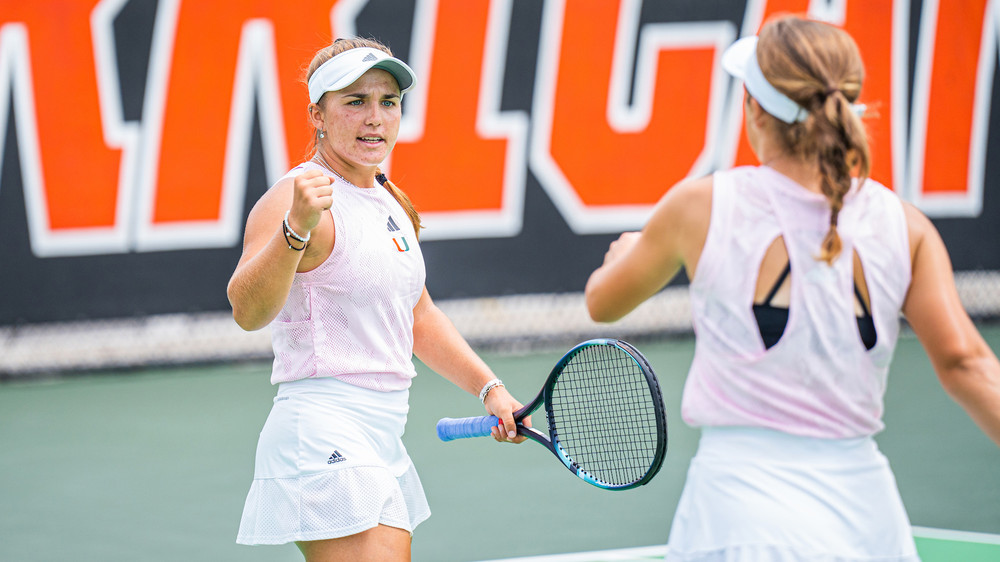 Meanwhile, redshirt sophomore Alexa Noel and junior Isabella Pfennig, together ranked No. 16, left their match against Jamilah Snells and Cici Xin unfinished while facing a 4-5 deficit. The pair trailed, 1-5, before winning the final three games to keep the Cardinals off the board.
Once singles began, it did not take long for No. 106 Achong to double Miami's lead, as she turned in a spectacular performance against Snells, notching a 6-0, 6-1 result.
Tahan extended the Hurricanes' advantage up to 3-0 with a 6-0, 6-3 triumph against Campos. The lone ranked matchup then proved to be the clincher, as seventh-ranked Noel defeated No. 109 Di Palma, 6-4, 6-2, to give Miami the win.
All three remaining matches were played to completion and the Hurricanes' next two points came in quick succession. Mack beat Xin, 6-4, 6-3, and Boch-Collins topped Tyra Richardson, 6-4, 6-3, to make it a 6-0 score.
No. 84 Pfennig sealed the unblemished victory by finishing off the tightest singles match of the day, a 6-3, 6-4 win over Verma.
Head coach Paige Yaroshuk-Tews now has 167 shutout wins in her 22-year tenure leading the Hurricanes, including 110 since 2009 and 71 since 2013. Half the team's victories this season have come via shutout, with three of their last four home matches ending as a 7-0 final score.
In addition, Miami is now 9-0 all-time against Louisville, logging five-plus points in all nine contests, six-plus in seven of them and posting a sweep in four.
The Hurricanes conclude the home portion of their regular season slate Saturday at noon when they host No. 23 Notre Dame at the Neil Schiff Tennis Center. Achong will be honored beforehand during Senior Day festivities.
To keep up with the University of Miami women's tennis team on social media, follow @CanesWTennis on Twitter, Instagram and Facebook.
RESULTS
Doubles Competition
1. No. 52 Daevenia Achong/Maya Tahan (UM) def. Andrea Di Palma/Rhea Verma (UL), 6-1
2. Jamilah Snells/Cici Xin (UL) vs. No. 16 Alexa Noel/Isabella Pfennig (UM), 5-4, unf.
3. Audrey Boch-Collins/Mia Mack (UM) def. Maria Campos/Sasha Gorchanyuk (UL), 6-4
Singles Competition
1. No. 7 Alexa Noel (UM) def. No. 109 Andrea Di Palma (UL), 6-4, 6-2
2. No. 106 Daevenia Achong (UM) def. Jamilah Snells (UL), 6-0, 6-1
3. No. 84 Isabella Pfennig (UM) def. Rhea Verma (UL), 6-3, 6-4
4. Audrey Boch-Collins (UM) def. Tyra Richardson (UL), 6-1, 6-2
5. Mia Mack (UM) def. Cici Xin (UL), 6-4, 6-3
6. Maya Tahan (UM) def. Maria Campos (UL), 6-0, 6-3