University of Miami Athletics
Alex Santos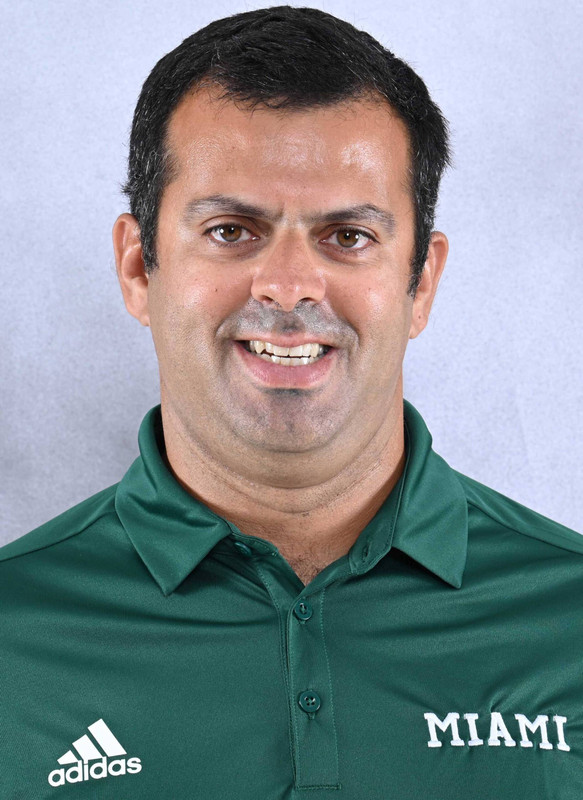 University of Miami head women's tennis head coach Paige Yaroshuk-Tews announced Dec. 1, 2020, the hiring of Alex Santos.
For Santos, the program's associate head coach, this is his second stint at Miami; he previously worked for Yaroshuk-Tews from 2009-13. Santos earned ITA National Assistant Coach of the Year recognition in his final season, before departing to become the head coach at Pittsburgh.
"I couldn't be happier to welcome Alex Santos back to the University of Miami women's tennis program," Yaroshuk-Tews said upon his re-hiring. "His attention to detail and work ethic are undoubtedly among the best in the country. He is a proven recruiter and our collective goals are to get this program back to national championship contention. Alex will be committed to this program and its success from day one and won't stop until our job is complete."
In his first year back at The U, Santos helped the Hurricanes post a 15-9 (8-5 ACC) mark in 2021, as they reached the NCAA Team Championship Round of 32 and finished No. 20 nationally. Miami earned two top-10 wins, beating eighth-ranked Virginia at home and sixth-ranked Florida State in the ACC Championship quarterfinals. Estela Perez-Somarriba went 24-3 on her way to reaching the NCAA Singles Championship title match and claiming ITA National Player of the Year honors. She also won ACC Scholar-Athlete of the Year, ITA Senior Player of the Year and ITA Southeast Region Cissie Leary Sportsmanship Award. Perez-Somarriba and Isabella Pfennig, who ended the year ranked No. 26 nationally, both garnered ITA All-America and All-ACC status, with the latter winning ITA Southeast Region Rookie of the Year. Two Hurricane duos competed in the NCAA Doubles Championship, each finishing top-30 nationally.
Santos initially came to Miami as a volunteer assistant in 2009-10 and then served as a graduate manager in the fall of 2010 before being elevated to a full-time assistant coaching position in the spring of 2011.
During his four years at Miami, Santos helped the Hurricanes to an 85-24 record that included a 36-8 ledger in ACC play and a 50-5 mark at home. The 85 victories are tied for the sixth-most in any four-year span in program history, with two of the five higher marks featuring three of Santos' seasons.
The Hurricanes not only won 20-plus matches in all four of Santos' seasons with the team, but reached the NCAA Elite Eight and finished in the ITA top 10 all four times. Their peak year-end ranking came in 2011 with a seventh-place finish. In 2013, Santos also aided Miami to the program's first ACC Championship title.
Santos left Miami after the 2013 campaign to become the head coach at Pittsburgh. He served in that capacity for six years, leading the Panthers to their first win over a ranked foe and guiding the program's first players to earn ITA singles and doubles rankings.
Off the court, Pittsburgh posted four consecutive perfect 1,000 Academic Progress Report (APR) scores during his tenure.
In August 2019, Santos accepted a position as the associate head coach at Baylor. In his lone spring with the Bears, he helped lead the team to a 10-2 mark during the abbreviated 2020 campaign.
A native of Oeiras, Portugal, Santos was one of the top-ranked junior players in his homeland. He graduated from Universidade Tecnica de Lisboa in 2005. He has experience working at tennis academies in both Portugal and Spain.