W. Tennis Climbs in ITA Singles and Doubles Rankings
CORAL GABLES, Fla. – Three singles players and two doubles pairs from the University of Miami women's tennis team ascended in this week's ITA rankings, as announced Tuesday morning.
In singles, redshirt sophomore Alexa Noel jumped from No. 11 up to seventh nationally, while junior Isabella Pfennig climbed from No. 116 to No. 84 and fifth-year senior Daevenia Achong moved from No. 118 to No. 106.
This is the fourth time in 2022-23 that trio is ranked together, joining Sept. 6, Nov. 16 and March 21. Noel's position is her highest in her first year as a Hurricane.
In doubles, Miami (11-5, 6-3 ACC) has three ranked duos for the first time all season. It last had a trio of ranked pairs in the May 4, 2022, release.
Pfennig and Noel rocketed from No. 53 all the way to a team-best No. 16 position in the ITA rankings. In addition, Noel checks in at No. 24 alongside Achong. Joining the list for the first time in 2022-23 is fourth-year junior Maya Tahan, who comes in at No. 52 nationally, alongside Achong.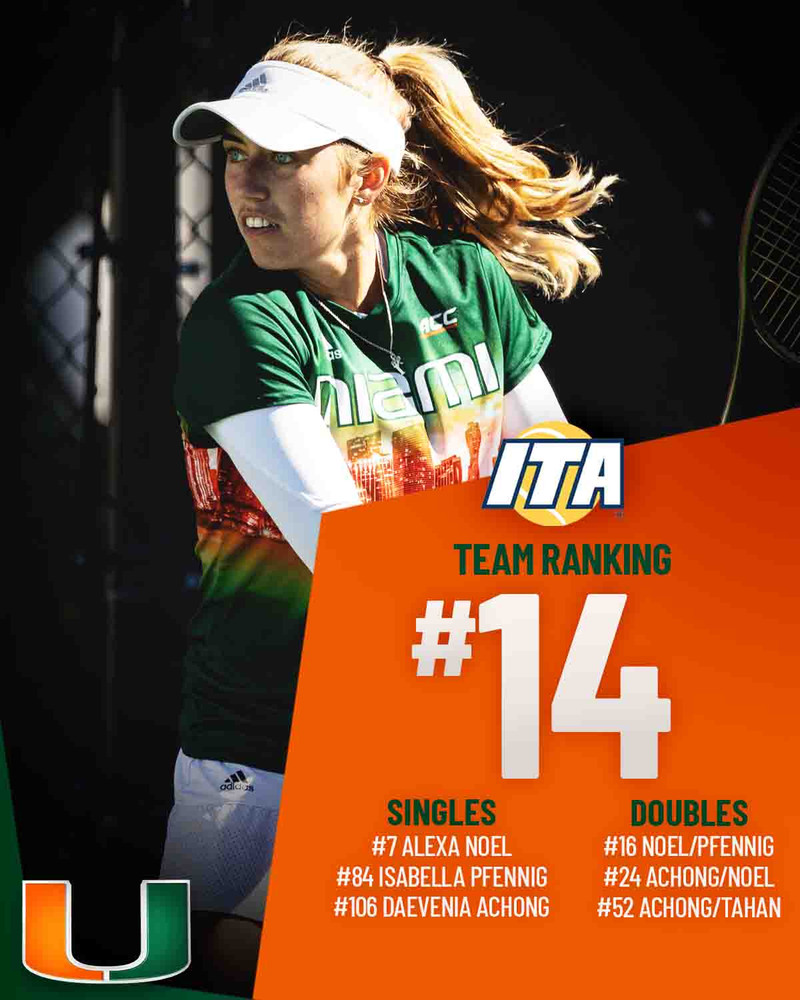 The Hurricanes also check in at No. 14 in the country as a team, their fourth consecutive week in the top 15.
Miami is one of 12 ACC schools in the ITA rankings, all of which are in the top 40, with eight in the top 25 and five in the top 15. The Hurricanes are joined by top-ranked North Carolina, sixth-ranked Duke, seventh-ranked NC State, ninth-ranked Virginia, No. 22 Georgia Tech, No. 23 Notre Dame, No. 24 Wake Forest, No. 32 Clemson, No. 33 Syracuse, No. 39 Florida State and No. 40 Boston College.
The Hurricanes begin the final home weekend of the regular season Thursday at noon against Louisville at the Neil Schiff Tennis Center.
To keep up with the University of Miami women's tennis team on social media, follow @CanesWTennis on Twitter, Instagram and Facebook.