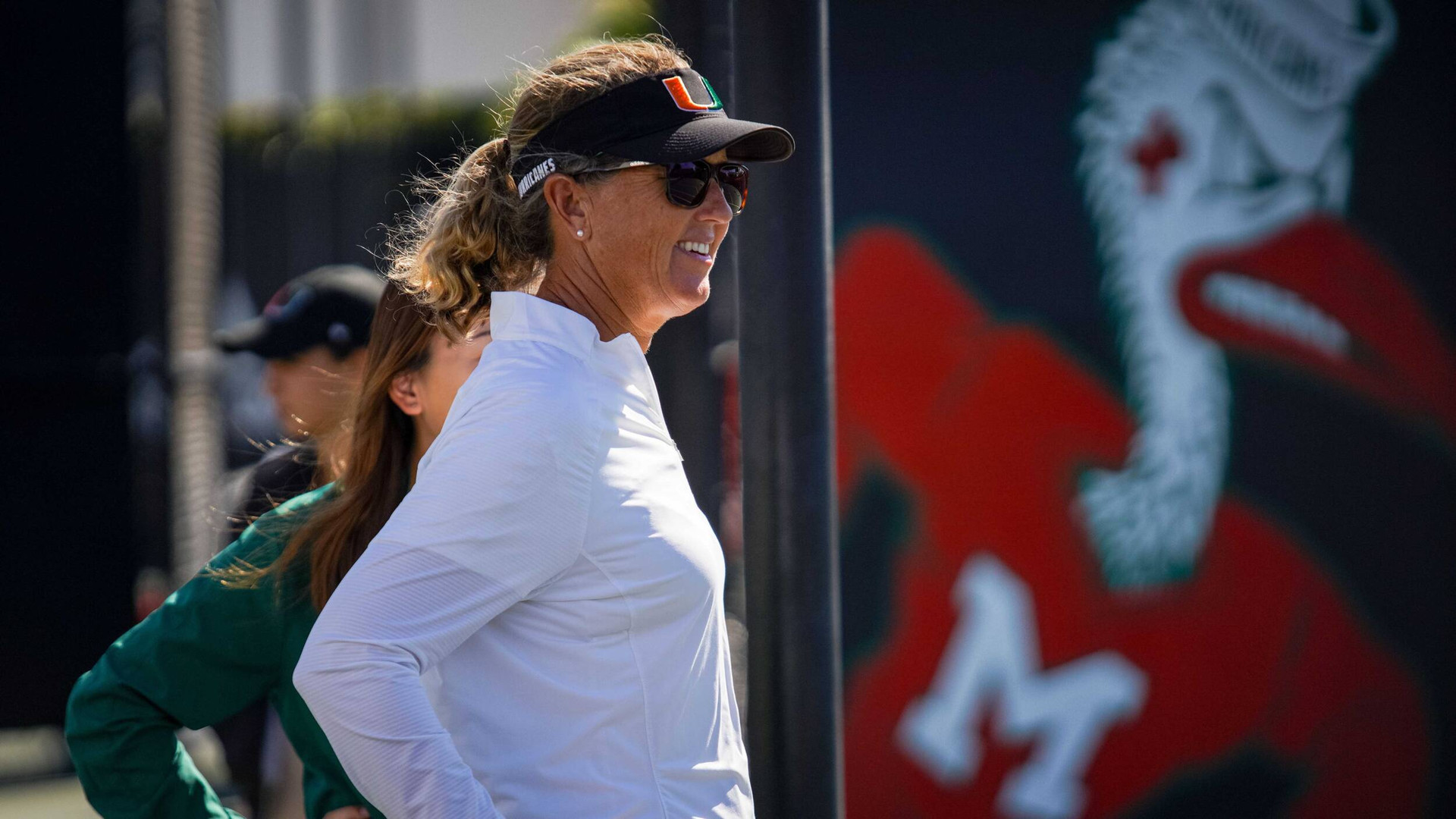 CORAL GABLES, Fla. – As it usually does, the University of Miami women's tennis team will open its spring season with a tournament on its home court.
The Hurricanes will host three fellow elite programs—top-ranked Texas, eighth-ranked NC State and Vanderbilt—at the Neil Schiff Tennis Center for the annual Miami Spring Invite.
Action is slated for Saturday through Monday, starting at 9 a.m. the first two days and 8 a.m. the final day. The facility is open to fans, who are welcome to attend free of charge.
High-level collegiate tennis will be on display for anyone who does come watch. Texas is the reigning national champion, NC State reached the 2021 Final Four and Vanderbilt has reached four of the past six NCAA semifinals.
"Look, when you have Texas, NC State and Vandy coming to your facility for a weekend of tennis, I don't think you can ask for anything more. All [of them are] just classy teams [and they are] well-coached," Miami head coach Paige Yaroshuk-Tews said. "The girls are beasts, they're great players. It's going to force us to raise our standards, which is exactly where we want to be for our first tournament. There's no sense in kind of easing into things. We've got some big matches right around the corner and so I think it will just get us in gear quicker."
Miami, of course, is well-established as a premier program on a national level, much like its three visitors this weekend.
The Hurricanes have two ranked singles players, with sophomore Isabella Pfennig at No. 76 and fourth-year junior Daevenia Achong at No. 104. Meanwhile, Achong and fifth-year senior Eden Richardson, who won the 2018 NCAA doubles crown as a freshman at LSU, form the nation's No. 40 doubles tandem.
Although Miami has just one ranked doubles pair, the depth of talent in that area is immense. Pfennig made the NCAA Doubles Championship last year alongside since-graduated Estela Perez-Somarriba, finishing the year at No. 26 nationally.
Third-year sophomores Maya Tahan and Diana Khodan also competed in the NCAA Doubles Championship and they finished even higher, taking the No. 19 spot in the final 2021 rankings. Meanwhile, sophomore Audrey Boch-Collins went 25-8 last year at Baylor, taking the No. 58 spot on the list.
"I'm excited to see doubles," Yaroshuk-Tews said. "I think that we have some pretty good doubles combinations, which, typically for us, we don't have in January. But we actually know what we're going to be doing with our doubles and who's going to be playing. I think that doubles is going to be a really bright spot for us this year and I want them to start strong this weekend."
The plan for Miami is to play Achong with Richardson, Khodan with Tahan and Boch-Collins with Pfennig. They will have ample opportunities to take on ranked foes, as the three visiting schools have four such pairs combined.
For Texas, Charlotte Chavatipon and Kylie Collins come in at No. 13 overall, while NC State's Jaeda Daniel and Alana Smith hold the No. 21 position. Vanderbilt's Holly Staff checks in twice on the doubles list, alongside Marcella Cruz at No. 36 and alongside Anessa Lee at No. 57.
Meanwhile, in singles, those three programs sport seven ranked individuals, a figure that does not count Texas' Peyton Stearns, who started the fall ranked sixth.
Her teammates, Collins and Malaika Rapolu, place No. 40 and No. 117, respectively. For NC State, Daniel is eighth in the country, followed by Smith at No. 25 and Abigail Rencheli at No. 25. Cruz holds the No. 96 spot for Vanderbilt, with Lee checking in at No. 112.
While Miami certainly has the talent to match up with those programs, the win-loss record is not the top priority this weekend.
"We want to just see a lot of quality match-play and not get too focused on the outcomes," Yaroshuk-Tews shared. "We're going to have a lot of top tennis players in town and they're going to be beating up on each other and just getting better. By the end of the weekend, [we are] hoping that everybody feels better about their tennis and doesn't let the results define how they feel about their tennis."
One element that makes this weekend unique for Miami is that, for the first time since 2016, the Hurricanes will not have the aforementioned Perez-Somarriba on their roster. The 2019 NCAA champion and 2021 ITA National Player of the Year exhausted her eligibility following a second straight NCAA Singles Championship finals appearance last spring.
Few players in the history of the sport have accomplished as much as Perez-Somarriba, a two-time ACC Player of the Year and five-time ITA All-American.
Her departure has led to some outside skeptics, which only fuels the fire of a renowned coach such as Yaroshuk-Tews.
"I think that there are a lot of people that are doubting the level of success that our program can have minus a player like Perez-Somarriba whom we had for so many years. Obviously, I've been in this position before," she said. "I've lost a lot of great players who have gone and moved on. I think that this program has been really set and been based on its consistency. So, every time I'm in a situation like this, I just kind of get competitive.
"It gets fun figuring out ways to get points in and win matches and have success and count on new players," Yaroshuk-Tews continued. "Each and every year, it's fun to see new players step up. So, personally, I want to do as well or better than we have in the past four or five years."
A two-time ITA Southeast Region Coach of the Year, Yaroshuk-Tews is not the only member of her program looking to a bright future and not worried about who is gone.
Her players—five of whom are returnees from last year—feel the same way.
"I don't sense that the players are feeling afraid or scared," Yaroshuk-Tews said. "I think the players are kind of assuming a new role and a new responsibility. [I believe they are] taking that seriously, so it's nice."
The Hurricanes had five weekends of fall competition to start acclimating to their new positions within the program. Miami played in tournaments across four states from late September to mid-November.
During that time, Yaroshuk-Tews learned more about her team and there are a few ways she has seen her group improve since it opened fall competition.
"I think, physically, we're stronger. I think our doubles is better," she said. "I think a girl like Eden Richardson has shown and proved that she's a match player and that she can play with top kids in the country. I think she's going to be a really bright spot for us."
Miami will open spring play Saturday at 9 a.m. with seven singles matches against Vanderbilt, then play three doubles contests against Texas at approximately 11:30 a.m. Sunday, with the same start times, the Hurricanes' will play NC State in singles and Vanderbilt in doubles.
To conclude the invitational Monday, Miami starts play at 8 a.m. with doubles action against NC State. It then plays seven singles matches across four courts—the final three will follow after matches finish—beginning not before 9 a.m.
Fans who wish to keep up with Miami Spring Invite competition from afar can use the live stats link HERE throughout the weekend.
To keep up with the University of Miami women's tennis team on social media, follow @CanesWTennis on Twitter, Instagram and Facebook.