W. Tennis Excels in Miami Fall Invite
CORAL GABLES, Fla. – The University of Miami women's tennis team capped its fall slate in impressive fashion on its home court this weekend.
Seven Hurricanes combined to post a 14-6 record in the Miami Fall Invite at the Neil Schiff Tennis Center. The ledger includes a perfect 6-0 mark in doubles competition, all against SEC opponents.
Although the final day of action was canceled due to weather, the Hurricanes still managed to rack up several impressive victories Friday and Saturday.
"I felt we had a pretty solid weekend," Miami head coach Paige Yaroshuk-Tews. "The team worked on some things and played a level of tennis we know they're capable of playing."
On the opening day of competition, Miami went 3-0 in doubles matches against a talented in-state foe, Florida. Junior Audrey Boch-Collins and redshirt sophomore Alexa Noel topped Carly Briggs and Alicia Dudeney, 6-3, while the other two triumphs came in tiebreak fashion.
Freshman Mia Mack, in her home debut, paired with junior Isabella Pfennig to down Rachel Gailis and Bente Spee, 7-6 (7-5). Sophomore Tatyana Nikolenko and fourth-year junior Maya Tahan edged Emma Shelton and Anastasia Sysoeva, 7-6 (7-4).
Miami then continued its strong play into singles, posting a 5-2 mark. That figure included an unblemished 5-0 record versus Kentucky.
No. 19 Noel defeated Florencia Urrutia, 6-2, 4-6, 6-3, while all four other victories came in straight sets.
No. 66 Pfennig downed Lidia Gonzalez, 6-0, 6-2, while Boch-Collins and Mack both earned 6-2, 6-1 triumphs over Makayla Mills and Mailen Morante, respectively. Tahan, meanwhile, beat Zoe Hammond, 6-0, 6-3.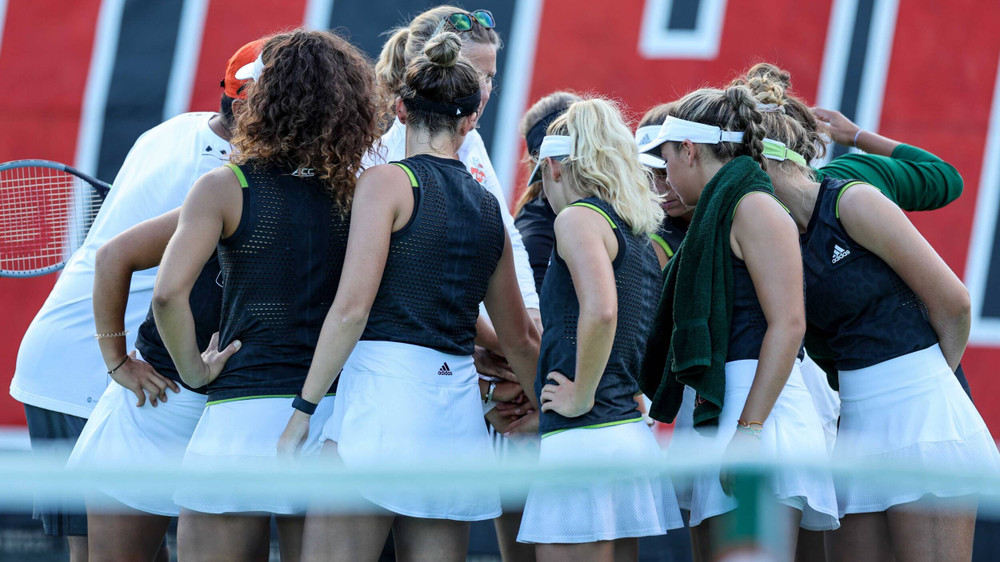 Saturday, Miami opened play with singles action and logged a 3-4 mark in matchups against Northwestern.
No. 19 Noel eased past Maria Shusharina, 6-1, 6-3, while Boch-Collins and Tahan took their second straight-set decision in as many days. The former beat Sydney Pratt, 6-2, 6-4, while the latter took down Kiley Rabjohns, 6-3, 6-3.
The Hurricanes then squared off with Kentucky in a trio of doubles matches and won each of them, posting a clean sweep for the second day in a row. This time, all three triumphs came in 6-2 fashion.
Boch-Collins and Noel topped Hammond and Ellie Eades, Mack and Pfennig defeated Gonzalez and Urrutia, and Nikolenko and Tahan beat Mills and Morante.
After hours of on-and-off rain Sunday, action was called before the Hurricanes took the court, prematurely ending the team's fall season.
Miami will resume play in January when it opens the spring campaign. The schedule will be released at a later date.
To keep up with the University of Miami women's tennis team on social media, follow @CanesWTennis on Twitter, Instagram and Facebook.
FRIDAY RESULTS
Singles
Maria Shusharina (NU) def. No. 119 Alicia Dudeney (UF), 6-4, 6-1
Carly Briggs (UF) def. Sydney Pratt (NU), 6-1, 6-2
Christina Hand (NU) def. Anastasia Sysoeva (UF), 6-1, 7-5
Rachel Gailis (UF) def. Justine Leong (NU), 6-4, 6-4
Bente Spee (UF) def. Briana Crowley (NU), 6-2, 6-1
Jennifer Riester (NU) def. Emma Shelton (UF), 6-4, 2-6, 6-3
Sophie Williams (UF) def. Aino Alkio (NU), 6-1, 6-2
No. 19 Alexa Noel (UM) def. Florencia Urrutia (UK), 6-2, 4-6, 6-3
No. 66 Isabella Pfennig (UM) def. Lidia Gonzalez (UK), 6-0, 6-2
Audrey Boch-Collins (UM) def. Makayla Mills (UK), 6-2, 6-1
Mia Mack (UM) def. Maialen Morante (UK), 6-2, 6-1
Maya Tahan (UM) def. Zoe Hammond (UK), 6-0, 6-3
Daniela Farfan (BAR) def. Tatyana Nikolenko (UM), 6-2, 6-2
Clara Versier (BAR) def. Brooke Dugarte (UM) 2-6, 6-2, 6-1
Doubles
Audrey Boch-Collins/Alexa Noel (UM) def. Carly Briggs/Alicia Dudeney (UF), 6-3
Mia Mack/Isabella Pfennig (UM) def. Rachel Gailis/Bente Spee (UF), 7-6 (7-5)
Tatyana Nikolenko/Maya Tahan (UM) def. Emma Shelton/Anastasia Sysoeva (UF), 7-6 (7-4)
Briana Crowley/Sydney Pratt (NU) def. Lidia Gonzalez/Florencia Urrutia (UK), 6-4
Ellie Eades/Zoe Hammond (UK) def. Justine Leong/Maria Shusharina (NU), 6-2
Makayla Mills/Maialen Morante (UK) def. Christina Hand/Jennifer Riester (NU), 6-0
Aino Alkio/Kiley Rabjohns (NU) def. Dinara Alloyarova/Nathalia Gasparin (BAR), 6-1
SATURDAY RESULTS
Singles
No. 19 Alexa Noel (UM) def. Maria Shusharina (NU), 6-1, 6-3
Christina Hand (NU) def. No. 66 Isabella Pfennig (UM), 6-4, 6-2
Audrey Boch-Collins (UM) def. Sydney Pratt (NU), 6-2, 6-4
Justine Leong (NU) def. Mia Mack (UM), 6-2, 6-3
Maya Tahan (UM) def. Kiley Rabjohns (NU), 6-3, 6-3
Jennifer Riester (NU) def. Tatyana Nikolenko (UM), 6-1, 6-0
Briana Crowley (NU) def. Brooke Dugarte (UM), 6-2, 6-0
Dinara Alloyarova (BAR) def. Aino Alkio (NU), 6-2, 7-5
Carly Briggs (UF) def. Florencia Urrutia (UK), 6-3, 6-3
Rachel Gailis (UF) def. Lidia Gonzalez (UK), 6-2, 6-1
Anastasia Sysoeva (UF) def. Makayla Mills (UK), 6-4, 6-2
Bente Spee (UF) def. Maialen Morante (UK), 6-2, 6-0
Emily de Oliveira (UF) def. Zoe Hammond (UK), 6-0, 2-6, 6-1
Sophie Williams (UF) def. Xiyao Wang (BAR) 2-6, 6-2, 6-3
Doubles
Audrey Boch-Collins/Alexa Noel (UM) def. Ellie Eades/Zoe Hammond (UK), 6-2
Mia Mack/Isabella Pfennig (UM) def. Lidia Gonzalez/Florencia Urrutia (UK), 6-2
Tatyana Nikolenko/Maya Tahan (UM) def. Makayla Mills/Maialen Morante (UK), 6-2
Briana Crowley/Sydney Pratt (NU) def. Carly Briggs/Alicia Dudeney (UF), 6-1
Rachel Gailis/Bente Spee (UF) def. Christina Hand/Justine Leong (NU), 6-4
Sara Dahlstrom/Anastasia Sysoeva (UF) def. Jennifer Riester/Maria Shusharina (NU), 7-6 (7-4)
Aino Alkio/Kiley Rabjohns (NU) def. Emily de Oliveira/Sophie Williams (UF), 6-1