University of Miami Athletics
Audrey Boch-Collins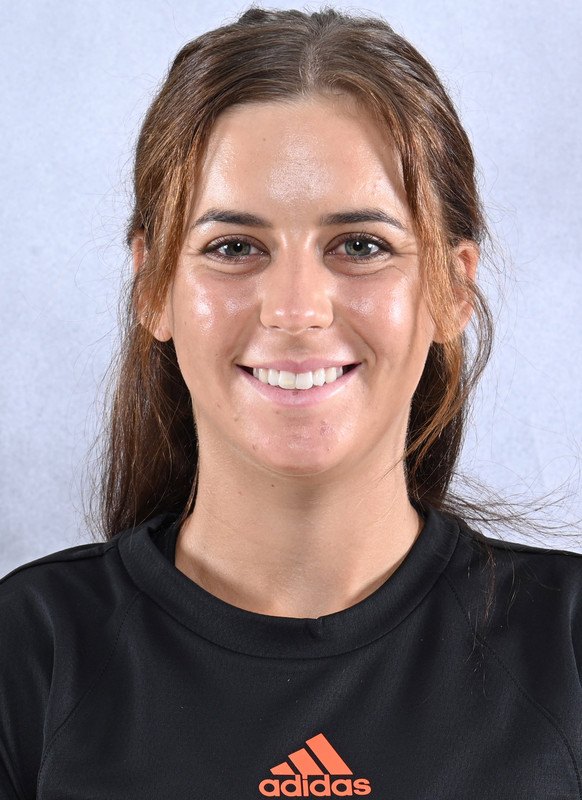 As a Sophomore at Miami (2021-22): All-ACC Academic Team
As a Freshman at Baylor (2020-21): Finished 17-3 in singles and 25-8 in doubles … Ended the year No. 58 in the country in doubles … Placed fifth in the ITA Texas Region … Won her lone match against a ranked pair … Paced the team in doubles winning percentage (.757) and dual match doubles winning percentage (.833), while tying for second in doubles victories and dual match doubles victories (20) … Logged an 11-2 spring singles record, all in dual matches … Competed primarily at the No. 6 position, peaking at No. 5 … Won both her matches in Big 12 play … Earned unblemished 6-0, 6-0 victories in the first two spring matches of her career, both against Prairie View A&M, first topping Salma Villalobos and then defeating Anette Lira later in the day … Earned a 3-6, 6-4, 6-0 triumph over Metka Komac of No. 29 Texas Tech … Beat No. 42 Iowa State's Sofia Cabezas, 6-0, 6-2, for her first conference singles victory … Tallied a 6-0, 6-1 win over Isabel Pascual at TCU, at the No. 5 position … Recorded a 6-3, 6-2 decision versus Ting-Pei Chang of No. 36 Iowa State in the Big 12 Tournament semifinals … Downed Texas A&M-Corpus Christi's Victoire Delattre, 6-1, 6-1, in the opening round of the NCAA Team Championship … Registered a 20-4 doubles mark in spring action, all in dual matches … Played in all three spots in the lineup, but mainly competed at No. 3 … Finished 5-1 in Big 12 play … In a doubleheader against Prairie View A&M in her first spring action, first defeated Ruju Chauhan/Jessica Lackey, 6-4, at the No. 2 spot and then beat Victoria Castillo/Mahogani Green, 6-2, at No. 1 … Recorded a 6-1 triumph over Charlotte Chavatipon/Peyton Stearns at third-ranked Texas, the eventual NCAA champion … Won, 7-5, at the top position versus Abilene Christian's Claire Fisher/Ileana Mocciola … Posted a 6-1 decision versus Nell Miller/Margarita Skriabina of No. 29 Texas Tech … Downed Sofia Cabezas/Christin Hsieh of No. 42 Iowa State, 6-3, in her first Big 12 match … Logged a 6-4 victory over Tiffany Lagarde/Carmen Roxana Manu at No. 49 Kansas State … Tallied a 6-2 win versus Metka Komac/Nell Miller at No. 28 Texas Tech … Blanked Leopoldine Boisseau/Victoire Delattre of Texas A&M-Corpus Christi in the NCAA Team Championship opening round … Edged No. 41 Kelly Chen/Georgia Drummy, 7-6 (7-3), of No. 18 Duke in the Round of 32 for her first ranked decision … Notched a 6-1 singles record in the fall … Went 3-0 at the TCU Invitational, including topping North Texas' Kexuan Zhou, 6-3, 6-3, to begin her singles career … Won her lone match at the H-E-B Baylor vs. Texas Shootout, defeating Marta Perez Mur, 6-2, 6-4 … Compiled a 2-1 mark at the Aggie Halloween Classic … Recorded a 5-4 ledger in fall doubles competition … Finished 1-2 at the TCU Invitational, beating Maria Ponomareva/Nidhi Surapaneni of North Texas, 6-4, to start her doubles career …  Notched a 3-0 mark at the H-E-B Baylor vs. Texas Shootout, edging three separate pairs of Longhorns … Capped the fall with a 1-2 showing at the Aggie Halloween Classic, posting a 6-1 win over Texas A&M's Riley McQuaid/Lucia Quiterio.
Prior to College: Tabbed as the No. 10 player in the class of 2020 by TennisRecruiting.net, which labeled her a five-star, blue-chip recruit … Peaked at second overall in the website's recruiting rankings in July 2020 and held the top spot on its TennisRPI list in August 2020 … Logged a 75-0 singles record, without ever dropping a set, in her prep career, competing for Clark High School … First person, male or female, in Nevada history to win four state titles in singles … Four-time Las Vegas Review Journal First Team All-State designee … Named the 2019 Las Vegas Sun Female Athlete of the Year … Served as team captain as a senior … Posted a 16-4 mark on the USTA Junior Circuit, including a 9-0 ledger versus fellow five-star prospects.
Personal: Full name is Audrey Sidney Boch-Collins … First part of last name is pronounced BOSH … Born June 8, 2001 … Parents are William Collins and Connie Boch … Father is a landscaper and mother is a nurse … Does not have any siblings … Great-grandfather played for the NFL's Brooklyn Dodgers in the 1940's … Grandfather played college football at Syracuse … Majoring in criminology with a minor in political science … Enjoys baking and cooking … Favorite athlete is Formula One driver Daniel Ricciardo because of his work ethic, humility and humor … Best sports memory is breaking a tie to lead her team into the state tournament as a senior … As a match superstition, eats the same breakfast each day during a tournament … Chose Miami because of the atmosphere, the beautiful campus and the quality education … Committed to Miami over UC Santa Barbara, Nebraska, Oregon, and Texas A&M.
SINGLES
YEAR
TOTAL
FALL
SPRING
DUAL
CONF
*RNK
2020-21!
17-3 
 6-1
11-2
 11-2
 2-0
0-0
CAREER
17-3
 6-1
 11-2
11-2 
 2-0
0-0
DOUBLES
YEAR
TOTAL
FALL
SPRING
DUAL
CONF
*RNK
2020-21!
 25-8
 5-4
20-4
 20-4
5-1
1-0
CAREER
 25-8
 5-4
20-4 
 20-4
 5-1
 1-0
! = at Baylor University
*RNK = record vs. ranked opponents