W. Tennis Downs Florida Atlantic, 6-1, in First Dual Match
CORAL GABLES, Fla. – The University of Miami women's tennis team started its 2023 dual match slate with a 6-1 triumph Tuesday afternoon against Florida Atlantic.
No. 11 Miami (1-0) took the first six points of the match and won five singles contests in straight sets on its home court at the Neil Schiff Tennis Center.
"I think we played well in doubles, which is going to be an important piece of our success this season. I think that, all in all, we played well in singles," Miami head coach Paige Yaroshuk-Tews said. "It was nice to see Alexa Noel on the court for the first time in a dual match for Miami. I think she played a good match after going down early in the first. Mia Mack, I think, did a great as a freshman [in her] first dual match as a Miami Hurricane."
The Hurricanes opened play with a strong showing in doubles action. Fifth-year senior Daevenia Achong and fourth-year junior Maya Tahan got Miami on the board first with a 6-3 triumph over the Florida Atlantic (2-2) duo of Carla Galmiche and Martina Kudelova.
Not long after, redshirt sophomore Alexa Noel and junior Isabella Pfennig clinched the point with their own 6-3 win, this one against Victoria Gomez O'Hayon and Lexi Silna. Junior Audrey Boch-Collins and freshman Mia Mack held a 4-3 edge on Katerina Filip and Millie-Mae Matthew when play stopped.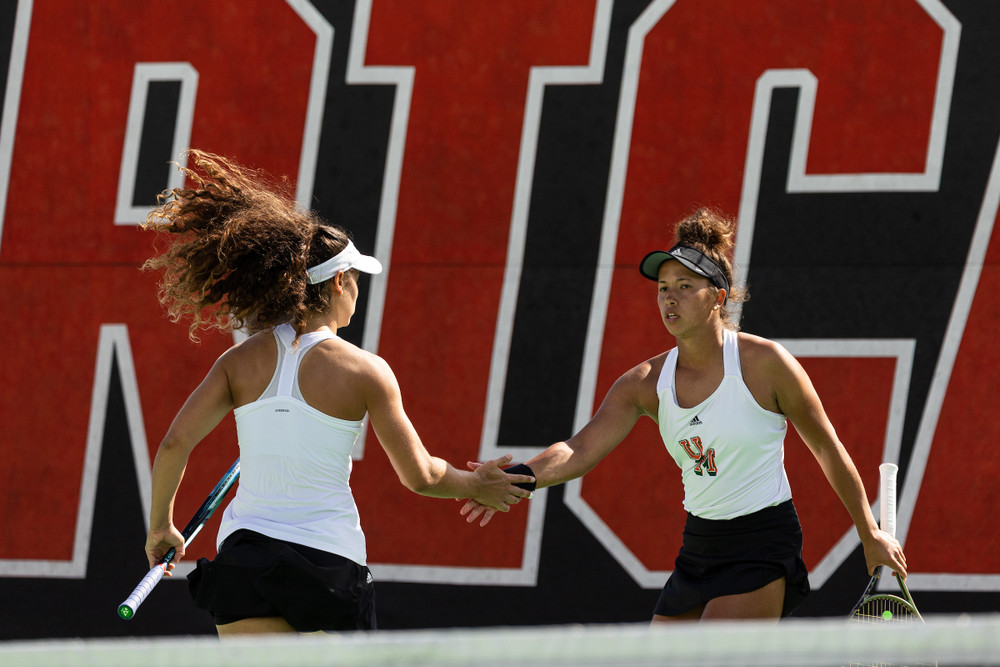 In singles, No. 60 Achong quickly doubled Miami's lead by cruising to a 6-0, 6-1 decision against Filip. Nearly 20 minutes, the Hurricanes' next two points then came in short succession.
Mack, in her first collegiate dual match, extended the edge to 3-0 by defeating Gomez O'Hayon, 6-3, 6-0. Moments later, Boch-Collins sealed the home triumph with a resounding 6-0, 6-1 result against Amber McGinnis.
Not long thereafter, the Hurricanes tacked on their fifth and sixth points in a matter of seconds. No. 14 Noel finished off a 6-4, 6-2 triumph over Kudelova and then No. 123 Pfennig downed Silna, 6-2, 6-3.
The Owls picked up their lone point in the final match of the day, as Matthews took the last eight points to defeat Tahan, 7-6 (7-4), 1-6, 1-0 (11-9), and make it a 6-1 margin.
With the win, Miami improved to 35-0 all-time against Florida Atlantic, its most wins against any foe without a defeat.
"We're excited to move forward with the season," Yaroshuk-Tews said. "We're excited for what lies ahead. This could be a special group."
The victory also marked the 397th of Yaroshuk-Tews' illustrious 22-year career and improved Miami to 47-4 all-time in season openers.
Up next for Miami is ITA Kick-Off Weekend, set for Saturday and Sunday at the Neil Schiff Tennis Center. After a first-round matchup with FIU at 11 a.m. Saturday, the Hurricanes play No. 16 UCLA or No. 22 Iowa State the next day at 10 a.m. or 1 p.m.
To keep up with the University of Miami women's tennis team on social media, follow @CanesWTennis on Twitter, Instagram and Facebook.
RESULTS
Doubles Competition
1. Daevenia Achong/Maya Tahan (UM) def. Carla Galmiche/Martina Kudelova (FAU), 6-3
2. Alexa Noel/Isabella Pfennig (UM) def. Victoria Gomez O'Hayon/Lexi Silna (FAU), 6-3
3. Audrey Boch-Collins/Mia Mack (UM) vs. Katerina Filip/Millie-Mae Matthews (FAU), 4-3, unf.
Singles Competition
1. No. 14 Alexa Noel (UM) def. Martina Kudelova (FAU), 6-4, 6-2
2. No. 60 Daevenia Achong (UM) def. Katerina Filip (FAU), 6-0, 6-1
3. No. 123 Isabella Pfennig (UM) def. Lexi Silna (FAU), 6-2, 6-3
4. Audrey Boch-Collins (UM) def. Amber McGinnis (FAU), 6-0, 6-1
5. Mia Mack (UM) def. Victoria Gomez O'Hayon (FAU), 6-3, 6-0
6. Millie-Mae Matthews (FAU) def. Maya Tahan (UM), 7-6 (7-4), 1-6, 1-0 (11-9)