Five from W. Tennis Tabbed to All-ACC Academic Team
CORAL GABLES, Fla. – Five members of the University of Miami women's tennis team earned All-ACC Academic Team recognition, as announced Wednesday morning.
Daevenia Achong, Audrey Boch-Collins, Alexa Noel, Isabella Pfennig and Maya Tahan all garnered the recognition for their success on the court and in the classroom during the 2022-23 academic year.
Since the honors were started in 2006, this is the fourth time at least five Hurricanes have made the cut, joining 2022 (six), 2019 (five) and 2012 (five).
A CSC Second Team Academic All-American, Achong went 14-15 in singles and 18-9 in doubles this season. She finished No. 82 in singles, as well as both No. 47 and No. 48 in doubles, the former alongside Noel and the latter with Tahan. Achong posted a 3.748 GPA during her undergraduate career while majoring in finance with a minor in business technology, then added a master's degree in finance with a 3.79 GPA. This is the fifth-year senior's third selection to the All-ACC Academic Team.
Boch-Collins, a CSC Academic All-District honoree, finished 18-17 in singles and 19-12 in doubles during the 2022-23 season. The junior recorded four ranked singles victories this year. Boch-Collins owns a 3.729 GPA as a criminology major.
Noel, an ITA All-American, recorded a 34-8 ledger in singles and a 20-9 mark in doubles in her first year at Miami. She ended the year ranked sixth nationally in singles and logged the seventh-most wins of anyone in the country, while also placing both No. 36 and No. 47 in doubles, the former with Pfennig and the latter with Achong. A sociology major, Noel sports a 3.643 GPA.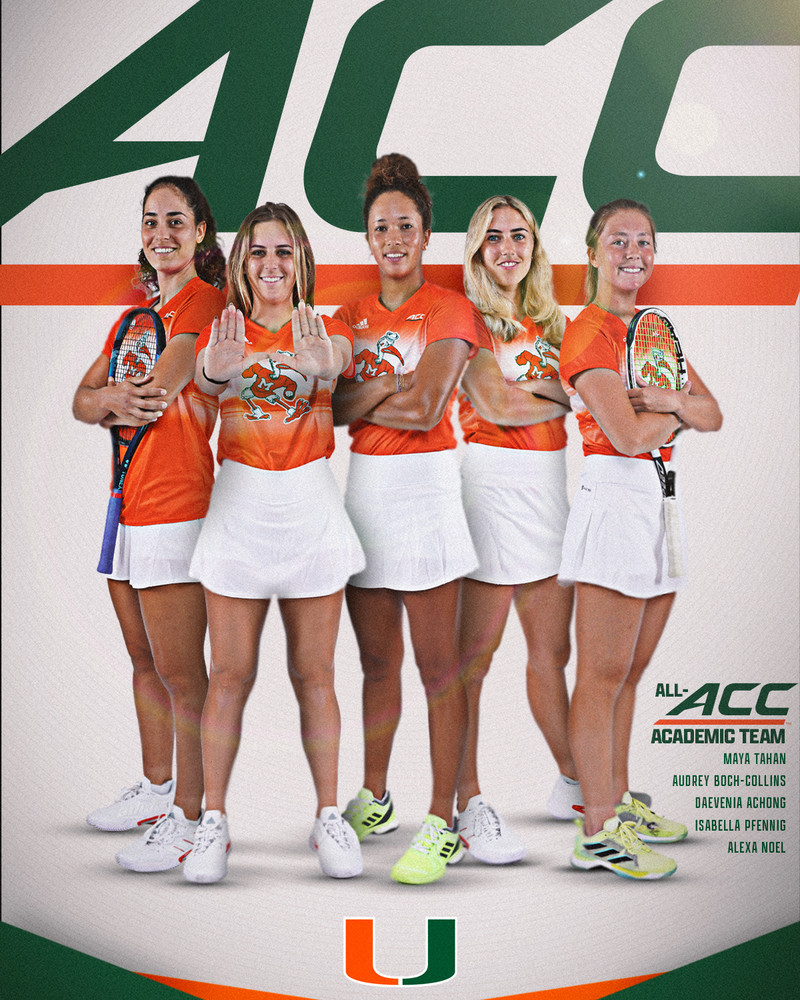 A CSC First Team Academic All-American, Pfennig posted a 23-15 mark in singles and a 19-12 record in doubles in 2022-23. The junior, who competed in the NCAA Doubles Championship for the second time, concluded the year ranked No. 70 in singles and No. 36 in doubles. Pfennig owns a 3.991 GPA and has registered a perfect 4.0 GPA in five of her six collegiate semesters. She has claimed All-ACC Academic Team status after all three of her collegiate campaigns.
Tahan concluded the 2022-23 season with a 21-13 singles record and an 18-12 doubles ledger. She placed No. 48 in the year-end doubles rankings and ranked third among Hurricanes in singles victories. Tahan graduated from Miami in May with a degree in psychology and a 3.447 GPA.
The Hurricanes have placed at least one individual on the All-ACC Academic Team each year since the honor first began in 2006. At least three players have made the cut all but twice (2006 and 2017).
To be eligible for the All-ACC Academic Team, an individual must have competed in 50 percent of her team's contests, as well as possess a 3.0 GPA for both the previous semester cumulatively for her academic career. The complete list of selections can be found HERE.
To keep up with the University of Miami women's tennis team on social media, follow @CanesWTennis on Twitter, Instagram and Facebook.