W. Tennis Wraps up Season-Opening Miami Spring Invite
CORAL GABLES, Fla. – The University of Miami women's tennis team started its 2023 spring campaign this weekend on its home court at the Neil Schiff Tennis Center.
No. 11 Miami hosted top-ranked Texas, third-ranked NC State and No. 20 Vanderbilt in the annual three-day Miami Spring Invite.
"I think this was a great start to the season, having [the chance to play] teams like this, having this competition in front of you," Miami head coach Paige Yaroshuk-Tews said. "Win or lose, you're a better team coming out than you were coming in. It was nice to get our new kids some W's. Obviously, unbelievable showing at number one with Alexa Noel."
In her spring debut for the Hurricanes, Noel led the way for the home team on the weekend. Ranked No. 14 in singles, Noel posted a trio of victories, including a 7-6 (7-3), 6-4 decision over No. 33 Celia-Belle Mohr of Vanderbilt and a 7-5, 5-7, 6-1 triumph against No. 23 Amelia Rajecki of NC State. She followed that with a 6-1, 6-3 win versus Charlotte Chavatipon, a two-time NCAA team champion at Texas, on Sunday to cap the weekend.
Freshman Mia Mack, in the first spring action of her college career, registered a pair of singles victories. First, she topped Vanderbilt's Amy Stevens, 3-6, 6-3, 7-5, Friday morning. The Löchgau, Germany, followed that with a resounding 6-0, 6-2 result versus NC State's Chloe Henderson Saturday afternoon.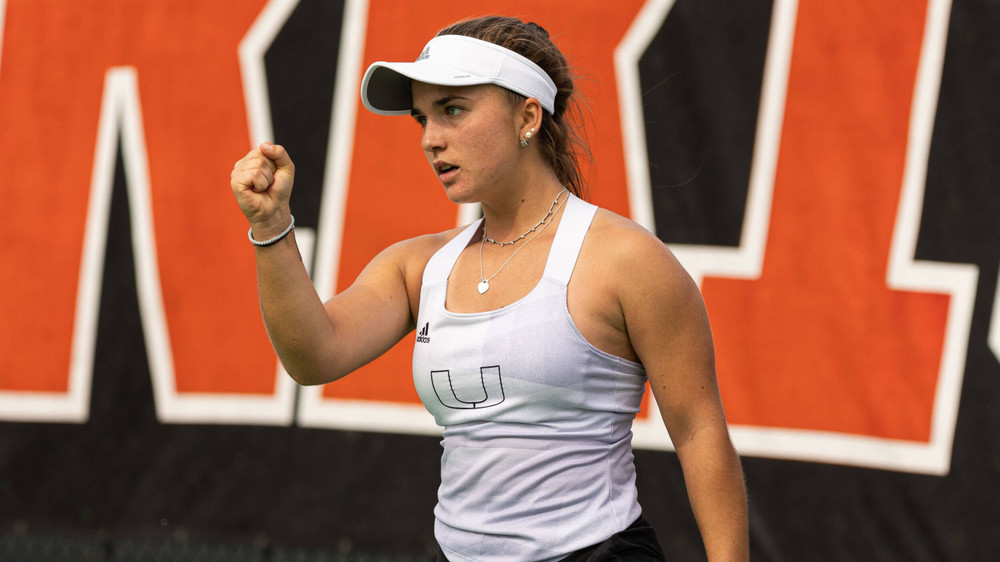 Junior Audrey Boch-Collins recorded a top-100 singles victory, the second of her career, on the opening day of competition. The Las Vegas native downed No. 92 Soyna Macavei of Vanderbilt, 6-1, 5-7, 1-0 (10-7).
The duo of freshman Brooke Dugarte, in her first spring action at The U, and sophomore Tatyana Nikolenko paced Miami in doubles. After a defeat on the opening day, the pair rebounded to defeat Texas' Susanna Brass and Gabby Casano, 6-2, Saturday afternoon. Dugarte and Nikolenko then concluded the weekend with a Sunday morning triumph over Cusano and Simran Kortikere, 6-3.
"I think we're on our way," Yaroshuk-Tews said. "I think that each day we learned a little bit and we applied it to the following day. We're excited to hit the courts again in a week."
The Hurricanes open their dual match slate Jan. 24, when they host Florida Atlantic at the Neil Schiff Tennis Center at 2 p.m.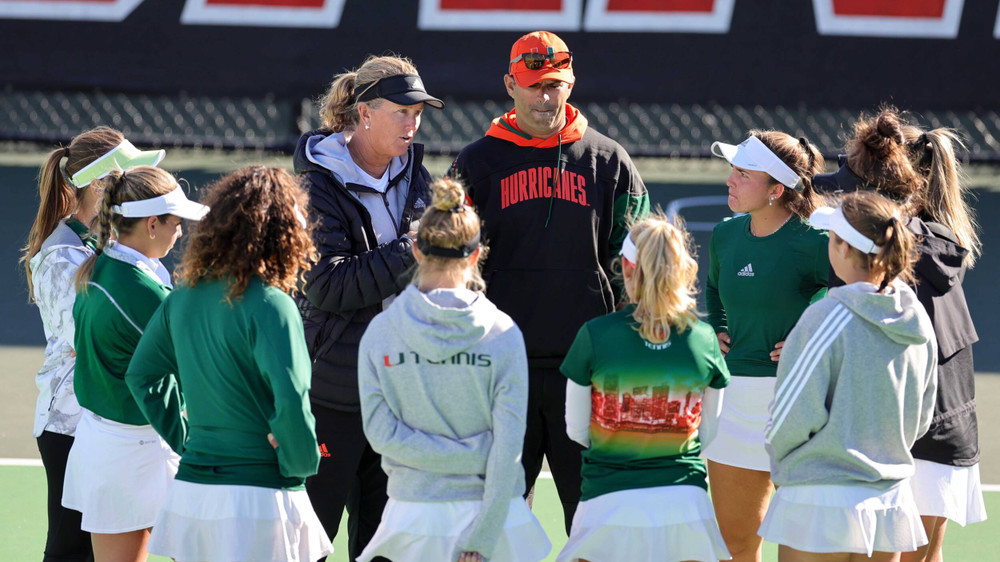 FRIDAY RESULTS
Singles
No. 14 Alexa Noel (UM) def. No. 33 Celia-Belle Mohr (VU), 7-6 (7-3), 6-4
No. 35 Bridget Stammel (VU) def. No. 60 Daevenia Achong (UM), 7-5, 4-6, 6-3
Anessa Lee (VU) def. No. 123 Isabella Pfennig (UM), 6-2, 6-2
Audrey Boch-Collins (UM) def. No. 92 Soyna Macavei (VU), 6-1, 5-7, 1-0 (10-7)
Maya Tahan (UM) def. Dasha Kourkina (VU), 6-1, 6-0
Mia Mack (UM) def. Amy Stevens (VU), 3-6, 6-3, 7-5
Marcella Cruz (VU) def. Tatyana Nikolenko (UM), 6-4, 7-5
Holly Staff (VU) def. Brooke Dugarte (UM), 6-2, 6-2
No. 23 Amela Rajecki (ST) def. Charlotte Chavatipon (TX), 3-6, 7-6 (7-4), 6-1
No. 97 Sophie Abrams (ST) def. No. 85 Malaika Rapolu (TX), 6-4, 6-1
Nell Miller (ST) def. Sabina Zeynalova (TX), 7-6 (7-1), 7-6 (7-2)
No. 87 Marlee Zein (TX) vs. Gina Dittmann (ST), 7-5, 6-3
Nicole Rivkin (TX) def. Chloe Henderson (ST), 6-0, 6-0
Doubles
Charlotte Chavatipon/Nicole Khirin (TX) def. Daevenia Achong/Maya Tahan (UM), 6-4
Taisiya Pachkaleva/Nicole Rivkin (TX) def. Audrey Boch-Collins/Alexa Noel (UM), 6-4
Marlee Zein/Sabina Zeynalova (TX) def. Mia Mack/Isabella Pfennig (UM), 6-0
Malaika Rapolu/Grace Thomas (TX) def. Brooke Dugarte/Tatyana Nikolenko (UM), 6-0
No. 8 Nell Miller/Amelia Racjeki (ST) def. Anna Ross/Holly Staff (VU), 6-4
No. 60 Sophie Abrams/Abigail Rencheli (ST) def. Marcella Cruz/Bridget Stammel (VU), 6-3
No. 55 Anessa Lee/Celia-Belle Mohr (VU) def. Gina Dittmann/Chloe Henderson (ST), 6-2
SATURDAY RESULTS
Singles
Charlotte Chavatipon (TX) def. Holly Staff (VU), 6-1, 6-1
Anessa Lee (VU) def. Sabina Zeynalova (TX), 6-4, 0-6, 6-2
No. 35 Bridget Stammel (VU) def. Nicole Rivkin (TX), 7-5, 6-1
No. 85 Malaika Rapolu (TX) def. Marcella Cruz (VU), 0-6, 6-1, 6-0
No. 87 Marlee Zein (TX) def. Amy Stevens (VU), 7-5, 6-1
Taisiya Pachkaleva (TX) def. Dasha Kourkina (VU), 6-2, 6-0
No. 14 Alexa Noel (UM) def. No. 23 Amelia Rajecki (ST), 7-5, 5-7, 6-1
No. 97 Sophie Abrams (ST) def. No. 60 Daevenia Achong (UM), 7-6 (7-5), 5-7, 6-4
Nell Miller (ST) def. No. 123 Isabella Pfennig (UM), 2-6, 6-2, 6-1
Gina Dittmann (ST) def. Audrey Boch-Collins (UM), 6-7 (3-7), 6-3, 7-6 (7-1)
Anna Zyryanova (ST) def. Maya Tahan (UM), 2-6, 7-5, 6-3
Mia Mack (UM) def. Chloe Henderson (ST), 6-0, 6-2
Grace Thomas (TX) def. Tatyana Nikolenko (UM), 6-2, 6-1
Susanna Brass (TX) def. Brooke Dugarte (UM), 6-2, 6-2
Doubles
Daevenia Achong/Maya Tahan (UM) def. Anna Ross/Holly Staff (VU), 6-4
Audrey Boch-Collins/Alexa Noel (UM) def. Dasha Kourkina/Bridget Stammel (VU), 6-4
Marcella Cruz/Anessa Lee (VU) def. Mia Mack/Isabella Pfennig (UM), 7-6 (11-9)
Brooke Dugarte/Tatyana Nikolenko (UM) def. Susanna Brass/Gabby Cusano (TX), 6-2
No. 8 Nell Miller/Amelia Racjeki (ST) def. Nicole Rivkin/Sabina Zeynalova (TX), 7-5
Malaika Rapolu/Marlee Zein (TX) def. No. 60 Sophie Abrams/Abigail Rencheli (ST), 6-4
Charlotte Chavatipon/Grace Thomas (TX) def. Gina Dittmann/Anna Zyryanova (ST), 7-6 (7-1)
SUNDAY RESULTS
Singles
No. 14 Alexa Noel (UM) def. Charlotte Chavatipon (TX), 6-1, 6-3
No. 85 Malaika Rapolu (TX) def. No. 60 Daevenia Achong (UM), 6-1, 6-2
No. 87 Marlee Zein (TX) def. No. 123 Isabella Pfennig (UM), 6-1, 6-4
Taisiya Pachkaleva (TX) def. Audrey Boch-Collins (UM), 6-3, 6-4
Nicole Rivkin (TX) def. Maya Tahan (UM), 7-6 (9-7), 3-6, 6-3
Sabina Zeynalova (TX) def. Mia Mack (UM), 6-2, 6-3
Tatyana Nikolenko (UM) def. Gabby Cusano (TX), 6-2, 6-1
Grace Thomas (TX) def. Brooke Dugarte (UM), 6-2, 6-0
No. 23 Amelia Rajecki (ST) def. No. 35 Bridget Stammel (VU), 6-2, 6-2
Anessa Lee (VU) def. No. 97 Sophie Abrams (ST), 3-6, 6-1, 6-3
Holly Staff (VU) def. Nell Miller (ST), 6-4, 6-4
No. 25 Abigail Rencheli (ST) def. Dasha Kourkina (VU), 6-2, 6-3
Gina Dittmann (ST) def. Marcella Cruz (VU), 6-1, 6-7 (4-7), 6-4
Amy Stevens (VU) def. Anna Zyryanova (ST), 4-6, 7-6 (7-3), 6-1
Doubles
No. 8 Nell Miller/Amelia Rajecki (ST) def. Daevenia Achong/Maya Tahan (UM), 6-3
No. 60 Sophie Abrams/Abigail Rencheli (ST) def. Audrey Boch-Collins/Alexa Noel (UM), 6-4
Mia Mack/Isabella Pfennig (UM) def. Gina Dittman/Anna Zyryanova (ST), 6-3
Brooke Dugarte/Tatyana Nikolenko (UM) def. Gabby Cusano/Simaran Kortikere (TX), 6-3
Taisiya Pachkaleva/Nicole Rivkin (TX) def. Anna Ross/Holly Staff (VU), 6-4
Marcella Cruz/Bridget Stammel (VU) def. Charlotte Chavatipon/Malaika Rapolu (TX), 6-4
Susanna Brass/Grace Thomas (TX) def. Anessa Lee/Amy Stevens (VU), 6-4