University of Miami Athletics
Tatyana Nikolenko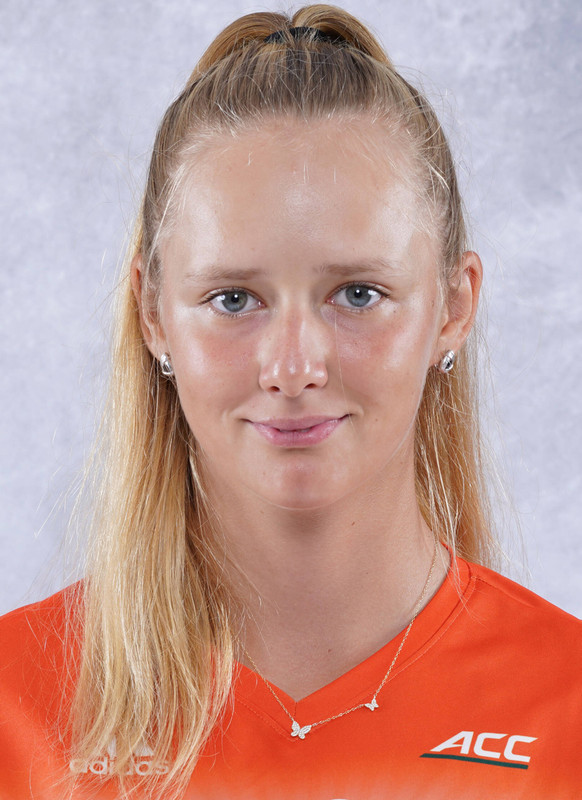 As a Sophomore (2022-23): Finished 1-7 in singles and 4-3 in doubles … Beat Texas' Gabby Cusano, 6-2, 6-1, in the Miami Spring Invite … Also won two doubles matches against Texas the same weekend, both alongside Brooke Dugarte … Defeated Susanna Brass/Gabby Cusano, 6-2, and downed Gabby Cusano/Simran Kortikere, 6-3 … Partnered with Maya Tahan for two wins in the Miami Fall Invite … Edged Florida's Emma Shelton/Anastasia Sysoeva, 7-6 (7-4), and beat Kentucky's Makayla Mills/Maialen Morante, 6-2.
As a Freshman (2021-22): Enrolled at Miami for the spring semester … Finished 6-4 in singles and 3-5 in doubles, all in dual match play … Went 1-2 versus ranked doubles pairs … All singles results came at the No. 6 position … Earned a 6-0, 5-7, 6-2 victory over Meghan Coleman at No. 44 Notre Dame for her first victory … Topped Dina Chaika, 6-3, 6-0, at Louisville … Downed Boston College's Hailey Wilcox, 6-0, 6-1 … Extended her winning streak to four with a 5-7, 7-6 (7-5), 7-6 (7-5) decision over Kate Sharabura, staving off six match points in a 4-3 win over No. 32 Georgia Tech in the ACC Championship quarterfinals … Beat Elodie Foster of No. 61 Stetson, 6-2, 6-2, in the first round of the NCAA Team Championship … Topped No. 21 UCF's Sophia Biolay, 6-1, 6-1, in the NCAA Round of 32 … Competed with two different doubles partners, going 0-1 with Audrey Boch-Collins at the No. 3 spot and 3-4 with Maya Tahan at the No. 2 position … Downed Dina Chaika/Chelsea Sawyer, 6-2, at Louisville for her first collegiate doubles win … Tallied her first ranked victory by beating No. 40 Miyuka Kimoto/Polina Kozyreva of No. 71 Syracuse, 6-4 … Topped Boston College's Sophia Edwards/Hailey Wilcox, 6-3.
Prior to College: Peaked at No. 53 in the ITF Juniors rankings in January 2021 and entered college at No. 135 internationally … Owned WTA rankings of 1,507 in singles and 1,665 in doubles at the time of her enrollment … Competed in both the Wimbledon Junior Championships and the US Open Junior Championships in 2021 … Won five amateur titles, including a J2 trophy in Shymkent, Kazakhstan, in October 2021, as well as three J3 events and one J4 tournament.
Personal: Full name is Tatyana Nikolenko … Name is pronounced Tat-Ee-AH-Nuh Nee-Koe-LEN-Koe … Goes by Tati … Born Jan. 2, 2004 … Parents are Yuri and Elena … Father is a lawyer and mother is a secretary … Has an older brother, Artem, and a younger brother, Yaroslav … Major is undecided … Enjoys drawing, swimming and weaving … Favorite athlete is Rafael Nadal because of his playing style … Best sports memory is paying in the Wimbledon Junior Championships … Chose Miami because she liked all the University had to offer … Committed to Miami over FIU, Georgia, Iowa State, Oklahoma, USF, Texas A&M and VCU … First player from Kazahkstan to play for Paige Yaroshuk-Tews at Miami.
SINGLES
YEAR
TOTAL
FALL
SPRING
DUAL
CONF
*RNK
2021-22
6-4
0-0
6-4
6-4
3-3
0-0
2022-23
1-7
0-5
1-2
0-0
0-0
0-0
CAREER
7-11
0-5
7-6
6-4
3-3
0-0
DOUBLES
YEAR
TOTAL
FALL
SPRING
DUAL
CONF
*RNK
2021-22
3-5
0-0
3-5
3-5
3-2
1-2
2022-23
4-3
2-2
2-1
0-0
0-0
0-0
CAREER
7-8
2-2
5-6
3-5
3-2
1-2
*RNK = record vs. ranked opponents