W. Tennis Rallies Past No. 32 Georgia Tech, 4-3, in ACC Quarters
ROME, Ga. – After dropping the doubles point and losing four opening sets in singles, the third-seeded University of Miami women's tennis team stormed back to take down sixth-seeded Georgia Tech, 4-3, Friday night in the ACC Championship quarterfinals.
Following a 55-minute delay at the Rome Tennis Center at Berry College, the Hurricanes needed nearly four full hours to complete the victory. Once done, they poured on to Court 6 in jubilation following freshman Tatyana Nikolenko's thrilling tiebreak clincher.
No. 13 Miami (17-4, 10-3 ACC) is now headed to the ACC Championship semifinals for the 13th time in its 17 appearances, including the sixth in a row.
"[We were] just tough when we were down. Even though we weren't down the whole match, it seemed like we were," Miami head coach Paige Yaroshuk-Tews said. "We kind of had our tails handed to us in doubles and they go out and start rolling us on Court 1. I didn't know what the score was of the match [because the scoreboards were all broken]. I think, all around, it was a tough match. I don't think the girls really knew what was going on the entire match, but we hung in there. We knew we had winnable matches on every court."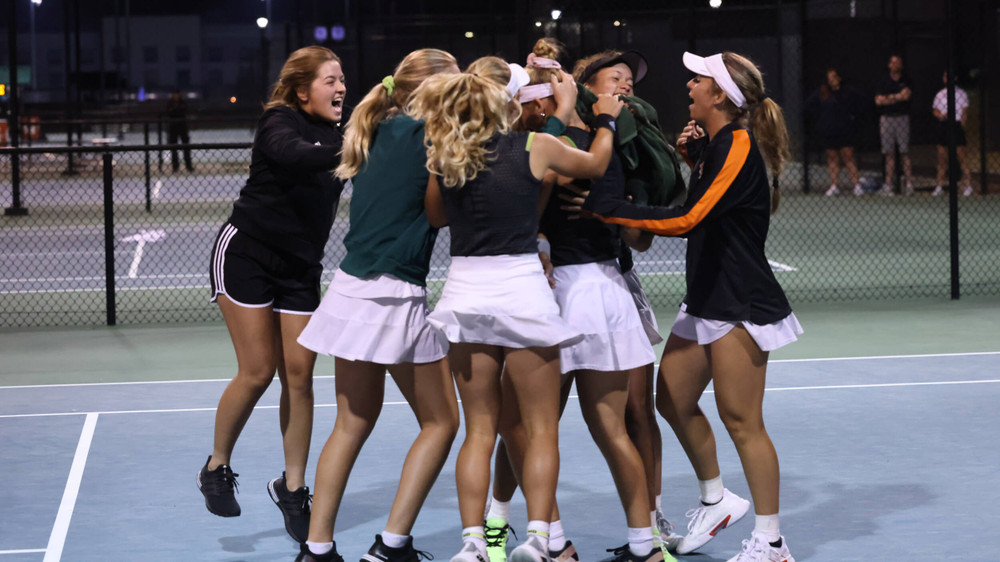 No. 32 Georgia Tech (14-10, 8-5 ACC) posted an impressive effort in doubles to take the doubles point. It took two matches just seconds apart to earn the 1-0 lead.
Gia Cohen and Ruth Marsh topped sophomores Audrey Boch-Collins and Isabella Pfennig, 6-2. Moments later, in a top-20 matchup, fifth-ranked Carol Lee and Kate Sharabura completed a 6-4 decision against Miami's No. 19-ranked duo of fourth-year junior Daevenia Achong and fifth-year senior Eden Richardson.
The final match stopped with Nikolenko and third-year sophomore Maya Tahan holding a 4-3 lead on No. 44 Kylie Bilchev and Ava Hrastar.
The Yellow Jackets got off to an excellent beginning in singles, grabbing the first set on four courts, including two by a 7-5 margin and another by a 6-4 ledger. Miami, though, closed out the other two matches in straight sets to take the lead and begin to turn the momentum.
No. 80 Pfennig leveled the score by notching a 6-3, 6-3 decision against Hrastar. Within a minute, Boch-Collins sealed a 6-0, 6-4 result versus Cohen to put Miami ahead, 2-1.
In a top-60 matchup, No. 51 Richardson did not win a game in the first set against No. 30 Lee, but put forth a strong effort in the second before dropping a 0-6, 4-6 decision to even the score at 2-2.
The Hurricanes sent the other three matches to third sets and needed two of them, but trailed on all three courts. No. 32 Achong, however, came back from 0-2 and 3-4 deficits in the final set, taking each of the last three games to beat No. 81 Bilchev, 4-6, 6-1, 6-4, and put her team ahead, 3-2.
"Daev to come up 6-4 in the third at two, Bella to win in straight sets at three and Boch to do her job down at five [were all huge]," Yaroshuk-Tews said.
Once again, Georgia Tech answered back. Mahak Jain, who clinched a 4-3 win over Miami in the 2021 ACC Championship semifinals, logged a 7-5, 2-6, 6-3 victory over Tahan, tying the score at 3-3 and sending all eyes to Court 6.
There, Nikolenko, who arrived at Miami from Oskemen, Kazakhstan, in late January, trailed Sharabura in the third. The outing was just the eighth of her young career, including the fifth since she stepped into the lineup full-time in place of injured third-year sophomore Diana Khodan.
After coming back from a 2-5 second-set deficit, including staving off two match points, Nikolenko rallied back from a 1-4 second-set deficit to make it 3-4, but then dropped the next game. She broke to stay alive and then fought off two more match points to even the score at 5-5.
Sharabura pulled in front, 6-5, and then had two more match points in the 12th game. Nikolenko yet again battled them off to force a tiebreaker.
The 5-foot-7 right-hander trailed 1-3, 2-4 and 4-5, but then won each of the last three points to seal the victory at 10:50 p.m.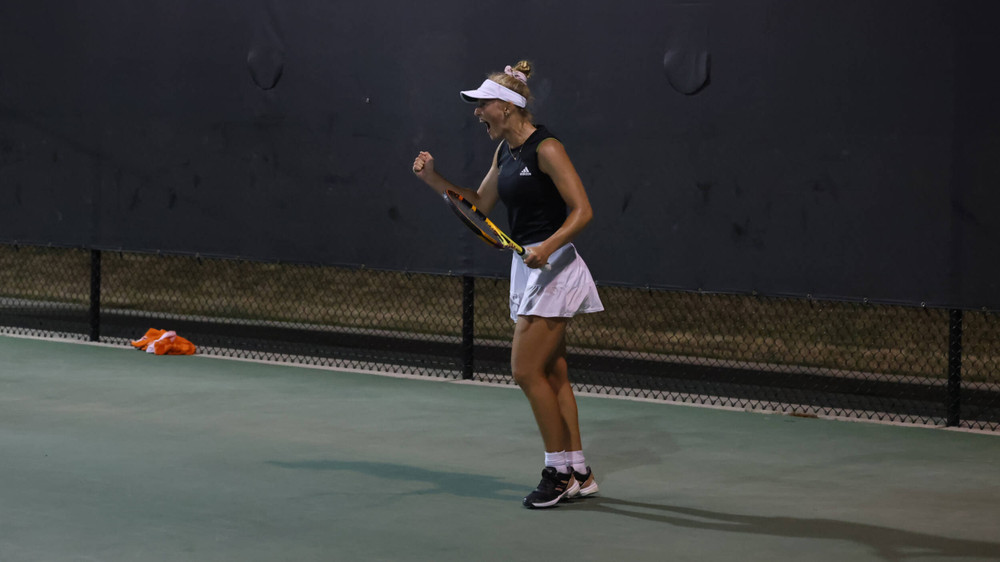 "Taty to pull that out as a freshman [is incredible after], I think, six match points down," Yaroshuk-Tews saod. "We deserved this win, for sure. Just with what they've been through in the past couple weeks. For the match to come down to that kid and her to pull it out and Di to be on the court helping with the coaching, it's just meant to be."
Friday marked the second time this season the Hurricanes have won after dropping the doubles point. They are 2-3 in such instances, with both victories in 4-3 fashion against Georgia Tech, as Miami posted the same feat on Feb. 25 in Coral Gables, Fla., in the ACC opener.
The Hurricanes also improved to 22-15 all-time in ACC Championship play, including 5-2 over the last three tournaments, 4-2 in Rome and 3-6 against Georgia Tech, by far their most common foe in the event.
Miami now faces second-seeded and fifth-ranked Duke in the ACC Championship semifinals, slated for Saturday at 2 p.m.
To keep up with the University of Miami women's tennis team on social media, follow @CanesWTennis on Twitter, Instagram and Facebook.
RESULTS
Doubles Competition
1. No. 5 Carol Lee/Kate Sharabura (GT) def. No. 19 Daevenia Achong/Eden Richardson (UM), 6-4
2. Tatyana Nikolenko/Maya Tahan (UM) vs. No. 44 Kylie Bilchev/Ava Hrastar (GT), 4-3, unf.
3. Gia Cohen/Ruth Marsh (GT) def. Audrey Boch-Collins/Isabella Pfennig (UM), 6-2
Singles Competition
1. No. 30 Carol Lee (GT) def. No. 51 Eden Richardson (UM), 6-0, 6-4
2. No. 32 Daevenia Achong (UM) def. No. 81 Kylie Bilchev (GT), 4-6, 6-1, 6-4
3. No. 80 Isabella Pfennig (UM) def. Ava Hrastar (GT), 6-3, 6-3
4. Mahak Jain (GT) def. Maya Tahan (UM), 7-5, 2-6, 6-3
5. Audrey Boch-Collins (UM) def. Gia Cohen (GT), 6-0, 6-4
6. Tatyana Nikolenko (UM) def. Kate Sharabura (GT), 5-7, 7-6 (7-5), 7-6 (7-5)