California Sweet Dreamin'
MALIBU, Calif. – The University of Miami women's tennis team is back in the NCAA Sweet 16.
Following a 4-0 victory over No. 61 Stetson and a 4-1 triumph against No. 21 UCF, ninth-ranked and ninth-seeded Miami (19-5, 10-3 ACC) reached the second weekend of the NCAA Team Championship for the first time since 2018.
Doing so was an objective for this team from the start of the season. That was despite losing the ITA National Player of the Year, Estela Perez-Somarriba, to graduation. This team still believed it could get to the third round and has now done just that.
"Look, the step to get to the Sweet 16 is always a big one in college tennis," Miami head coach Paige Yaroshuk-Tews. "That was a goal this year, it was something that we set out to do. I think it means a lot, especially considering—like I've said all year—who we lost. How we did it this year is just pretty darn special."
One of the most accomplished coaches in the history of her sport, Yaroshuk-Tews has experienced just about everything in college tennis, including reaching an NCAA title match.
The 21st-year leader of the Miami program, however, has not been to a Sweet 16 in the current Super Regional format. The NCAA switched from a 16-team finals site to an eight-team site—with the Sweet 16 played at the home higher-seeded teams—in 2019. The Hurricanes fell in the second round that season, the 2020 tournament was canceled and it dropped a second-round matchup last year.
Now, Miami will travel to eighth-ranked and eighth-seeded Pepperdine for its first Super Regional matchup. The Hurricanes and Waves will face off Friday at 4 p.m. ET at Ralphs-Straus Tennis Center in Malibu, Calif.
"I've been thinking about that. I think it definitely puts a little bit more of a spotlight on the Sweet 16 match, being one match at one facility," Yaroshuk-Tews said of her opening foray into this new format. "But listen, I'm not one to question things too much; I do what I'm told. I'm told to go play a Super Regional. We could be going to worse places, right? Malibu seems like a pretty cool place to continue the NCAA tournament."
Aside from the event structure being new to the Hurricanes, the team also has to deal with, by far, the longest Sweet 16 trip of any school left in the field.
With a flight of five-plus hours and a three-hour time difference, there are some additional factors involved for Miami. Yaroshuk-Tews, though, quickly came up with a plan to work through that and not let it impact her team.
"Typically, we only leave a day before and had we gone someplace closer, we still would've only left a day before. But we left Wednesday, left early," the two-time ITA Southeast Region Coach of the Year said. "The time change is going to be a bit of an issue. The weather will not be an issue. I think the weather, for us, will actually be beautiful. It will probably feel like fall. So, [there are] positives and negatives. [That is] all part of the tournament; you've just got to kind of make do with what you've got."
The Waves into the Sweet 16 at 22-6 (7-0 WCC) on the season. It has won five matches in a row, conceding just two points during that stretch. The reining NCAA runner-up, Pepperdine has seven ranked singles players and four ranked doubles pairs.
In singles, Shirori Fukuda leads the way at No. 15, followed by Lisa Zaar at No. 27, Taisiya Pachkaleva at No. 40, Victoria Flores at No. 59, Savannah Broadus at No. 85, Janice Tjen at No. 91 and Nikki Redelijk at No. 121. In doubles, Broadus and Tjen place No. 42, with Flores and Zaar at No. 45, Flores and Tjen at No. 60 and the duo of Broadus and Fukuda at No. 70.
"From what I've seen and heard, of course, they are a very solid team," Yaroshuk-Tews shared. "Although they've played a tough schedule, I don't think that they've played the level that we've played. But I have a lot of respect for them. I know quite a few players in their lineup. I know that they're really solid, really good. Playing them on their home court, they're going to be even a little bit better. So, we're going to have to be ready to play."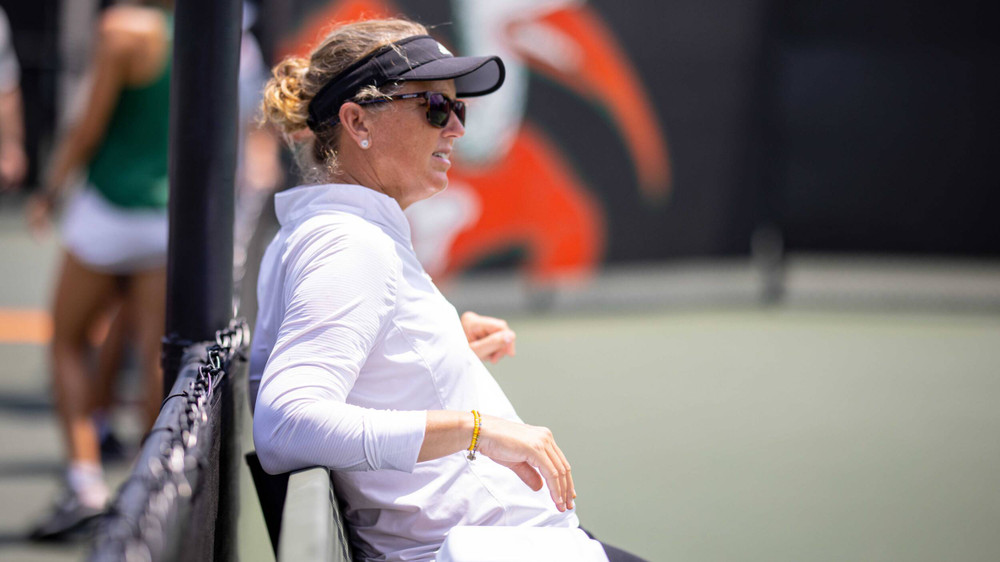 Miami is 5-5 all-time against Pepperdine, including 3-4 on the road 1-1 in NCAA Team Championship competition. The sides have not met in over 16 years, as the last contest came on March 5, 2006, when the Hurricanes earned a 6-1 home victory.
For the Hurricanes to extend their series winning streak to three, their coach knows there are bevy of things they must do on the road against the WCC champions.
"In order for us to be successful, I think we need to stay calm, we need to play aggressive, we need to go after this team and we need to trust our strengths," Yaroshuk-Tews said. "We need to refuse to leave a facility until we get four points for Miami. If we go into that match and our expectations are to win and our actions match our expectations, then we're not going to let anything get in the way."
The Hurricanes, of course, would not be in this position if not for their two home wins last weekend at the Neil Schiff Tennis Center.
After Friday's shutout win against the Hatters, Miami dropped the doubles point Saturday versus the Knights, but then turned in a dominant singles showing. The win sent the Hurricanes to the Sweet 16 for the 24th time in program history and 13th in the last 16 tournament.
It was an individual who did not even take the court, though, whom Yaroshuk-Tews was particularly proud of on the opening weekend of the NCAA tournament.
"I'll tell you what—this is what I told the girls in our team meeting after our match against UCF—if I had to give out a team ball, I would've given it to Diana Khodan, quite honestly," she said. "I don't think people understand the impact of, when you're only a team of seven, [what it is like when] one goes down with the type of injury she went down with. For her to just still be here for her team, on court coaching [is amazing]. She wanted to put off her surgery until after ACCs. As a coach and as a team, you see the impact of all of your players, not just players who are necessarily in the lineup scoring points.
"This kid has had a terrible injury in the middle of her season and has never made it about herself," Yaroshuk-Tews continued. "She's always continued to keep it about the team and the team's success. We had a little bit of a hiccup like three days after she tore it, up at Notre Dame; we were able to bounce back. But I think that Di has been doing such an unbelievable job of just being there for her team and being there for this unit."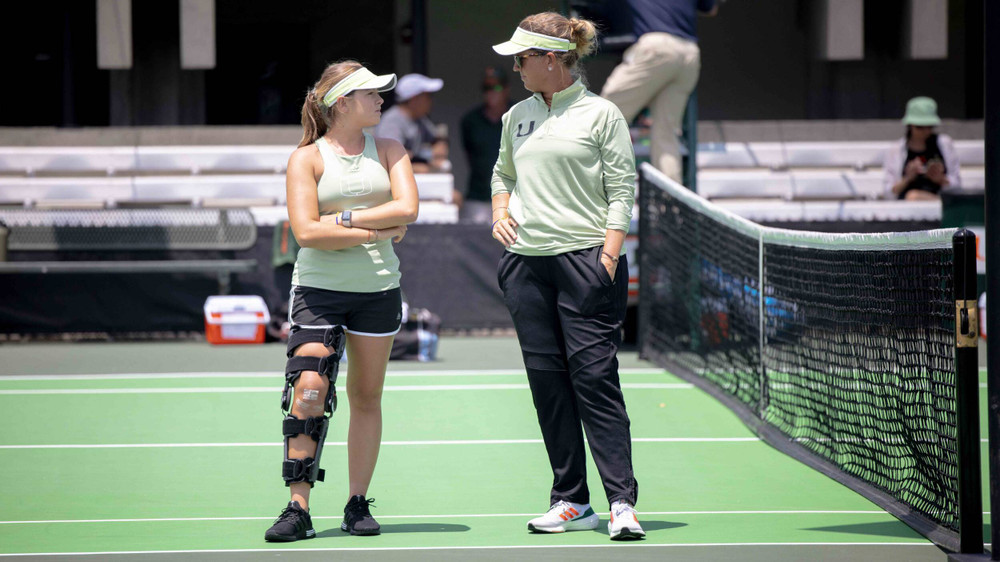 While Khodan might get the top accolade, a freshman in her first postseason, Tatyana Nikolenko, also made her mark to begin NCAA Team Championship action
"Tati really impressed me," Yaroshuk-Tews remarked. "Being in her first NCAA tournament and coming away with two big wins and just battling and getting the job done [without even] really fully understanding what this is all about. I think that she came up pretty big in a big moment."
Khodan, Nikolenko and the Hurricanes will now look to extend their season and earn a berth in the Elite Eight, slated for May 19 at the Khan Outdoor Tennis Complex in Urbana, Ill.
Miami heads into Friday's match with three ranked singles players and an equal number of ranked doubles duos.
Fourth-year junior Daevenia Achong places No. 33, with fifth-year senior Eden Richardson at No. 37 and sophomore Isabella Pfennig at No. 92. Achong and Richardson check in at No. 13 in doubles, followed by Khodan and fellow third-year sophomore Maya Tahan at No. 54, then Nikolenko and Tahan at No. 76.
Live stats and tournament information can be found HERE, while matches will be streamed live on the TennisONE App, which can be downloaded HERE.
To keep up with the University of Miami women's tennis team on social media, follow @CanesWTennis on Twitter, Instagram and Facebook.