Boch-Collins, Noel Reach ITA Southeast Regional Quarterfinals
ATLANTA – The University of Miami women's tennis team turned in a strong performance this weekend at the ITA Southeast Regional Championships.
Two Hurricane singles players and both doubles pairs advanced to the main draw quarterfinals at the Ken Byers Tennis Complex on the Georgia Tech campus. Miami's five singles competitors combined for an 11-7 record, including an 8-3 mark in non-consolation action, while its two duos totaled a 4-2 ledger.
No. 14-seeded Audrey Boch-Collins and second-seeded Alexa Noel, ranked No. 19, both advanced to the quarterfinals.
Boch-Collins first took tallied a dominant 6-0, 6-1 win against Hanna Tsitavets of Georgia Southern and then beat USF's Grace Schumacher, 6-1, 7-6 (7-3). The next day, she logged the biggest win of her career, notching her first top-50 triumph.
The junior from Las Vegas took down fourth-seeded and No. 43-ranked Kit Gulihur of North Florida in comeback fashion, 2-6, 6-4, 6-2, to seal her spot in the fourth round. Once there, she fell to eighth-seeded and No. 79-ranked Dasha Didmanova of Georgia, 2-6, 2-6.
Noel opened her weekend by defeating Annabelle Davis of North Florida, 6-3, 6-2, and then recorded a 7-5, 7-6 (7-3) decision against Florida State's Olympe Lancelot.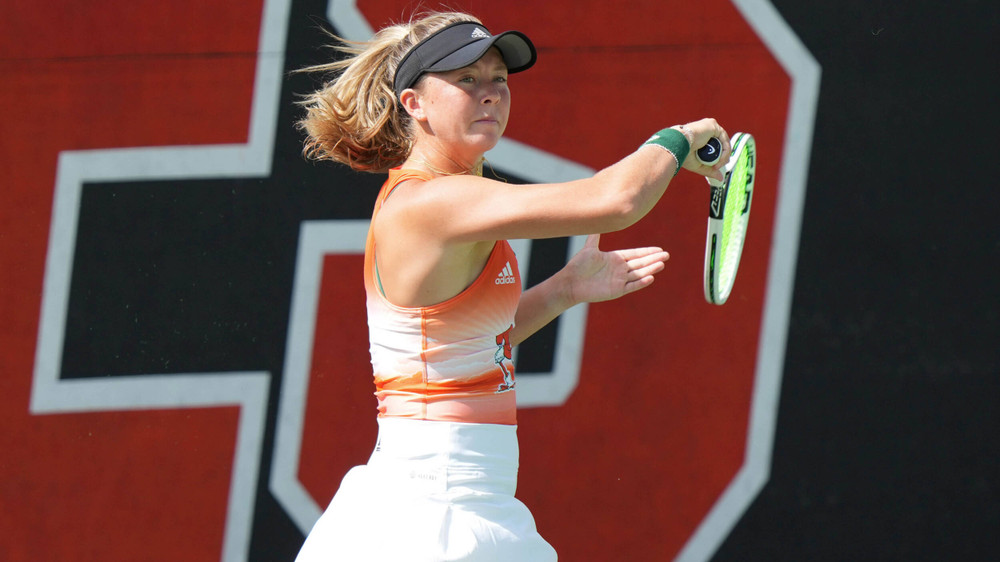 The redshirt sophomore out of Summit, N.J., tallied a ranked win against No. 10-seeded and No. 104-ranked Yasmine Kabbaj of FIU, 7-5, 7-5, to clinch her quarterfinal spot. She then dropped a narrow 6-7 (6-8), 2-6 match to No. 12-seeded Anastasiia Lopata, the No. 10 player in the ITA newcomer rankings.
Fifth-seeded and No. 66-ranked Isabella Pfennig, a junior, went 2-1 and reached the Round of 16 before falling in a top-90 showdown.
In her collegiate debut, freshman Mia Mack registered a 2-2 record, including making the consolation quarterfinals. Meanwhile, fourth-year junior Maya Tahan finished 1-2 in Atlanta.
The Hurricanes also excelled in doubles competition, as both second-seeded Boch-Collins/Mack and fifth-seeded Pfennig/Tahan won a pair of matches to make the quarterfinals.
The former tandem opened play with an 8-2 result versus Michelle Ncube and Andreea Stanescu of Georgia State and followed it with an 8-6 win over Anastasiia Lopata and Mai Nirundorn of Georgia.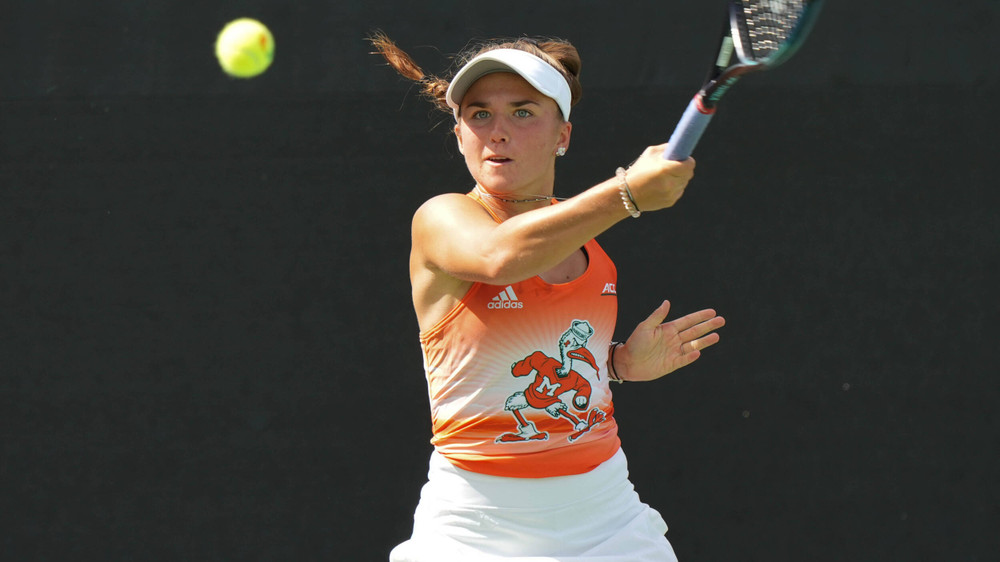 Pfennig and Tahan began their slate with an 8-3 decision against Emma Shelton and Anastasia Sysoeva of Florida. They then beat Florida State's Alice Amendola and Kianah Motosono, 8-4.
Both pairs dropped quarterfinal decisions, with Boch-Collins/Mack falling to seventh-seeded Carly Briggs and Alicia Dudeney of Florida, 2-8, and Pfennig/Tahan coming up short, 3-8, versus fourth-seeded Kylie Bilchev and Alejandra Cruz of Georgia Tech.
Following two weeks off, the Hurricanes will resume play Nov. 4-6 on their home court in Coral Gables, Fla., for the Miami Fall Invite.
To keep up with the University of Miami women's tennis team on social media, follow @CanesWTennis on Twitter, Instagram and Facebook.
FRIDAY RESULTS
Doubles Main Draw – First Round
[5] Isabella Pfennig/Maya Tahan (UM) def. Emma Shelton/Anastasia Sysoeva (UF), 8-3
[2] Audrey Boch-Collins/Mia Mack (UM) def. Michelle Ncube/Andreea Stanescu (GST), 8-2
Singles Main Draw – First Round
No. 16 [1] Carol Lee (GT) def. Mia Mack (UM), 6-1, 6-3
No. 66 [5] Isabella Pfennig (UM) def. Fanny Norin (FG), 6-2, 6-1
]14] Audrey Boch-Collins (UM) def. Hanna Tsitavets (GSO), 6-0, 6-1
[16] Guillermina Grant (GA) def. Maya Tahan (UM), 6-3, 7-6 (7-2)
No. 19 [2] Alexa Noel (UM) def. Annabelle Davis (NF), 6-3, 6-2
Singles Main Draw – Consolation First Round
Mia Mack (UM) def. Michelle Ncube (GSO), 6-2, 6-2
Maya Tahan (UM) def. Kianah Motosono (FS), 6-3, 6-1
Singles Main Draw – Second Round
No. 66 [5] Isabella Pfennig (UM) def. Teodora Ristic (MER), 2-6, 7-5, 6-3
[14] Audrey Boch-Collins (UM) def. Grace Schumacher (USF), 6-1, 7-6 (7-3)
No. 19 [2] Alexa Noel (UM) def. Olympe Lancelot (FS), 7-5, 7-6 (7-3)
SATURDAY RESULTS
Doubles Main Draw – Round of 16
[5] Isabella Pfennig/Maya Tahan (UM) def. Alice Amendola/Kianah Motosono (FS), 8-4
[2] Audrey Boch-Collins/Mia Mack (UM) def. Anastasiia Lopata/Mai Nirundorn (GA), 8-6
Doubles Main Draw – Quarterfinals
[4] Kylie Bilchev/Alejandra Cruz (GT) def. [5] Isabella Pfennig/Maya Tahan (UM), 8-3
[7] Carly Briggs/Alicia Dudeney (UF) def. [2] Audrey Boch-Collins/Mia Mack (UM), 8-2
Singles Main Draw – Consolation Second Round
Mia Mack (UM) def. Noa Cohen (STE), 6-0, 6-2
Emily De Oliveira (UF) def. Maya Tahan (UM), 6-4, 6-1
Singles Main Draw – Round of 16
No. 90 [9] Marie Mattel (UCF) def. No. 66 [5] Isabella Pfennig (UM), 6-3, 6-1
[14] Audrey Boch-Collins (UM) def. No. 43 [4] Kit Gulihur (UNF), 2-6, 6-4, 6-2
No. 19 Alexa Noel (UM) def. No. 104 [10] Yasmine Kabbaj (FIU), 7-5, 7-5
Singles Main Draw – Consolation Quarterfinals
Alejandra Cruz (GT) def. Mia Mack (UM), 6-4, 6-1
SUNDAY RESULTS
Main Draw – Quarterfinals
No. 79 [8] Dasha Vidmanova (GA) def. Audrey Boch-Collins (UM), 6-2, 6-2
[12] Anastasiia Lopata (GA) def. #19 Alexa Noel (UM), 7-6 (8-6), 6-2