W. Tennis Takes ACC Opener, 5-2, at No. 46 Boston College
WEYMOUTH, Mass. – The University of Miami women's tennis team recorded a 5-2 victory Friday night on the road over No. 46 Boston College at The Weymouth Club.
No. 23 Miami (5-1, 1-0 ACC) took the doubles point and claimed four straight-set singles matches to pick up a win in both its first road match and first conference match of the 2023 campaign.
"We played a pretty solid match today," Miami head coach Paige Yaroshuk-Tews said. "We handled the conditions well and focused on the controllables, which enabled us to get the win."
Miami got off to a fast start in doubles, taking both completed matches. Redshirt sophomore Alexa Noel and junior Isabella Pfennig started the success with a 6-2 triumph over Seren Agar and Hailey Wilcox.
Fifth-year senior Daevenia Achong, on the same day she earned ACC postgraduate scholarship recognition, and fourth-year junior Maya Tahan clinched the opening point with a 6-4 decision versus No. 60 Marice Aguiar and Laura Lopez.
In the lone unfinished match, junior Audrey Boch-Collins and freshman Mia Mack were in a 5-5 deadlock with the Boston College (7-3, 0-2 ACC) duo of Sophia Edwards and Stephanie Sanchez.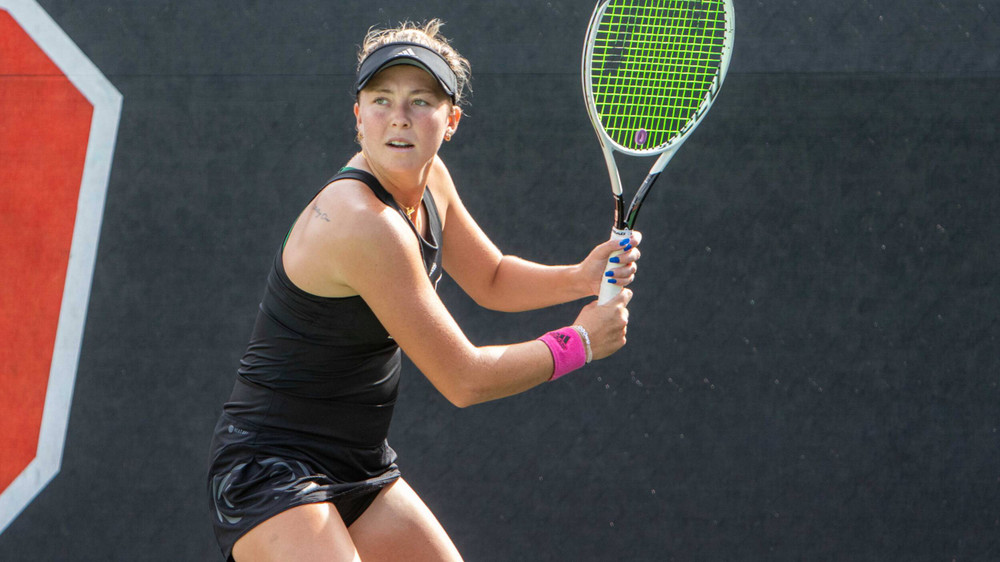 The Eagles registered the first singles victory on their home court to level the score at 1-1, as Lopez defeated Achong, 6-4, 6-2. Miami, though, took each of the next four contests.
The Hurricanes tacked on their second and third point in a span of just seconds, as eighth-ranked Noel and Boch-Collins completed their victories in quick succession. The former topped No. 119 Aguiar, 6-4, 6-4, and then Boch-Collins defeated Sanchez, 6-3, 6-4.
Within minutes, Miami sealed the road victory behind a 7-5, 6-2 win from Mack over Agar. It marked the second clinch in the last three matches for the Löchgau, Germany, native.
Both remaining matches were played out, with Pfennig extending the advantage to 5-1 by edging Edwards, 6-2, 7-6 (7-3).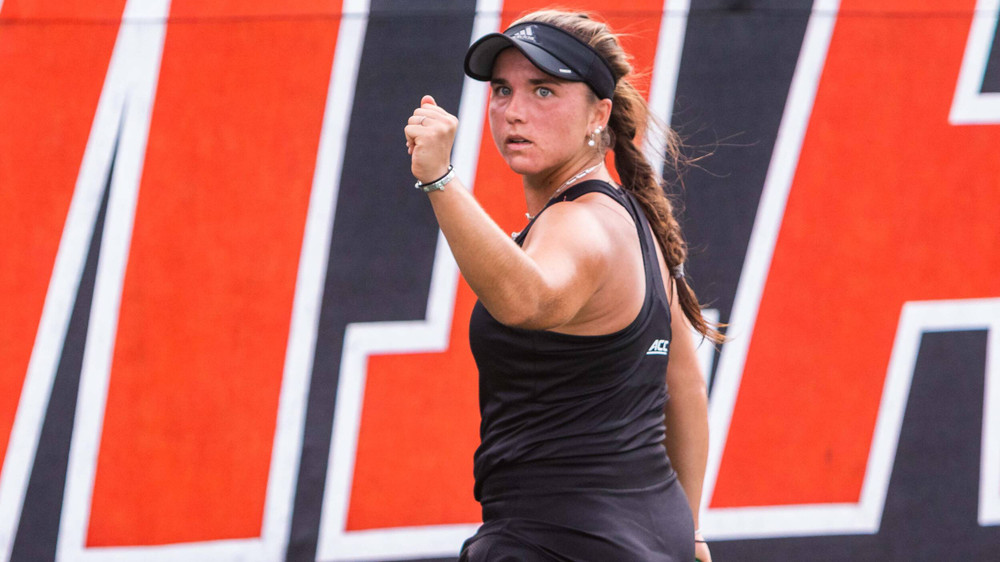 The last match then took another 45-plus minutes to complete and ended with a 1-6, 4-6, 7-6 (7-4) victory by Mahajan over Tahan to make it a 5-2 final score.
With the win, Yaroshuk-Tews, in her 22nd year at the helm of the Hurricanes, reached 350 total victories in her 19 seasons as an ACC coach. She is the fifth individual in league history to hit that mark and is now one behind Kitty Harrison, who coached North Carolina for 22 seasons (1977-98), for fourth place on the ACC's all-time list.
Miami continues its Northeast road swing in Syracuse, N.Y., Sunday at 11 a.m. when it takes on No. 53 Syracuse.
To keep up with the University of Miami women's tennis team on social media, follow @CanesWTennis on Twitter, Instagram and Facebook.
RESULTS
Doubles Competition
1. Daevenia Achong/Maya Tahan (UM) def. No. 60 Marice Aguiar/Laura Lopez (BC), 6-4
2. Alexa Noel/Isabella Pfennig (UM) def. Seren Agar/Hailey Wilcox (BC), 6-2
3. Audrey Boch-Collins/Mia Mack (UM) vs. Sophia Edwards/Stephanie Sanchez (BC), 5-5, unf.
Singles Competition
1. No. 8 Alexa Noel (UM) def. No. 119 Marice Aguiar (BC), 6-4, 6-4
2. Laura Lopez (BC) def. Daevenia Achong (UM), 6-4, 6-2
3. Isabella Pfennig (UM) def. Sophia Edwards (BC), 6-2, 7-6 (7-3)
4. Mia Mack (UM) def. Seren Agar (BC), 7-5, 6-2
5. Audrey Boch-Collins (UM) def. Stephanie Sanchez (BC), 6-3, 6-4
6. Muskan Mahajan (BC) def. Maya Tahan (UM), 1-6, 6-4, 7-6 (7-4)