W. Tennis Registers 7-0 Sweep at No. 37 Clemson
CLEMSON, S.C. – The University of Miami women's tennis notched a 7-0 shutout victory Saturday evening at No. 37 Clemson.
No. 13 Miami (14-5, 9-3 ACC) dropped just two sets during a dominant road performance at the Duckworth Family Tennis Facility.
"We played tough today and completed every match," Miami head coach Paige Yaroshuk-Tews said. "I'm happy with the maturity we showed in a few difficult moments. The focus now moves to completing the weekend."
The Hurricanes narrowly claimed a tightly-contested doubles point to gain a 1-0 advantage. Junior Audrey Boch-Collins and freshman Mia Mack defeated Jenna Thompson and Leigh Van Zyl, 6-3, to give Miami the early edge.
Clemson (15-10, 3-9 ACC) evened the doubles ledger behind a 6-3 win from Cristina Mayorova and Daniella Medvedeva against redshirt sophomore Alexa Noel and junior Isabella Pfennig, together ranked No. 31.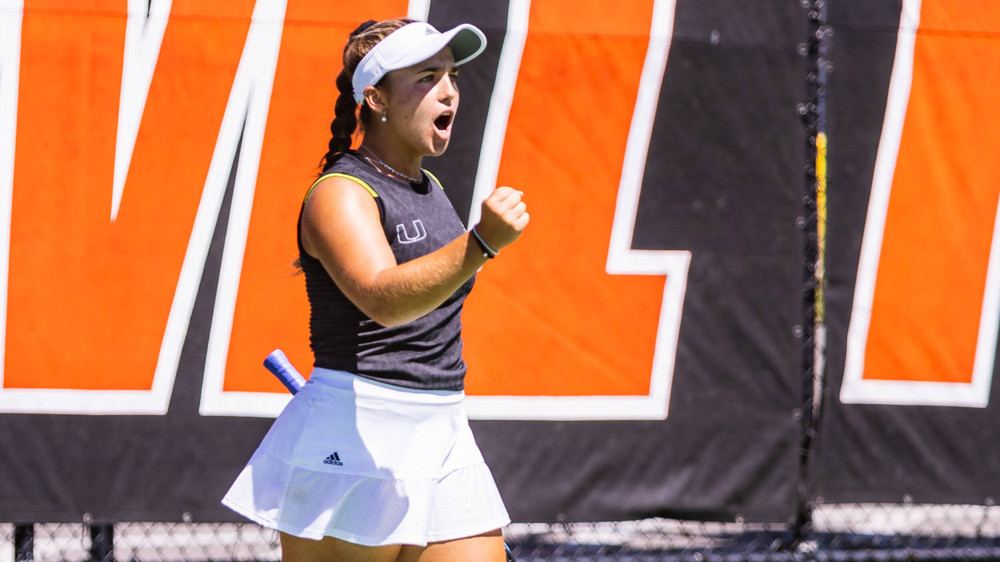 All eyes then turned to Court 1, where the Hurricanes' No. 46-ranked duo of fifth-year senior Daevenia Achong and fourth-year junior Maya Tahan won the final two games against Sophia Hatton and Eleni Louka to earn a 7-5 triumph and give the visitors the opening point.
Mack cruised to a 6-3, 6-0 decision against Hatton to log the first singles win and doubles Miami's lead to 2-0.
It took 15-plus minutes for the next match to end, but once it did, the Hurricanes held a 3-0 cushion. No. 81 Pfennig took down Thompson, 6-3, 6-1.
Eighth-ranked Noel sealed the road win for Miami, as she recorded a 6-2, 6-4 victory against Louka to make it 4-0. The Hurricanes, though, continued to tack on points.
Tahan extended the margin to 5-0 by defeating Alexandra Anttila, 6-2, 2-6, 6-0, and Boch-Collins immediately followed with a 6-2, 6-4 result against No. 94 Medvedeva. For the former, the ranked triumph was the third of her career in singles.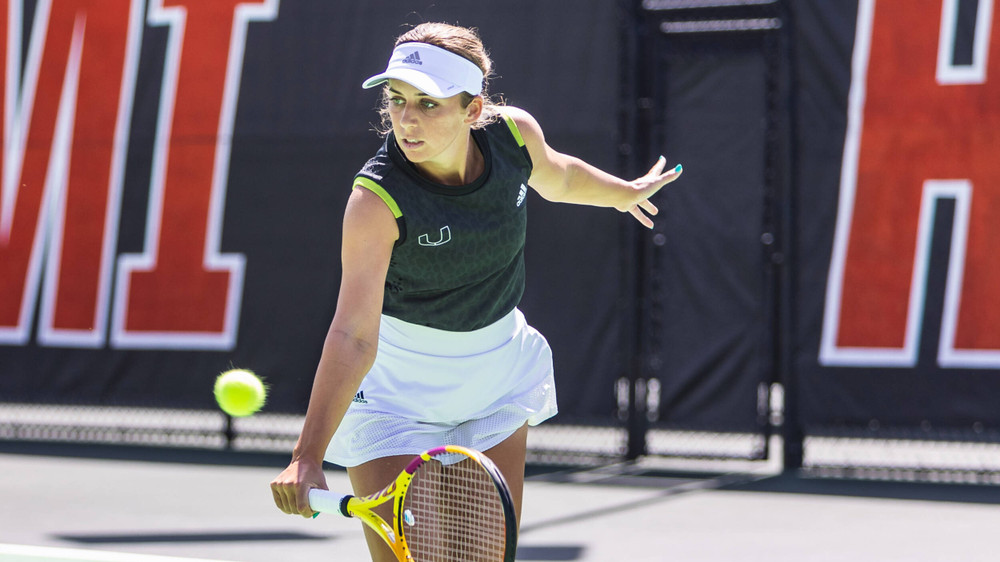 No. 109 Achong finished off the Hurricanes' seventh sweep of the season, including the fifth by a 7-0 score.
Yaroshuk-Tews now owns 168 sweeps in her 22 years at the helm of the Hurricanes, including 111 since 2009 and 72 since 2013. Half Miami's wins this season have come via shutout.
The Hurricanes conclude the 2023 regular season Sunday at 11 a.m. in Atlanta against No. 20 Georgia Tech.
To keep up with the University of Miami women's tennis team on social media, follow @CanesWTennis on Twitter, Instagram and Facebook.
RESULTS
Doubles Competition
1. No. 46 Daevenia Achong/Maya Tahan (UM) def. Sophia Hatton/Eleni Louka (CU), 7-5
2. Cristina Mayorova/Daniella Medvedeva (CU) def. No. 31 Alexa Noel/Isabella Pfennig (UM), 6-3
3. Audrey Boch-Collins/Mia Mack (UM) def. Jenna Thompson/Leigh Van Zyl (CU), 6-3
Singles Competition
1. No. 8 Alexa Noel (UM) def. Eleni Louka (CU), 6-2, 6-4
2. No. 109 Daevenia Achong (UM) def. Cristina Mayorova (CU), 7-6 (7-5), 7-5
3. No. 81 Isabella Pfennig (UM) def. Jenna Thompson (CU), 6-3, 6-1
4. Audrey Boch-Collins (UM) def. No. 94 Daniella Medvedeva (CU), 6-2, 6-4
5. Mia Mack (UM) def. Sophia Hatton (CU), 6-3, 6-0
6. Maya Tahan (UM) def. Alexandra Anttila (CU), 6-2, 2-6, 6-0