W. Tennis Drops 5-2 Decision at Second-Ranked Texas A&M
BRYAN-COLLEGE STATION, TEXAS – In a top-15 showdown, the University of Miami women's tennis team put forth a valiant effort Sunday afternoon at second-ranked Texas A&M, but came up on the short end of a 5-2 result.
No. 13 Miami (9-3, 4-1 ACC) won the doubles point and got off to a hot start on nearly every singles court, but the homestanding Aggies came back to earn their ninth consecutive victory.
"We played a tough match against a very solid A&M team. We need to get better on the road in tough environments like today," Miami head coach Paige Yaroshuk-Tews said. "I'm proud of our team. We've come a long way in a short period of time, but have to keep pressing and wanting more."
The Hurricanes got off to strong starts on all three doubles courts, eventually building a 5-3 lead on each. Fifth-year senior Daevenia Achong and fourth-year junior Maya Tahan claimed the first win, defeating No. 47 Salma Ewing and Jayci Goldsmith, 6-3.
Just moments later, junior Audrey Boch-Collins and freshman Mia Mack sealed the opening point for Miami by taking a 6-4 decision against Jeanette Mireles and Gianna Pielet.
The Hurricanes also led in the unfinished match, as redshirt sophomore Alexa Noel and junior Isabella Pfennig held a narrow 5-4 edge on Mia Kupres and Mary Stoiana.
Texas A&M (17-1, 5-0 SEC) earned the first singles victory behind a 6-4, 6-3 decision from Mireles against Tahan.
It then took approximately 35 minutes for another match to end, but once one did another followed just seconds later. Each result went to the Aggies, who built a 3-1 edge behind a 7-6 (7-3), 6-4 win by No. 106 Kupres over Pfennig and a 7-5, 6-4 victory by No. 80 Smetannikov versus Mack.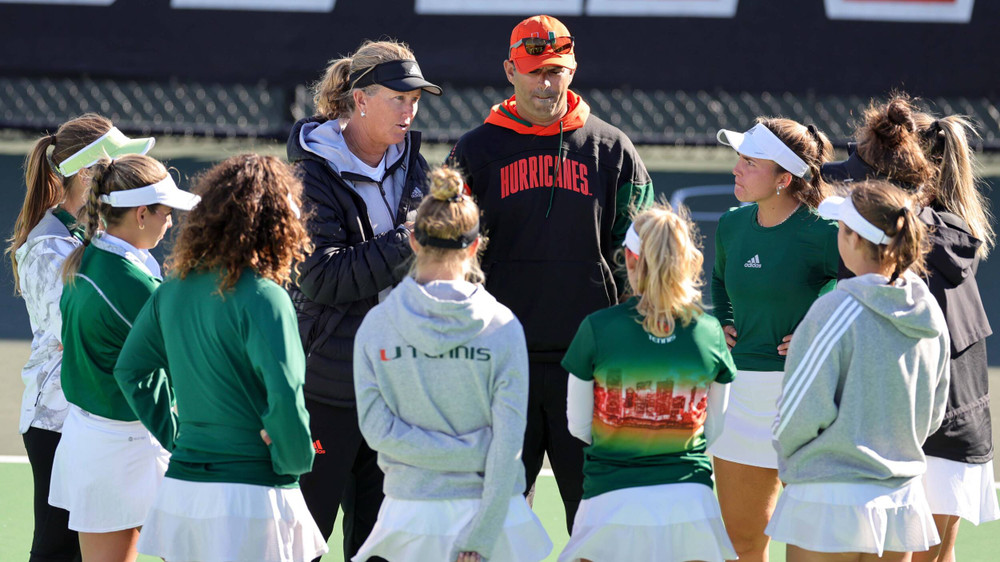 Achong sliced the deficit in half with an impressive 7-6 (7-5), 6-4 triumph against Ewing, a former top-15 player and a 2022 ITA All-American.
Texas A&M, though, clinched the match shortly thereafter behind a 1-6, 6-4, 6-2 result from fifth-ranked Stoiana against No. 13 Noel.
The final match was played out to completion, with Boch-Collins dropping a tight 6-1, 6-7 (5-7), 5-7 contest to No. 90 Goldsmith.
Miami now reenters conference play with a matchup Friday at 1 p.m. against No. 11 Virginia at the Neil Schiff Tennis Center in Coral Gables, Fla.
To keep up with the University of Miami women's tennis team on social media, follow @CanesWTennis on Twitter, Instagram and Facebook.
RESULTS
Doubles Competition
1. Daevenia Achong/Maya Tahan (UM) def. No. 47 Salma Ewing/Jayci Goldsmith (TAM), 6-3
2. Alexa Noel/Isabella Pfennig (UM) vs. Mia Kupres/Mary Stoiana (TAM), 5-4, unf.
3. Audrey Boch-Collins/Mia Mack (UM) def. Jeanette Mireles/Gianna Pielet (TAM), 6-4
Singles Competition
1. No. 5 Mary Stoiana (TAM) def. No. 13 Alexa Noel (UM), 1-6, 6-4, 6-2
2. Daevenia Achong (UM) def. Salma Ewing (TAM), 7-6 (7-5), 6-4
3. No. 106 Mia Kupres (TAM) def. Isabella Pfennig (UM), 7-6 (7-3), 6-4
4. No. 90 Jayci Goldsmith (TAM) def. Audrey Boch-Collins (UM), 1-6, 7-6 (7-5), 7-5
5. No. 80 Daria Smetannikov (TAM) def. Mia Mack (UM), 7-5, 6-4
6. Jeanette Mireles (TAM) def. Maya Tahan (UM), 6-4, 6-3