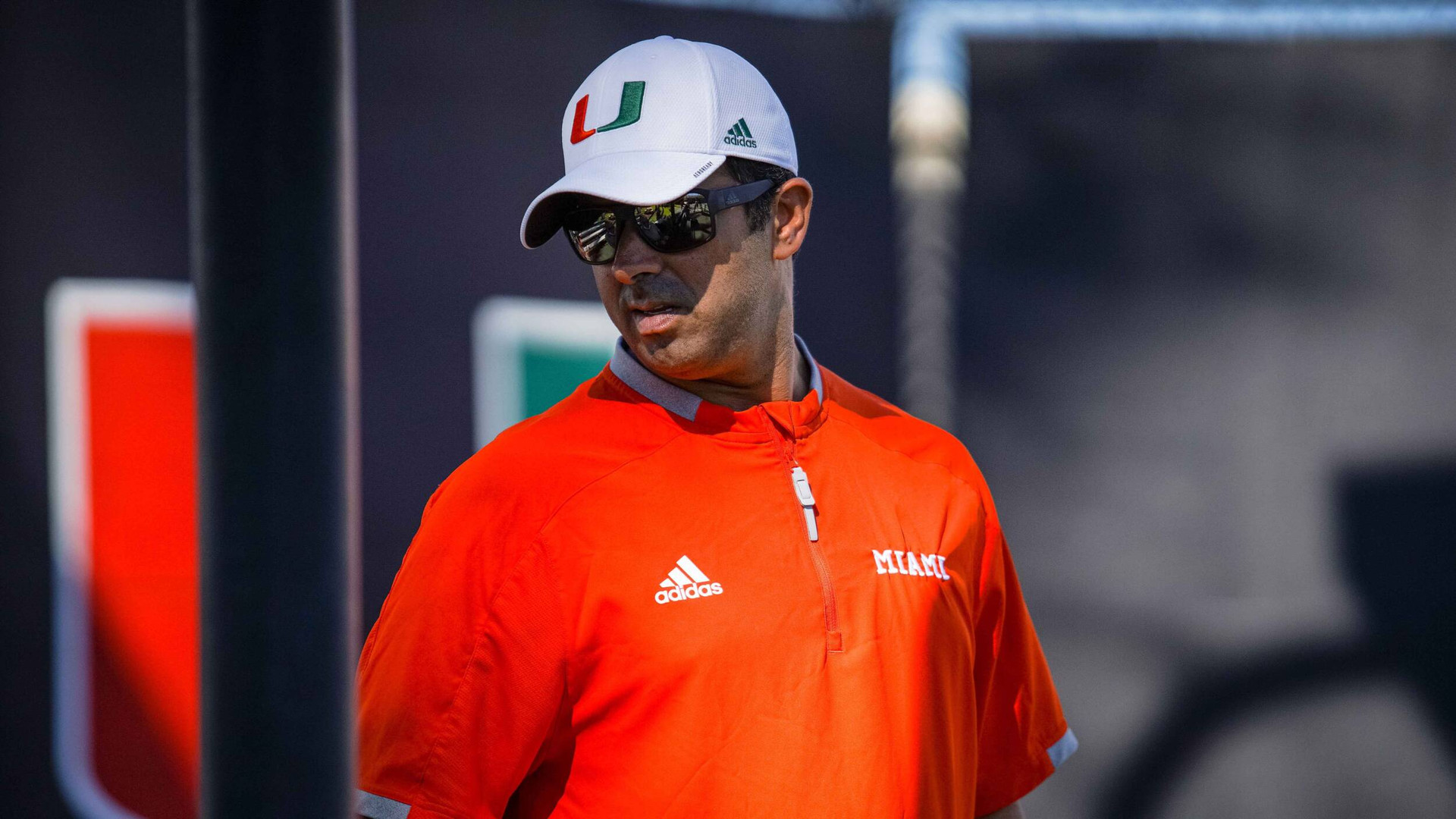 CORAL GABLES, Fla. – The University of Miami women's tennis team is off to a strong start to its 2022 campaign.
For the first time since 2016, the Hurricanes won back-to-back matches, 7-0. The victories came at FGCU and home versus Florida Atlantic, excellent beginnings to the dual match season after a superb showing in the Miami Spring Invite.
No. 23 Miami (2-0) has had impressive success from start to finish, throughout its lineup. The Hurricanes have dropped just three sets in two contests.
"In both matches, we did a very good job with doubles, bringing a quick point," Miami associate head coach Alex Santos said. "What I liked is, I think we were always poised and competing very well, independent of the quality of our tennis. We always stayed focused and calm. We competed on each and every court and on every single point on each one of the courts. I think, [Tuesday against Florida Atlantic], on our courts, I liked the dominance that we presented from beginning to end. I do believe that the quality of tennis was better, so that was a good thing to see, as well."
Doubles has indeed been a huge part of Miami's quality performance thus far. That play is not surprising, though, as the Hurricanes showed that ability in the fall.
Fourth-year junior Daevenia Achong and fifth-year senior Eden Richardson, together ranked No. 40, have held down the No. 1 spot so far. Third-year sophomores Diana Khodan and Maya Tahan, who competed in the NCAA Doubles Championship together last year, are competing at No. 2.
Rounding out the Miami lineup are sophomores Audrey Boch-Collins and Isabella Pfennig, the latter of whom also played in the 2021 NCAA Doubles Championship.
"I honestly think that we have three great doubles team [on which] the girls trust each other. [I also think] that the girls trust that from one to three, three to one, everybody can win in their respective positions," Santos shared. "I think that gives them a lot of confidence and I think that they also enjoy each other, enjoy playing with each other and trust each other. And they all can play doubles, which is a great thing. They all understand, very well, the game of doubles and can really execute well in doubles."
The task, in both doubles and singles, will now get harder for the Hurricanes, who are set to hit the road for Waco, Texas. There, they will compete in ITA Kick-Off Weekend at the Hurd Tennis Center.
Top-seeded Baylor (1-1), ranked No. 22, is the host school for the weekend. Miami is seeded second, while USC (3-0) is seeded third and ranked No. 15. Kansas (0-1), the fourth seed, rounds out the field.
The four schools are competing for a spot in the prestigious ITA National Team Indoor Championship, slated for Feb. 11-14 in Madison, Wis. Only one team—the one that wins both its matches this weekend—will earn a place in the tournament.
The Hurricanes, who feature two ranked singles players in No. 76 Pfennig and No. 104 Achong, begin action Friday at noon ET against USC. The winner plays the next day at 3 p.m. ET, while the loser plays at noon ET.
The Trojans, the Hurricanes' opening foe, feature four ranked singles players, including the No. 1 individual in the country, Eryn Cayetano. Salma Ewing checks in at No. 12, followed by Snow Han at No. 39 and Naomi Cheong at No. 98.
In doubles, Ewing and Han place No. 23, while Cayetano and Grace Piper hold the No. 26 position for the Pac-12 program.
"It's a great opportunity to compete and [it gives us] an opportunity to be at National Indoors, which is a special tournament and a goal of ours," Santos said. "We have a very good team in USC that we'll be competing against on Friday. We'll have to bring our 'A' game to have a chance to win that match, but I do believe that if we bring the best version of each and every one of ourselves, we'll have a great chance to advance and then play to qualify.
"I think we are in a good spot, playing good tennis [from] everybody down the line, starting with doubles," Santos continued. "I'm excited for that. We go there, I think, in a good emotional state."
Although Santos is assuredly focused first and foremost on the task at hand on the court, this weekend does have an added element for him.
Before returning to Miami on Dec. 1, 2020, Santos spent nearly 16 months as the associate head coach at Baylor. He helped lead the team to a 10-2 record during the abbreviated 2020 season.
Now, he brings his current team, Miami, to the city with the only other school, Baylor, at which he has served as an assistant.
"On a personal level, obviously, I have great memories from Waco, from Baylor," Santos shared. "I [will get to] see people that I love that helped me in my life and were an important part of my life. There is something bigger and better than tennis, which is life and the people in our lives. I'm excited to see all of them."
Santos, though, is not the only member of the Miami program with ties to Waco.
Boch-Collins is in her first season with the Hurricanes after transferring in from Baylor, where she spent the 2020-21 season. The Las Vegas native turned in a strong rookie campaign for the Bears before electing to come to Miami.
Like himself and the rest of the team, though, Santos knows Boch-Collins will be locked in this weekend and not worried about outside factors.
"Honestly, I think Audrey is a competitor. We all are," Santos said. "The moment we start playing, we will really be relentless in trying to obtain the goal that we are looking for. I think Audrey has played some of the best players in the country already and she will be ready for [this weekend]."
Regardless of location or familiarity, this four-team tournament presents a good opportunity for the Hurricanes to display their abilities.
Their coaches are confident in what the team can do.
"We like this group a lot," Santos remarked. "We have a great feeling about them, where they are. I think we felt that in the first match of the season."
Live video for the Hurricanes' two matches at the Hurd Tennis Center will be available HERE, while live stats can be found HERE throughout the weekend.
To keep up with the University of Miami women's tennis team on social media, follow @CanesWTennis on Twitter, Instagram and Facebook.