W. Tennis Sweeps No. 19 Wake Forest, 7-0
CORAL GABLES, Fla. – In a top-20 showdown, the University of Miami women's tennis team logged a resounding 7-0 victory Sunday afternoon against No. 19 Wake Forest at the Neil Schiff Tennis Center.
After earning the doubles point and taking a 2-0 lead via walkover, No. 18 Miami (9-2, 4-1 ACC) dropped just seven games across five singles matches in a dominant performance from start to finish.
"We've been talking a lot about just discipline, composure, defining our tennis, playing our style. I think we did a great job of it today," Miami head coach Paige Yaroshuk-Tews said. "I think we played with discipline. I think we played with composure. [Daevenia Achong] was stepping up, driving balls [and we played] just played fearless tennis on all the courts from beginning to end.
"When you get a team that is used to different conditions and you get them down here and the balls get a little heavy and you play this type of tennis, some teams will go away." Yaroshuk-Tews added. "Some teams won't, but some teams will. And I think it's a credit to use because we get them there to that point. I'm happy with the girls, happy with their result."
The Hurricanes jumped out to leads on all three doubles courts and went on to take both completed matches. First, fifth-year senior Daevenia Achong and fourth-year junior Maya Tahan registered a 6-3 victory over Mia Ahmad and Casie Wooten, 6-3.
Redshirt sophomore Alexa Noel and junior Isabella Pfennig then clinched the opening point with a 6-4 triumph over Anna Brylin and Jingyi Li.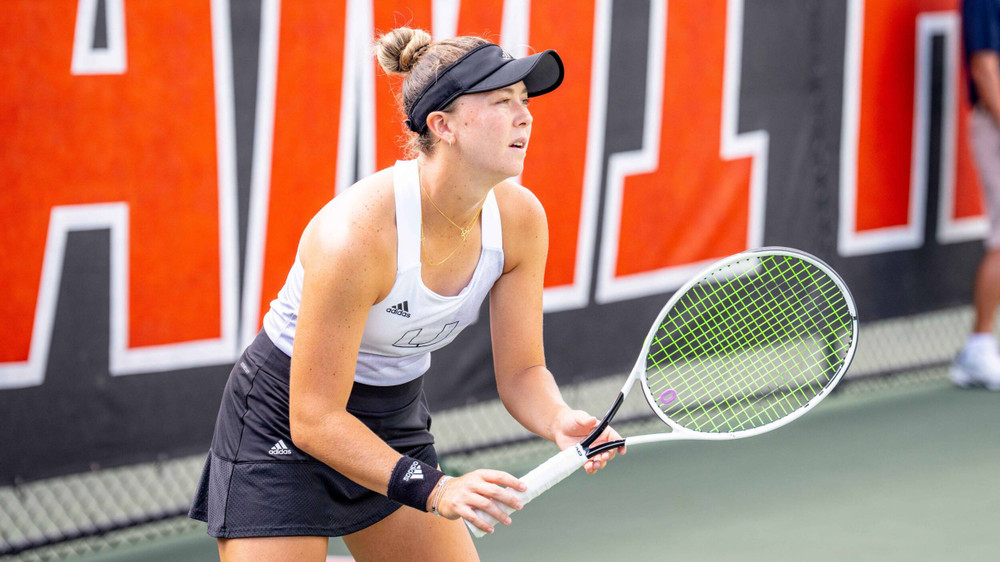 In the lone unfinished match, junior Audrey Boch-Collins and freshman Mia Mack faced a 5-5 deadlock with Nevena Carton and Whitley Pate.
Miami upped its lead to 2-0 before singles play started, as Wake Forest (11-7, 2-3 ACC) only had five players in its lineup, giving Tahan a walkover victory.
Pfennig cruised to a 6-1, 6-0 triumph against Pate, quickly extending the Hurricanes' advantage to 3-0.
Miami earned its next three points in the span of just two minutes, with Achong sealing her win first to clinch the overall match. The Geleen, Netherlands, native topped Carton, 6-1, 6-1.
Boch-Collins followed that seconds later by finishing off a 6-1, 6-0 defeat of Maddie Lynch. In a top-40 showdown, No. 13 Noel rolled past No. 38 Wooten, 6-0, 6-1, to make it 6-0. It marked her second top-40, straight-set triumph of the weekend.
In the final match of the day, Mack defeated Li, 6-2, 6-0, to complete the sweep of the Demon Deacons.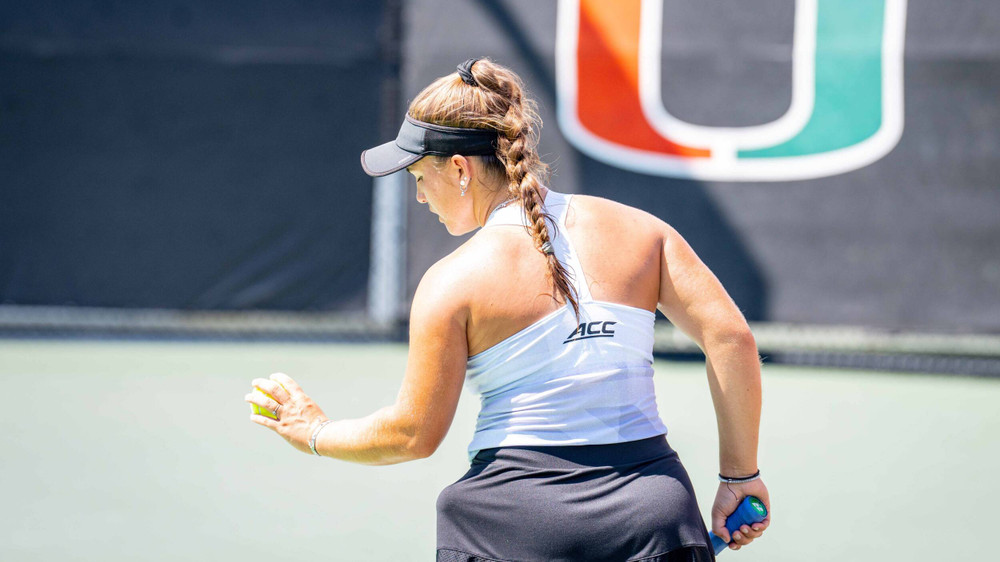 The Hurricanes lost multiple games in just one of the 10 singles sets across the five courts, while conceding zero in four of them.
With the victory, Miami improved to 23-1 all-time against Wake Forest, including 13-1 at home and 19-0 under Yaroshuk-Tews. This is the second consecutive home match—the other was on March 26, 2021—against Wake Forest in which the Hurricanes earned a 7-0 victory.
Sunday's decision also marked the 165th shutout win of Yaroshuk-Tews' 22-year tenure at the helm of the Hurricanes, including the 108th since 2009 and the fourth in 2023.
In addition, Miami has now won four consecutive matches over the last 10 days, with three of the triumphs over top-25 foes. This weekend, the Hurricanes defeated two top-20 foes, including fifth-ranked NC State.
"This is what we're capable of doing and it's a matter of being consistent. Anybody can do it one weekend, two weekends, one big match, two big matches. We've got to do it for an entire season," Yaroshuk-Tews said. "And, more than that, you tell your young kids, they have to do it for four years. I tell them all the time, 'This is very hard.' But listen, we need to celebrate this weekend. We need to be happy with this weekend. I told them before the match today, 'We need to complete the weekend.' And they did that. So, now we take a deep breath and we get ready for A&M."
The Hurricanes now play a non-conference match Sunday 1 p.m. ET against second-ranked Texas A&M in Bryan-College Station, Texas.
To keep up with the University of Miami women's tennis team on social media, follow @CanesWTennis on Twitter, Instagram and Facebook.
RESULTS
Doubles Competition
1. Daevenia Achong/Maya Tahan (UM) def. Mia Ahmad/Casie Wooten (WF), 6-3
2. Alexa Noel/Isabella Pfennig (UM) def. Anna Brylin/Jingyi Li (WF), 6-4
3. Audrey Boch-Collins/Mia Mack (UM) vs. Nevena Carton/Whitley Pate (WF), 5-5, unf.
Singles Competition
1. No. 13 Alexa Noel (UM) def. No. 38 Casie Wooten (WF), 6-0, 6-1
2. Daevenia Achong (UM) def. Nevena Carton (WF), 6-1, 6-1
3. Isabella Pfennig (UM) def. Whitley Pate (WF), 6-1, 6-0
4. Audrey Boch-Collins (UM) def. Maddie Lynch (WF), 6-1, 6-0
5. Mia Mack (UM) def. Jingyi Li (WF), 6-2, 6-0
6. Maya Tahan (UM), by walkover