W. Tennis Tops No. 42 Clemson, 4-0, in ACC Championship Opener
CARY, N.C. – The fifth-seeded University of Miami women's tennis team started the 2023 postseason with a 4-0 victory Thursday against No. 12-seed Clemson in the second round of the ACC Championship.
No. 13 Miami (15-6, 9-4 ACC) notched its eighth shutout triumph of the season—over half its total wins—and blanked No. 42 Clemson for the second time in a week behind a stellar performance at Cary Tennis Park.
"Obviously, I'm happy with the outcome," Miami head coach Paige Yaroshuk-Tews said. "I think we played pretty good doubles at two, which we really didn't do the last time we played this team. So, overall, just happy to be advancing."
The Hurricanes won a pair of doubles matches in convincing fashion to take the opening point of the day. First, redshirt sophomore Alexa Noel and junior Isabella Pfennig, together ranked No. 29, downed Cristina Mayorova and Daniella Medvedeva, 6-1.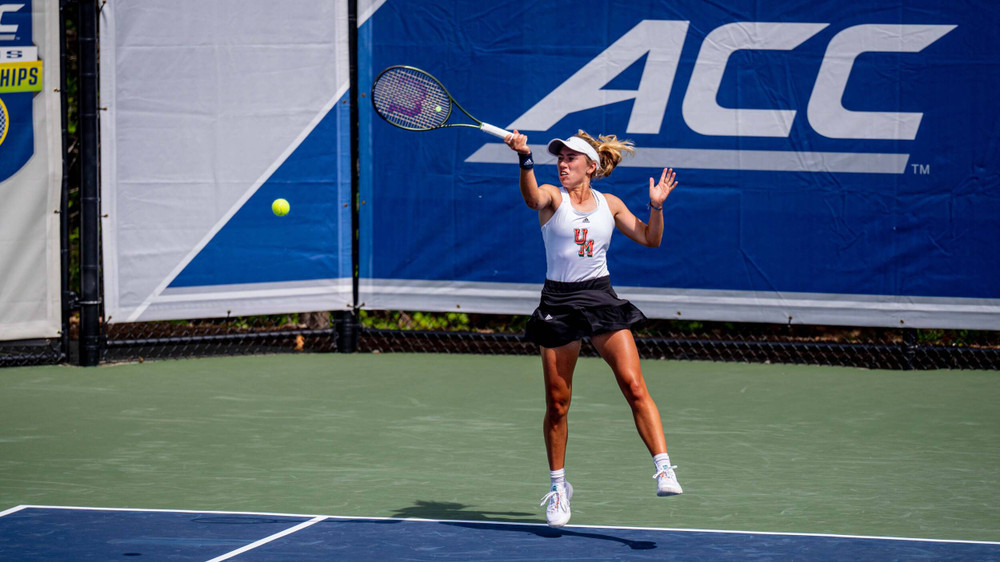 Just minutes later, junior Audrey Boch-Collins and freshman Mia Mack, the latter in her postseason debut, defeated Jenna Thompson and Leigh Van Zyl, 6-2, to seal the 1-0 lead.
Miami fifth-year senior Daevenia Achong and fourth-year junior Maya Tahan, the nation's No. 44 pair, sat in a 4-4 deadlock with the Clemson (16-12, 3-10 ACC) tandem of Sophia Hatton and Eleni Louka when play stopped.
The Hurricanes continued their strong play in singles action, claiming each of the first three completed sets and four of six total. No. 83 Pfennig registered the first victory, rolling past Thompson in a 6-0, 6-2 decision to make it 2-0.
Boch-Collins extended the advantage to 3-0 by beating No. 113 Medvedeva in equally impressive fashion, 6-0, 6-1. It marked her third ranked singles win as a collegian, including her second over Medvedeva in the last week.
"For Bella to get on the board as fast as she did, followed by Boch, [was big]," Yaroshuk-Tews said. "Whenever you can put points on the board as fast as those two did today, you're applying pressure to the other team. So, I thought they did a good job of just getting off the court pretty quickly, pretty efficiently."
Fifth-ranked Noel, in her first ACC Championship appearance, clinched the overall match for Miami. The Summit, N.J., native posted a 6-2, 7-5 result against Louka to extend her winning streak up to nine in a row.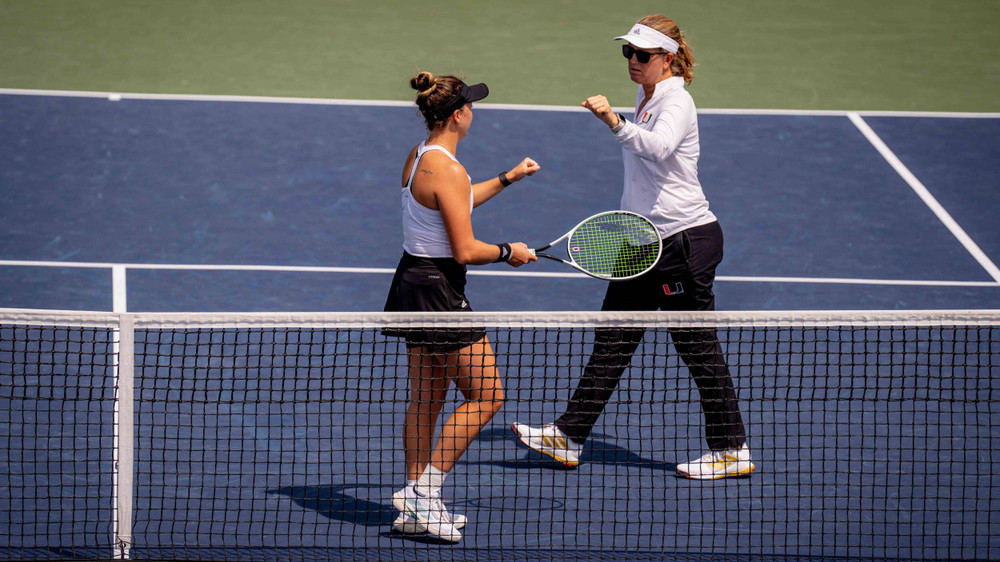 The other three matches were halted, with Clemson leading two of them and the other tied. No. 105 Achong trailed Mayorova, 2-6, 4-5, but won the last two games to keep the Tigers off the board. Mack and Van Zyl were deadlocked at 6-3, 3-6, while Tahan faced a 6-7 (5-7), 2-3 deficit against Alexandra Anttila.
Yaroshuk-Tews now has 169 shutout victories in her 22 as the Miami head coach, including 112 since 2009 and 73 since 2013. The Hurricanes' eight this season are their most since logging eight in 2016.
In addition, Yaroshuk-Tews improved to 22-0 versus Clemson at the helm of the Hurricanes. Miami has conceded one or zero points in each of its last five matchups with the Tigers.
The Hurricanes are now a superb 23-16 all-time in ACC Championship action, reaching at least the quarterfinals in all 18 of their tournament appearances. Thursday marked the team's first sweep in the event since April 28, 2017, against Boston College.
Miami is back in action Friday at 10 a.m. against fourth-seeded Virginia, ranked No. 10, in the ACC Championship quarterfinals.
To keep up with the University of Miami women's tennis team on social media, follow @CanesWTennis on Twitter, Instagram and Facebook.
RESULTS
Doubles Competition
1. No. 44 Daevenia Achong/Maya Tahan (UM) vs. Sophia Hatton/Eleni Louka (CU), 4-4, unf.
2. No. 29 Alexa Noel/Isabella Pfennig (UM) def. Cristina Mayorova/Daniella Medvedeva (CU), 6-1
3. Audrey Boch-Collins/Mia Mack (UM) def. Jenna Thompson/Leigh Van Zyl (CU), 6-2
Singles Competition
1. No. 5 Alexa Noel (UM) def. Eleni Louka (CU), 6-2, 7-5
2. Cristina Mayorova (CU) vs. No. 105 Daevenia Achong (UM), 6-2, 5-4, unf.
3. No. 83 Isabella Pfennig (UM) def. Jenna Thompson (CU), 6-0, 6-2
4. Audrey Boch-Collins (UM) def. No. 113 Daniella Medvedeva (CU), 6-0, 6-1
5. Mia Mack (UM) vs. Leigh Van Zyl (CU), 6-3, 3-6, unf.
6. Alexandra Anttila (CU) vs. Maya Tahan (UM), 7-6 (7-5), 3-2, unf.