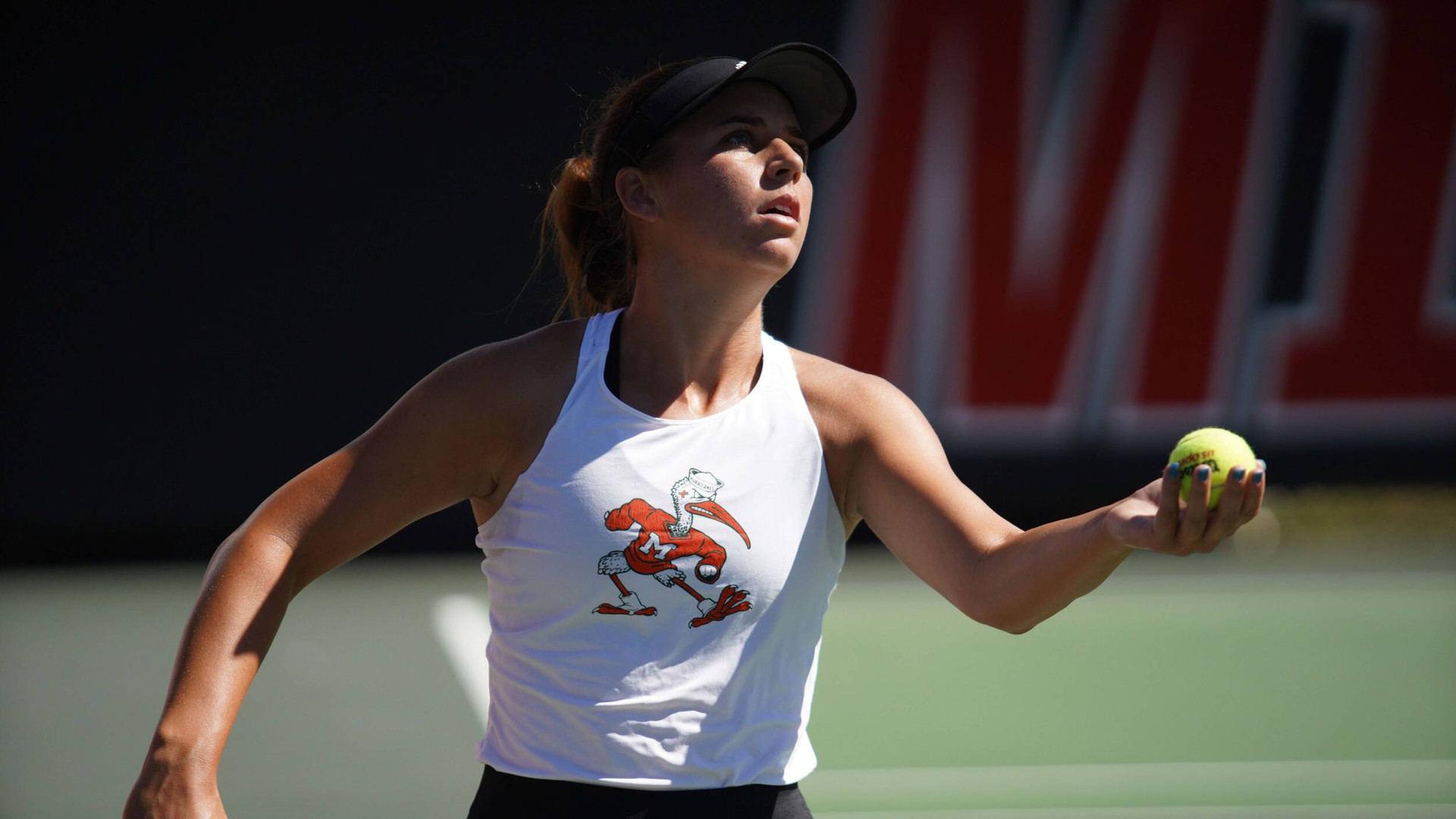 CORAL GABLES, Fla. – The University of  Miami women's tennis team opened its 2022 slate this past weekend on its home court with the annual Miami Spring Invite.
The Hurricanes hosted top-ranked Texas, eighth-ranked NC State and Vanderbilt for three days of competition at the Neil Schiff Tennis Center. They turned in a strong overall performance, notching a 14-12 overall mark—including a 4-2 ledger in doubles—against a bevy of talented foes.
Results aside, though, the team was just happy to be on the court facing outside competition once again.
"It felt pretty good to be back it, especially after winter break," sophomore Audrey Boch-Collins said. "Training and everything leads up to the spring. So, it was nice to start off with a few good wins over the weekend."
Playing against such elite teams to open the season was particularly beneficial for the Hurricanes, who faced as difficult an opening slate as any program in the nation.
Those types of test help prepare an ACC team for the four-plus months of spring tennis, during which it plays many teams of a similar caliber.
"I think what we did this weekend is better than playing a lesser team, you could say," Boch-Collins shared. "You go out there, see what you can do and push yourself to the limit, especially against a team like Texas, since they won the [NCAA] tournament last year, just to see, overall, how well you can do."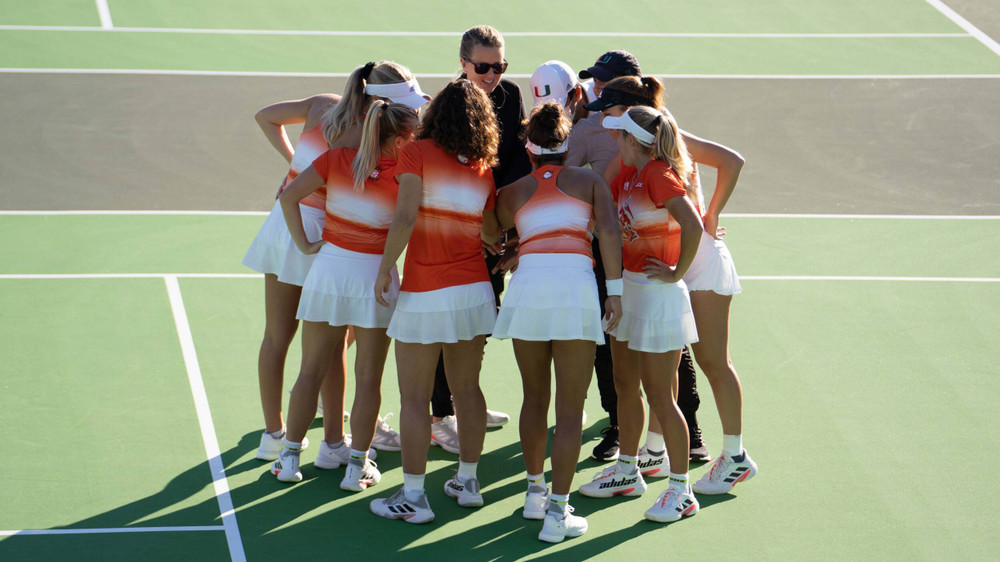 Fifth-year senior Eden Richardson earned ACC Player of the Week honors for her performance in the Miami Spring Invite. She went 2-1 in singles, including notching a top-10 win, and 2-0 in doubles.
Boch-Collins, though, also turned in a dazzling weekend. The Las Vegas native won all three of her singles matches and tallied the first ranked victory over her young collegiate career.
In doubles, she went 1-1 with the lone loss in a 13-11 tiebreaker. It was, unquestionably, an excellent Miami spring debut for the transfer student.
"I think, for me at least, this tournament, it showed how much I've grown as a tennis player since coming here," Boch-Collins said. "I think if I'd played these teams, whether it was in the fall—especially in the beginning of the fall—or whether I was at Baylor, I don't think I would've had the same results. I think I was happy with my mindset of where I was at. I think mentally [is where I have] improved the most."
Boch-Collins, who has "absolutely loved" her first several months at The U both on and off the court, will play in her first dual match as a Hurricane Wednesday afternoon.
No. 24 Miami is slated to meet FGCU (2-1) at 1 p.m. in Fort Myers, Fla., at the FGCU Tennis Complex. She looking forward to hitting the court and playing in a match that will, for the first time since her arrival last summer, impact the Hurricanes' record.
"It's the first one, [so I am] a little nervous, but excited at the same time," Boch-Collins shared. "But I think everyone just has the same mindset to go out there, take care of business and bring the energy."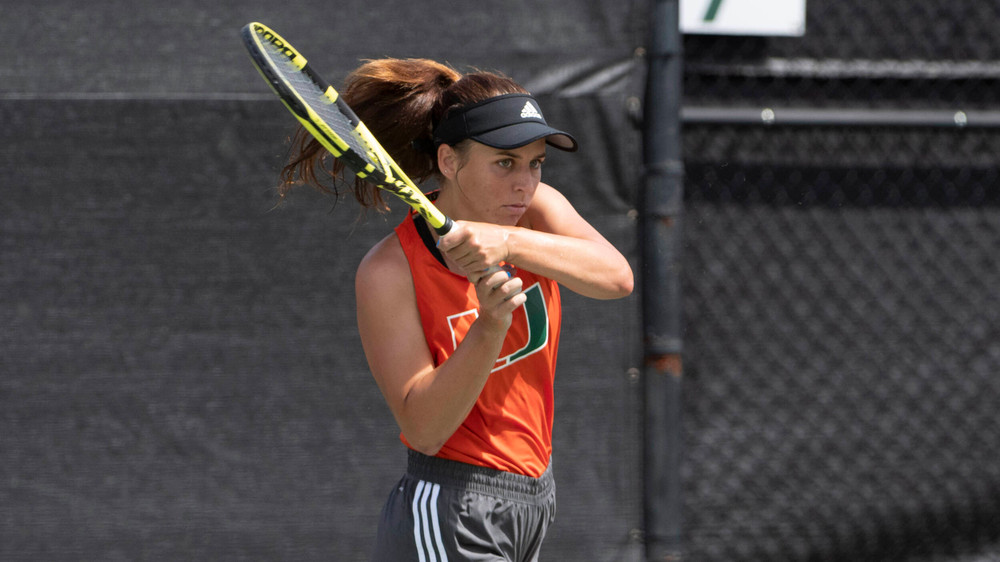 The Hurricanes' 21st-year head coach Paige Yaroshuk-Tews said before the start of the Miami Spring Invite that Richardson, fourth-year junior Daevenia Achong and sophomore Isabella Pfennig would take the top three spots in the singles lineup, while the rest of the team would be battling to round out the list.
To Boch-Collins, who is "very excited" for her dual match debut with Miami, it does not matter whatsoever what position she slots into Wednesday, just that she has the chance to take the court against the Eagles.
Winning is the 5-foot-7 right-hander's lone goal.
"I just go out there and compete wherever I'm at because it doesn't matter if I play at the bottom, in the middle or at the top," she said. "As long as you win at your spot, you're contributing to the team."
No live stats will be available for Wednesday match, but fans can stay up to date on the action via Twitter.
To keep up with the University of Miami women's tennis team on social media, follow @CanesWTennis on Twitter, Instagram and Facebook.