W. Tennis Comeback Falls Short, 4-3, at Eighth-Ranked Duke
DURHAM, N.C. – The University of Miami women's tennis team put up a valiant effort Friday afternoon at Ambler Tennis Stadium, but dropped a narrow 4-3 decision to eighth-ranked Duke.
No. 11 Miami (11-4, 6-2 ACC) fell into a 3-0 hole before climbing back to even the score at three apiece, but the homestanding Blue Devils won the decisive match to claim the victory.
"Duke was a bit better today," Miami head coach Paige Yaroshuk-Tews said. "They stepped up in some key moments and took it out of our hands."
The Blue Devils turned in a strong performance in doubles, winning all three matches to take the opening point.
First, Karolina Berankova and Emma Jackson defeated redshirt sophomore Alexa Noel and junior Isabella Pfennig, tougher ranked No. 53, in a 6-1 decision. No. 32 Chloe Beck and Cameron Morra followed that with a 6-2 result against fifth-year senior Daevenia Achong and fourth-year junior Maya Tahan to clinch the 1-0 lead.
Iuliia Bryzgalova and Georgia Drummy also beat junior Audrey Boch-Collins and freshman Mia Mack, 6-2, in the final match.
Duke (19-2, 8-1) extended its lead to 3-0 behind a pair of straight-set triumphs, seemingly taking full control of the match. Drummy topped Boch-Collins, 6-3, 6-2, and then No. 70 Morra edged No. 118 Achong, 6-2, 6-4.
From that point forward, Miami began to mount a comeback bid. Tahan put the first point the board for the Hurricanes, taking down Brianna Shvets, 3-6, 6-2, 6-2.
In a top-15 showdown, No. 11 Noel knocked off second-ranked Beck, 7-6 (7-5), 6-2, to make it a 3-2 score. For the Summit, N.J., native the victory gave her the highest-ranked win of her outstanding collegiate career.
The Hurricanes pulled even at 3-3 behind another win in a ranked matchup, as No. 116 Pfennig defeated No. 31 Jackson, 6-0, 3-6, 6-4.
Miami, though, could not complete the comeback, as Coleman downed Mack, 6-4, 3-6, 6-1, to give the Blue Devils the narrow home win.
The Hurricanes are back in action Saturday at 1 p.m., when they take on top-ranked North Carolina in Chapel Hill, N.C.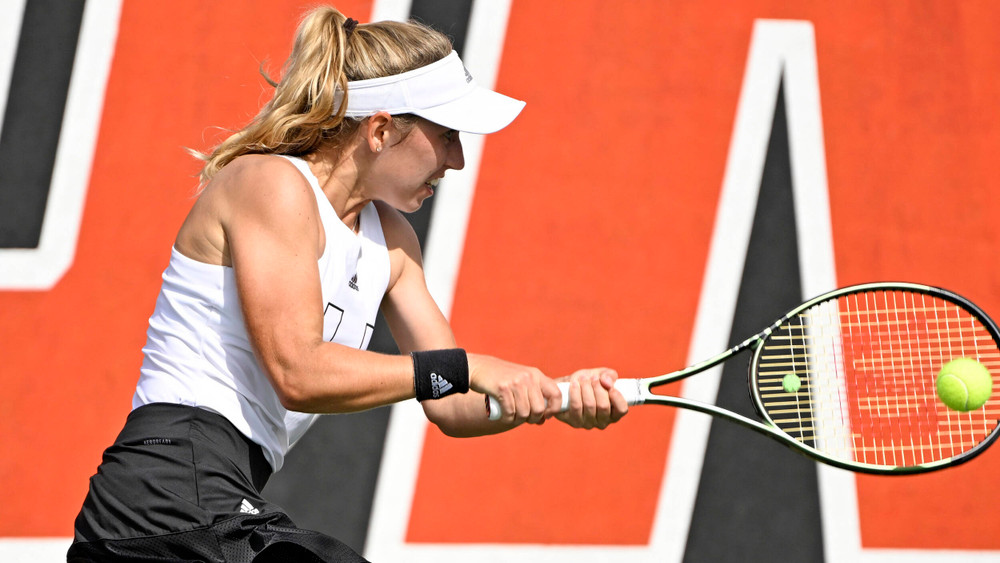 To keep up with the University of Miami women's tennis team on social media, follow @CanesWTennis on Twitter, Instagram and Facebook.
RESULTS
Doubles Competition
1. No. 32 Chloe Beck/Cameron Morra (DU) def. Daevenia Achong/Maya Tahan (UM), 6-2
2. Karolina Berankova/Emma Jackson (DU) def. No. 53 Alexa Noel/Isabella Pfennig (UM), 6-1
3. Iuliia Bryzgalova/Georgia Drummy (DU) def. Audrey Boch-Collins/Mia Mack (UM), 6-2
Singles Competition
1. No. 11 Alexa Noel (UM) def. No. 2 Chloe Beck (DU), 7-6 (7-5), 6-2
2. No. 70 Cameron Morra (DU) def. No. 118 Daevenia Achong (UM), 6-2, 6-4
3. No. 116 Isabella Pfennig (UM) def. No. 31 Emma Jackson (DU), 6-0, 3-6, 6-4
4. Georgia Drummy (DU) def. Audrey Boch-Collins (UM), 6-3, 6-2
5. Ellie Coleman (DU) def. Mia Mack (UM), 6-4, 3-6, 6-1
6. Maya Tahan (UM) def. Brianna Shvets (DU), 3-6, 6-2, 6-2