W. Tennis Storms Past Ninth-Ranked Virginia, 6-1
CORAL GABLES, Fla. – The University of Miami women's tennis team rolled to a stellar 6-1 victory Friday afternoon over ninth-ranked Virginia at the Neil Schiff Tennis Center.
No. 13 Miami (10-3, 5-1 ACC) earned the first five points of the match and registered its second top-10 win of the year.
"I thought we played incredibly clean doubles and we [had to] against a really good not just entire team, but a really good doubles team. So, I was really happy with the way we played doubles," Miami head coach Paige Yaroshuk-Tews said. "And then, obviously, we dominated at 1-2-3 [in singles]. When you're able to do that and go up 4-0 early in the match, that's huge. We were able to get two done down low."
The Hurricanes turned in a dazzling performance in doubles, dropping just four games across the three matches and winning each of them, with two of the victories against top-15 pairs.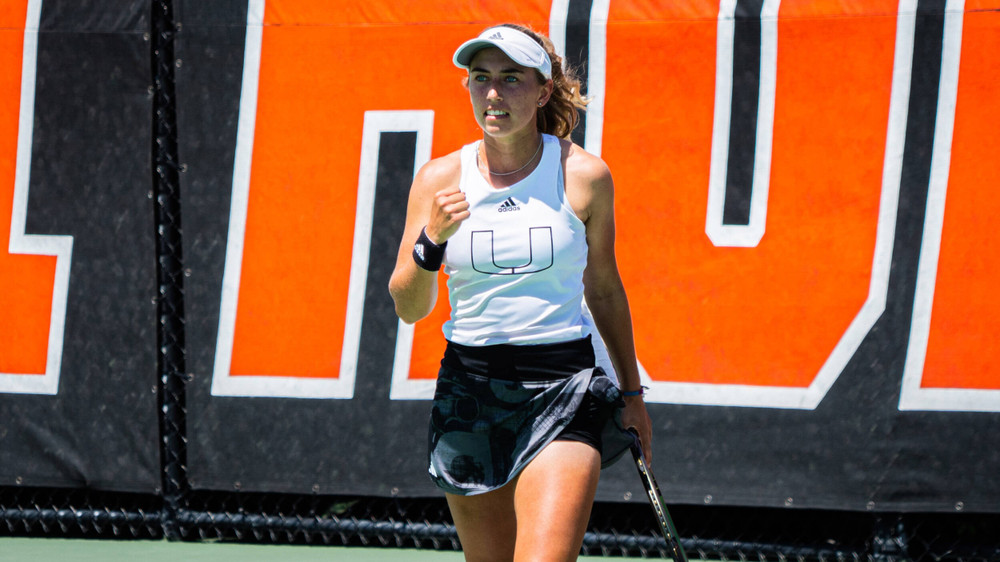 Redshirt sophomore Alexa Noel and junior Isabella Pfennig, together ranked No. 53, set the tone with an unblemished 6-0 defeat of No. 11 Julia Adams and Melodie Collard. Junior Audrey Boch-Collins and freshman Mia Mack followed that with a 6-1 win versus Hibah Shaikh and Sara Ziodato, giving Miami the opening point.
Fifth-year senior Daevenia Achong and fourth-year junior Maya Tahan made it a clan sweep of Virginia (12-4, 5-2 ACC) in doubles by knocking off ninth-ranked Elaine Chervinsky and Natsha Subhash, 6-3.
In singles, the Hurricanes won three opening sets in dominant fashion, took another in a tiebreaker and narrowly dropped the other two.
No. 118 Achong claimed the first singles win, logging a stellar 6-2, 6-1 triumph against No. 43 Adams for her highest-ranked victory of the 2022-23 campaign.
Minutes later, in another raked matchup, No. 116 Pfennig finished off an equal 6-2, 6-1 win versus No. 89 Shaikh to extend Miami's advantage to 3-0.
The Hurricanes made it a 3-for-3 day in ranked showdowns when No. 11 Noel took down No. 98 Subhash, 6-1, 6-3. In doing so, she gave her team a resounding 4-0 lead and clinched the top-10 triumph.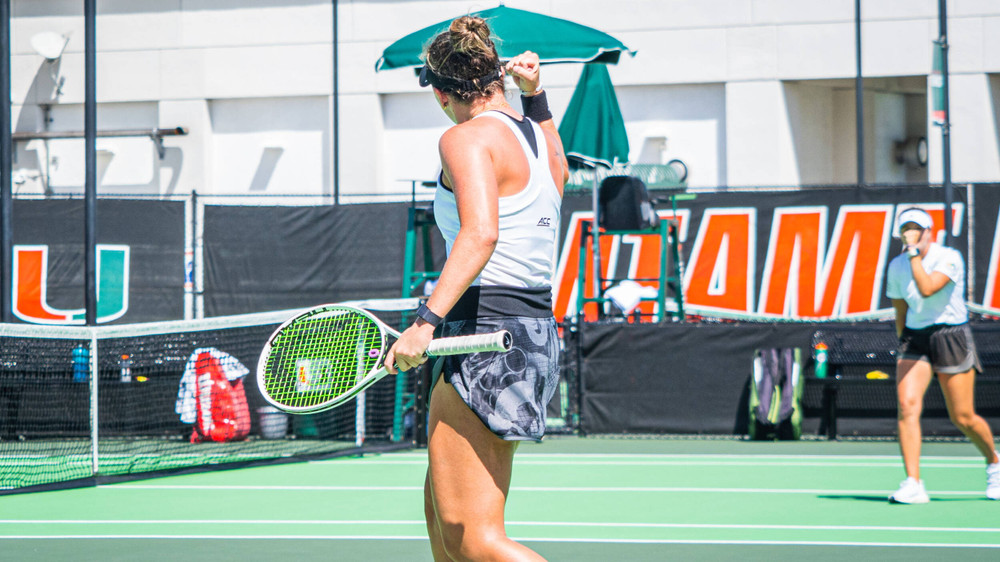 Miami, though, was not done there. Each of the three remaining matches were played to completion, with two of the, going to the home side.
Tahan posted a 4-6, 6-4, 1-0 (10-8) comeback against Collard to give Miami an impressive 5-0 advantage.
After Chervinsky edged Boch-Collins, 7-5, 7-5, to give the Cavaliers their lone point of the day, Mack ended the contest with a 7-6 (7-5), 3-6, 1-0 (10-6) result against Ziodato, making it a 6-1 final score.
"I'm really happy with the way the girls competed and how clean they played," Yaroshuk-Tews said. "To get on and off the court as fast we did against a great team says a lot about where we are."
Miami is now 5-1 in its last six matches, with the lone setback coming on the road against the second-ranked team in the nation, Texas A&M. It has four top-20 wins during that stretch, including two over top-10 foes.
The Hurricanes are back in action Sunday at noon when they meet No. 64 Virginia Tech at noon at the Neil Schiff Tennis Center.
To keep up with the University of Miami women's tennis team on social media, follow @CanesWTennis on Twitter, Instagram and Facebook.
RESULTS
Doubles Competition
1. Daevenia Achong/Maya Tahan (UM) def. No. 9 Elaine Chervinsky/Natasha Subhash (VA), 6-3
2. No. 53 Alexa Noel/Isabella Pfennig (UM) def. No. 11 Julia Adams/Melodie Collard (VA), 6-0
3. Audrey Boch-Collins/Mia Mack (UM) def. Hibah Shaikh/Sara Ziodato (VA), 6-1
Singles Competition
1. No. 11 Alexa Noel (UM) def. No. 98 Natasha Subhash (VA), 6-1, 6-3
2. No. 118 Daevenia Achong (UM) def. No. 43 Julia Adams (VA), 6-2, 6-1
3. No. 116 Isabella Pfennig (UM) def. No. 89 Hibah Shaikh (VA), 6-2, 6-1
4. Elaine Chervinsky (VA) def. Audrey Boch-Collins (UM), 7-5, 7-5
5. Mia Mack (UM) def. Sara Ziodato (VA), 7-6 (7-5), 3-6, 1-0 (10-6)
6. Maya Tahan (UM) def. Melodie Collard (VA), 4-6, 6-4, 1-0 (10-8)