W. Tennis Drops 5-2 Decision at Top-Ranked North Carolina
CHAPEL HILL, N.C. – The University of Miami women's tennis team fell, 5-2, Saturday afternoon on the road against top-ranked North Carolina.
No. 11 Miami (11-5, 6-3 ACC) earned a pair of straight-set singles victories over top-70 foes, but it was not enough to beat an undefeated tam on its home court at the Cone-Kenfield Tennis Center.
"It seems like we're closing the gap against a tough team in some spots, but not in others," Miami head coach Paige Yaroshuk-Tews said. "We played well against a very tough team. Overall, I'm not too disappointed in the weekend even though we took two losses. We have to get back to work this week."
North Carolina (24-0, 10-0 ACC) took each of the first two doubles matches by the same 6-3 score to pick up the opening point.
First, No. 13 Reese Brantmeier and Elizabeth Scotty defeated fifth-year senior Daevenia Achong and fourth-year junior Maya Tahan. To clinch, Abbey Forbes and Reilly Tran topped junior Audrey Boch-Collins and freshman Mia Mack.
The other match, the lone one with two ranked pairs, was played to completion, with the Hurricanes earning a top-five triumph. Redshirt sophomore Alexa Noel and junior Isabella Pfennig, together ranked No. 53, knocked off fourth-ranked Fiona Crawley and Caron Tanguilig, 6-4.
Although the Hurricanes turned in some strong performances on multiple singles courts, it was not enough to mount a comeback. North Carolina took each of the first four results before the last two went to the visitors.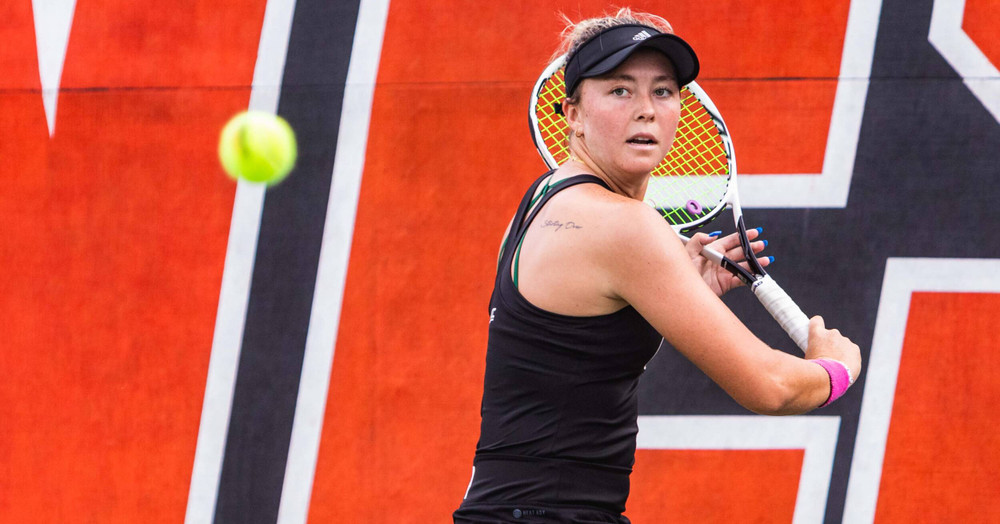 Top-ranked Crawley beat No. 118 Achong, 6-1, 6-0, to double the lead and then No. 14 Tanguilig made it 3-0 with a 6-2, 6-3 win over No. 116 Pfennig.
No. 80 Scotty clinched the North Carolina win by downing Mack, 6-2, 6-1, and then No. 25 Anika Yarlagadda tacked on the final point with a 6-3, 6-0 win over Boch-Collins.
In a top-15 affair, No. 11 Noel impressed on her way to a 6-3, 6-4 victory against No. 15 Brantmeier to claim Miami's first point.
Tahan then registered the third ranked win of her career and first over a top-70 player, as she won a marathon two-setter against No. 68 Tran, 7-6 (7-4), 7-6 (9-7).
Miami now heads back to Coral Gables, Fla., to begin its final homestand of the season, first taking on Louisville in a Thursday matinee at noon at the Neil Schiff Tennis Center.
To keep up with the University of Miami women's tennis team on social media, follow @CanesWTennis on Twitter, Instagram and Facebook.
RESULTS
Doubles Competition
1. No. 13 Reese Brantmeier/Elizabeth Scotty (NC) def. Daevenia Achong/Maya Tahan (UM), 6-3
2. No. 53 Alexa Noel/Isabella Pfennig (UM) def. No. 4 Fiona Crawley/Carson Tanguilig (NC), 6-4
3. Abbey Forbes/Reilly Tran (NC) def. Audrey Boch-Collins/Mia Mack (UM), 6-3
Singles Competition
1. No. 11 Alexa Noel (UM) def. No. 15 Reese Brantmeier (NC), 6-3, 6-4
2. No. 1 Fiona Crawley (NC) def. No. 118 Daevenia Achong (UM), 6-1, 6-0
3. No. 14 Carson Tanguilig (NC) def. No. 116 Isabella Pfennig (UM), 6-2, 6-3
4. No. 25 Anika Yarlagadda (NC) def. Audrey Boch-Collins (UM), 6-3, 6-0
5. No. 80 Elizabeth Scotty (NC) def. Mia Mack (UM), 6-2, 6-1
6. Maya Tahan (UM) def. No. 68 Reilly Tran (NC), 7-6 (7-4), 7-6 (9-7)