W. Tennis Blanks No. 64 Virginia Tech, 7-0
CORAL GABLES, Fla. – The University of Miami women's tennis team swept No. 64 Virginia Tech, 7-0, Sunday afternoon at the Neil Schiff Tennis Center.
No. 13 Miami (11-3, 6-1 ACC) dominated from start to finish and won all six singles matches in straight sets to record its fifth shutout victory of the year.
"I think our kids are playing with a lot of confidence. They've had some solid wins lately," Miami head coach Paige Yaroshuk-Tews said. It's showing in how they're walking around the court. It's showing in how they're sticking together. I told them our goal today was to [win 7-0 against] this team. We did it and it wasn't easy to do. This is a tough Virginia Tech team and a much-improved Virginia Tech team, I think."
The Hurricanes controlled play on all three doubles courts on the way to claiming a pair of victories. Fifth-year senior Daevenia Achong and fourth-year junior Maya Tahan earned the first one, a 6-1 win over Tamara Barad Itzhaki and Ozlem Uslu.
Junior Audrey Boch-Collins and freshman Mia Mack sealed the opening point with a 6-2 decision against Erika Cheng and Sabina Richtrova.
Miami also held an edge on Virginia Tech (10-8, 1-7 ACC) in the unfinished match, as redshirt sophomore Alexa Noel and junior Isabella Pfennig, together ranked No. 53, led Semra Aksu and Katie Andreini, 5-3.
The Hurricanes extended their lead to 3-0 in quick succession, as Tahan and No. 118 Achong finished off their matches at nearly the same time. The former beat Charlotte Cartledge, 6-4, 6-0, and then the latter defeated Barad Itzhaki, 6-0, 6-3.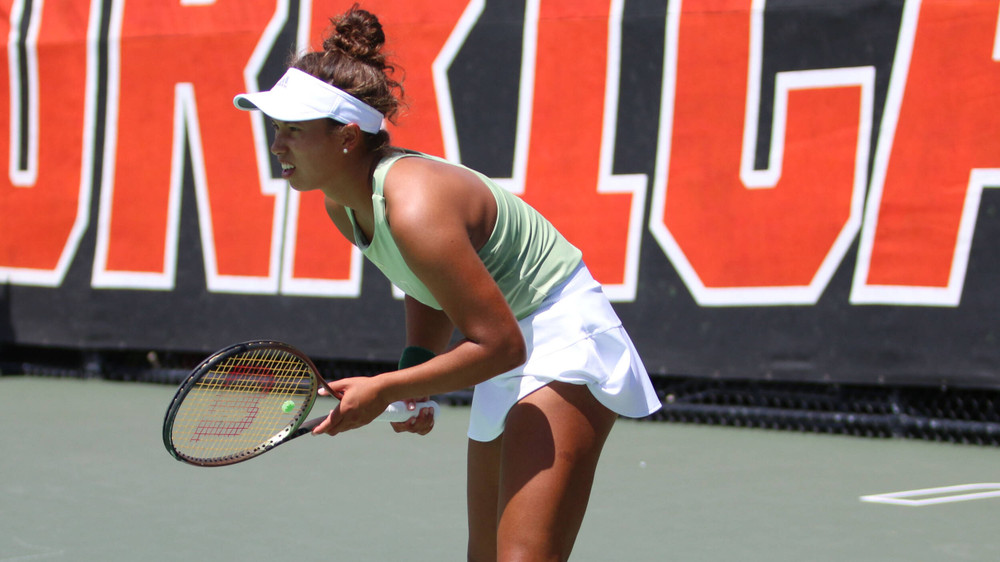 A third Hurricane, No. 116 Pfennig, also had one unblemished frame in a straight-set triumph. The Gauting, Germany, native defeated Aksu, 6-0, 6-4, to push the lead to 4-0 and clinch the overall match for Miami.
Mere minutes later, Mack extended her team's advantage to 5-0 by defeating Cheng, 6-2, 6-2. No. 11 Noel then made it a 6-0 margin by edging Uslu, 6-4, 6-4.
In the final match, Boch-Collins completed the shutout for the Hurricanes by taking down Andreini, 6-1, 6-4.
"I'm happy with doubles. I'm happy with how clean it was in singles," Yaroshuk-Tews said. "[Alexa] got down in the second set on Court 1 and was able to fight back and get the job done. It was a clean weekend. I'm happy with the results and looking forward to next [weekend]."
Yaroshuk-Tews now owns 166 sweeps in her 22-year tenure at the helm of the Hurricanes, including 109 since 2009 and 70 since 2013.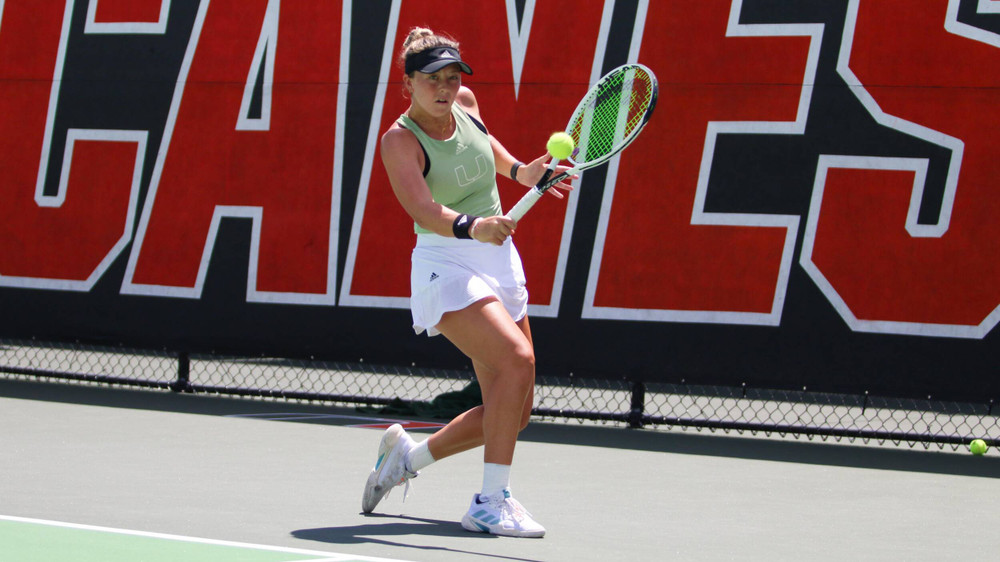 In addition, Miami is now 26-1 all-time against Virginia Tech, including 14-0 at home and 24-1 under Yaroshuk-Tews. This is the eighth consecutive series meeting in which the Hurricanes did not concede multiple points.
Miami resumes competition Friday at 2 p.m., when it squares off with No. 10 Duke in Durham, N.C.
To keep up with the University of Miami women's tennis team on social media, follow @CanesWTennis on Twitter, Instagram and Facebook.
RESULTS
Doubles Competition
1. Daevenia Achong/Maya Tahan (UM) def. Tamara Barad Itzhaki/Ozlem Uslu (VT), 6-1
2. No. 53 Alexa Noel/Isabella Pfennig (UM) vs. Semra Aksu/Katie Andreini (VT), 5-3, unf.
3. Audrey Boch-Collins/Mia Mack (UM) def. Erika Cheng/Sabina Richtrova (VT), 6-2
Singles Competition
1. No. 11 Alexa Noel (UM) def. Ozlem Uslu (VT), 6-4, 6-4
2. No. 118 Daevenia Achong (UM) def. Tamara Barad Itzhaki (VT), 6-0, 6-3
3. No. 116 Isabella Pfennig (UM) def. Semra Aksu (VT), 6-0, 6-4
4. Audrey Boch-Collins (UM) def. Katie Andreini (VT), 6-1, 6-4
5. Mia Mack (UM) def. Erika Cheng (VT), 6-2, 6-2
6. Maya Tahan (UM) def. Charlotte Cartledge (VT), 6-4, 6-0