W. Tennis Logs 4-0 Road Win at No. 23 UCF
ORLANDO, Fla. – The University of Miami women's tennis team registered a road sweep of a ranked foe Saturday afternoon, defeating No. 23 UCF, 4-0, at the USTA National Campus.
No. 30 Miami (6-2, 1-1 ACC) turned in one of its most impressive performances of the year and picked up its second top-25 triumph of the young season.
The doubles point took nearly an hour to decide, but ultimately went to the Hurricanes. Miami won the opening match, 6-2, behind the strong play of redshirt sophomore Alexa Noel and junior Isabella Pfennig against Sophia Biolay and Marie Mattel.
UCF (5-5) leveled the tally with a 6-3 triumph from Noel Saidenova and Jantje Tilbuerger against fifth-year senior Daevenia Achong and fourth-year junior Maya Tahan.
In the final match, junior Audrey Boch-Collins and freshman Mia Mack won a deuce point in the 10th game to defeat Nandini Sharma and Stefani Webb, 6-4, and give the Hurricanes a 1-0 edge.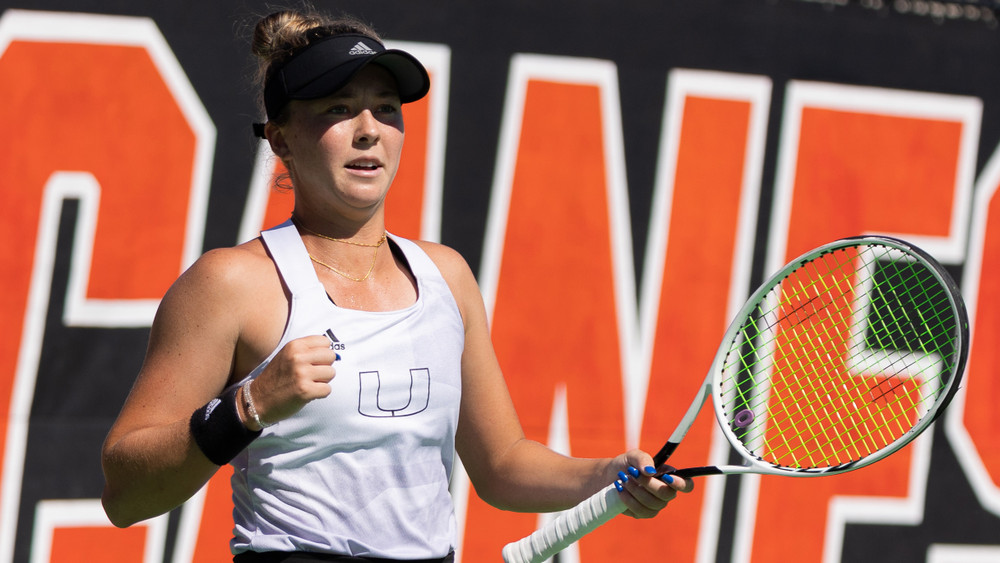 The lone ranked matchup in singles was the first one to finish, as eighth-ranked Noel defeated No. 31 Mattel in dominant fashion, 6-2, 6-1. The Summit, N.J., native's triumph extended Miami's advantage to 2-0.
It took approximately 25 minutes for the next match to end, but once it did, the Hurricanes held a 3-0 lead. Pfennig topped Tilbuerger, 6-4, 6-1, to put Miami within one point of victory.
Multiple Hurricanes had a chance to close out the match, but Tahan got it done to seal the win. The Tel Mond, Israel, native defeated No. 125 Sharma in comeback fashion, 5-7, 6-1, 6-3, for the second ranked singles victory of her career.
Mack held a 6-4, 1-6, 4-1 lead on Biolay when play came to a halt, while Achong and Webb faced a 6-2, 3-6, 5-5 deadlock. Boch-Collins, meanwhile, narrowly trailed Saidenova, 5-7, 6-4, 0-1.
The victory marked the 402nd of Miami head coach Paige Yaroshuk-Tews' storied career. She now has 164th shutout victories, including 110 since 2009 alone.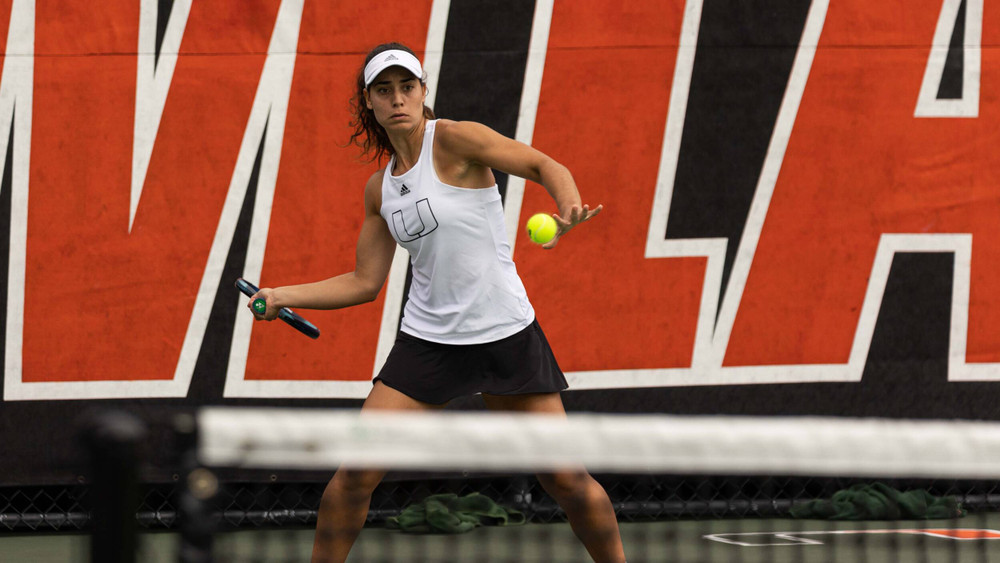 Furthermore, Saturday was Yaroshuk-Tews' 351st win in 19 seasons as an ACC head coach, tying Kitty Harrison, who led North Carolina for 22 years (1977-98), for fourth place on the league's all-time list.
Miami continues play Sunday at noon in Tallahassee, Fla., where it squares off with No. 40 Florida State.
To keep up with the University of Miami women's tennis team on social media, follow @CanesWTennis on Twitter, Instagram and Facebook.
RESULTS
Doubles Competition
1. Noel Saidenova/Jantje Tilbuerger (UCF) def. Daevenia Achong/Maya Tahan (UM), 6-3
2. Alexa Noel/Isabella Pfennig (UM) def. Sophia Biolay/Marie Mattel (UCF), 6-2
3. Audrey Boch-Collins/Mia Mack (UM) def. Nandini Sharma/Stephanie Webb (UCF), 6-4
Singles Competition
1. No. 8 Alexa Noel (UM) def. No. 31 Marie Mattel (UCF), 6-2, 6-1
2. Daevenia Achong (UM) vs. Stefani Webb (UCF), 6-2, 3-6, 5-5, unf.
3. Isabella Pfennig (UM) def. Jantje Tilbuerger (UCF), 6-4, 6-1
4. Noel Saidenova (UCF) vs. Audrey Boch-Collins (UM), 7-5, 4-6, 1-0, unf.
5. Mia Mack (UM) vs. Sophia Biolay (UCF), 6-4, 1-6, 4-1, unf.
6. Maya Tahan (UM) def. No. 125 Nandini Sharma (UCF), 5-7, 6-1, 6-3