W. Tennis Takes Down Fifth-Ranked NC State, 4-3
CORAL GABLES, Fla. – Despite dropping the doubles point, the University of Miami women's tennis team knocked off fifth-ranked NC State, 4-3, Friday afternoon at the Neil Schiff Tennis Center.
Buoyed by a trio of ranked singles wins, including a triumph over a top-100 WTA player, No. 18 Miami (8-2, 3-1 ACC) snapped the Wolfpack's eight-match winning streak.
"Where we got our points, I saw incredible composure," Miami head coach Paige Yaroshuk-Tews said. "[They were] staying open-minded and being very mindful of patterns and types of balls that needed to be hit in order to turn some matches around and then close matches out. It was very apparent to me on some courts what we needed to do and it's not always easy to do it when you're losing, but they showed, I thought, incredible composure.
"Honestly, not the best tennis—which is amazing—but, I think, some of the best composure. We're getting some of the fight under control. We're getting that more consistently," Yaroshuk-Tews continued. "We're getting the work ethic and the toughness more consistently. And now we add the mindfulness and we add the composure and the maturity, we're going to start seeing different things."
NC State (10-2, 3-1 ACC) excelled in doubles play to take the opening point. First, Diana Shnaider and Alana Smith topped fifth-year senior Daevenia Achong and fourth-year junior Maya Tahan, 6-3.
Eighth-ranked Nell Miller, a reigning NCAA doubles champion, and Amelia Racjeki then downed redshirt sophomore Alexa Noel and junior Isabella Pfennig by an identical score to clinch the opening point. It marked just the second time all season Miami dropped the doubles point.
No. 60 Sophie Abrams and Abigial Rencheli held a narrow 4-3 edge on junior Audrey Boch-Collins and freshman Mia Mack when play stopped.
No. 14 Noel notched the first singles victory to level the score at 1-1 and did so in impressive fashion. The Summit, N.J., native rolled to a 6-4, 6-1 victory against No. 35 Shnaider, who is currently No. 94 in the WTA rankings, made the Australian Open Round of 64 in January and was undefeated in collegiate singles play.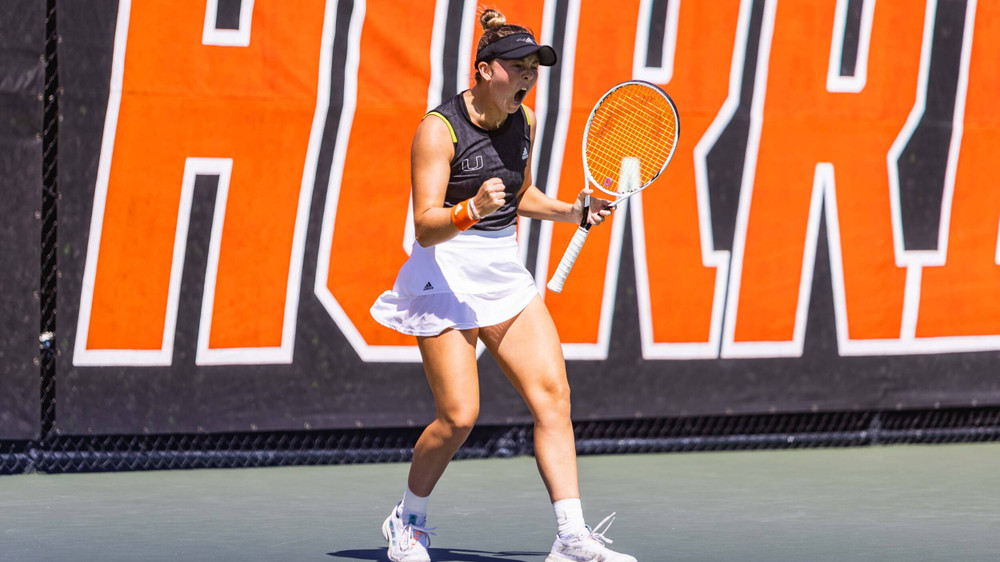 "Alexa is an incredible talent. She's fun to coach," Yaroshuk-Tews said. "…She is an exceptional player and an exceptional competitor. I think if her preparation continues to improve, the sky is the limit."
Within minutes, ninth-ranked Smith put the Wolfpack back on top by defeating Achong, 6-3, 6-2. The lead did not last long, though, as Mack logged her second ranked win by breaking at deuce to defeat No. 123 Abrams, 6-3, 7-5.
Shortly thereafter, Pfennig put Miami ahead for the first time, 3-2, by posting a comeback, top-25 triumph. The Gauting, Germany, native fully controlled the third set in a 4-6, 6-4, 6-1 decision against No. 18 Rajecki.
No. 55 Rencheli answered with a 7-6 (7-1), 6-3 result against Boch-Collins to tie the match at 3-3, sending all eyes to Court 6.
There, Tahan held a 5-2 third-set lead on Gina Dittmann, but the visitor came back to make it 5-4. Tahan, however, let her get no closer and finished off a 4-6, 6-2, 6-4 victory to send her teammates rushing onto the court for a joyous celebration.
The victory marked the Hurricanes' first over a top-10 foe since beating No. 10 Duke, 4-3, on March 27, 2022 and their first against a top-five team since defeating second-ranked Ohio State, 4-2, on March 16, 2016.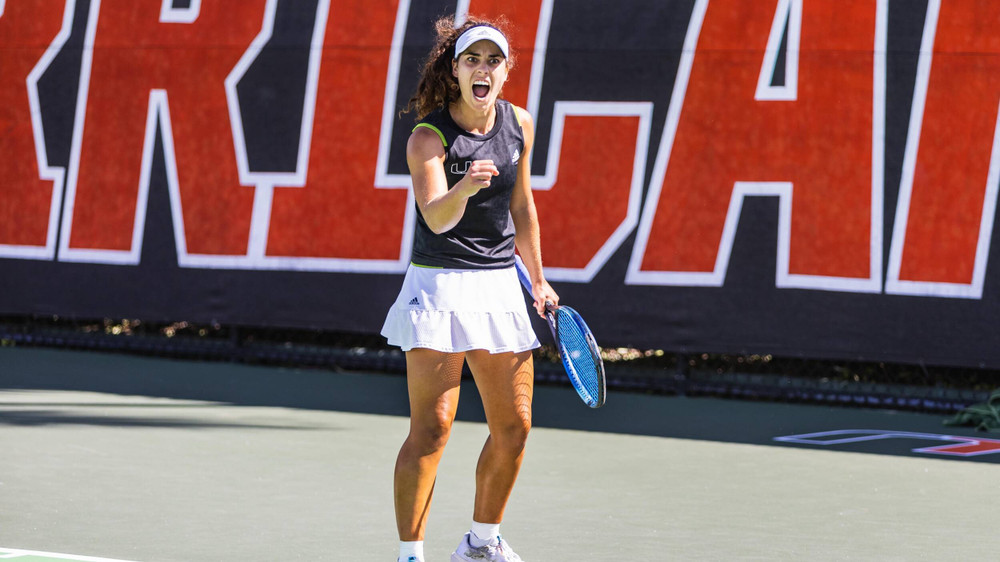 "To be able to do that and pull that off, given the circumstances, [is amazing]. We were down big—a set and 3-0 on three, a freshman at five," Yaroshuk-Tews said of Pfennig and Mack. "I think it says a lot about the character of the team right now. That's a positive."
Miami continues ACC competition Sunday at noon when it hosts No. 19 Wake Forest in another top-20 matchup at the Neil Schiff Tennis Center.
To keep up with the University of Miami women's tennis team on social media, follow @CanesWTennis on Twitter, Instagram and Facebook.
RESULTS
Doubles Competition
1. Diana Shnaider/Alana Smith (ST) def. Daevenia Achong/Maya Tahan (UM), 6-3
2. No. 8 Nell Miller/Amelia Rajecki (ST) def. Alexa Noel/Isabella Pfennig (UM), 6-3
3. No. 60 Sophie Abrams/Abigail Rencheli (ST) vs. Audrey Boch-Collins/Mia Mack (UM), 4-3, unf.
Singles Competition
1. No. 14 Alexa Noel (UM) def. No. 35 Diana Shnaider (ST), 6-4, 6-1
2. No. 9 Alana Smith (ST) def. Daevenia Achong (UM), 6-3, 6-2
3. Isabella Pfennig (UM) def. No. 18 Amelia Rajecki (ST), 4-6, 6-4, 6-1
4. No. 55 Abigail Rencheli (ST) def. Audrey Boch-Collins (UM), 7-6 (7-1), 6-3
5. Mia Mack (UM) def. No. 123 Sophie Abrams (ST), 6-3, 7-5
6. Maya Tahan (UM) def. Gina Dittmann (ST), 4-6, 6-2, 6-4