W. Tennis Earns 5-2 Victory at No. 40 Florida State
TALLAHASSEE, Fla. – The University of Miami women's tennis team recorded a 5-2 win over its archrival, No. 40 Florida State, Sunday afternoon.
No. 30 Miami (7-2, 2-1 ACC) claimed the doubles point and four of the first five singles matches to defeat the Seminoles at the Scott Speicher Memorial Tennis Center, moving to 38-9 in the all-time series.
The decision marked the Hurricanes' second road victory in the Sunshine State in as many days, following a dominant 4-0 shutout Saturday at No. 23 UCF.
"This team made a decision to work, to get uncomfortable and not to make excuses this week," Miami head coach Paige Yaroshuk-Tews said. "We played in two tough environments with tough crowds and were able to dial in mentally and get the jobs done. One weekend is great, but a season isn't one weekend. Back to work Tuesday."
Miami dominated doubles play, winning all three matches over Florida State (6-5, 1-2 ACC). The first victory came from redshirt sophomore Alexa Noel and junior Isabella Pfennig, 6-2, against Anna Arkandianou and Millie Bissett.
Junior Audrey Boch-Collins and freshman Mia Mack clinched the opening point with a 6-4 triumph versus Olympe Lancelot and Ellie Schoppe.
The final match was played out, with fifth-year senior Daevenia Achong and fourth-year junior Maya Tahan logging a 6-4 decision over Vic Allen and Kianah Motosono, sealing the doubles sweep.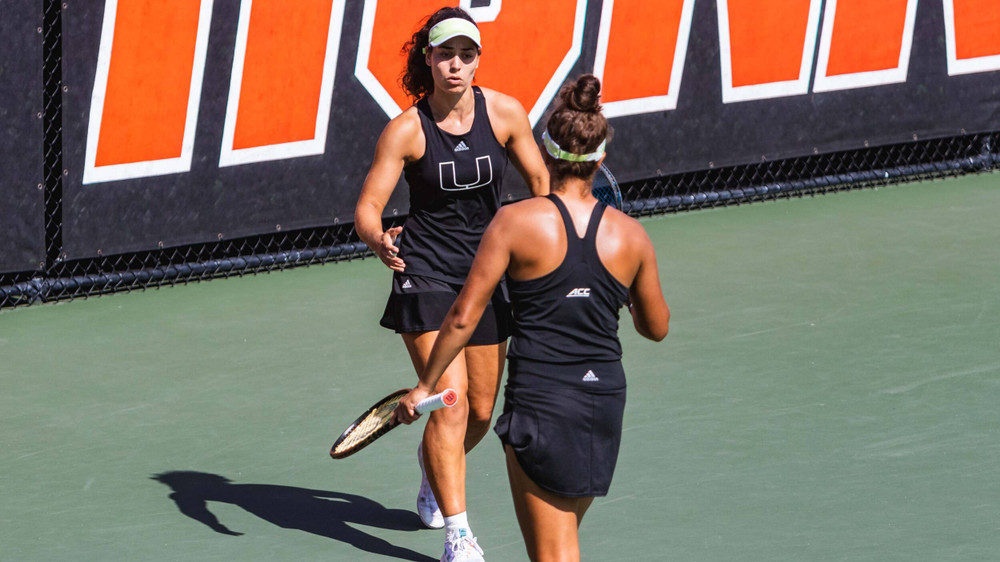 Florida State claimed the opening singles victory to level the score, as Allen defeated Achong, 7-6 (7-3), 6-2. Minutes later, though, Tahan put Miami back in front, 2-1, with a 6-3, 6-4 decision against Bissett.
Mack extended the Hurricanes' lead to 3-1 by edging Lavickoa, 7-5, 6-4, to put Miami within a point of victory.
Eighth-ranked Noel sealed the road win over the Seminoles by taking a tiebreaker against No. 87 Arkandianou to seal a 7-5, 7-6 (7-3) triumph.
Both remaining matches were played to the finish, with Pfennig adding Miami's fifth point just minutes after Noel clinched the overall contest. The Gauting, Germany, native topped Lancelot, 6-3, 2-6, 6-1.
For the second straight Sunday, Boch-Collins was the last Hurricane on-court and played a tiebreaker that went at least 30 points. She dropped a tight 4-6, 7-6 (7-1), 0-1 (14-16) result against Schoppe to end the match and make it a 5-2 final score.
In addition to winning for the 38th time in 47 matchups with the Seminoles, Miami improved to 21-7 over the past 28 meetings and 20-7 in Yaroshuk-Tews' 22-year tenure.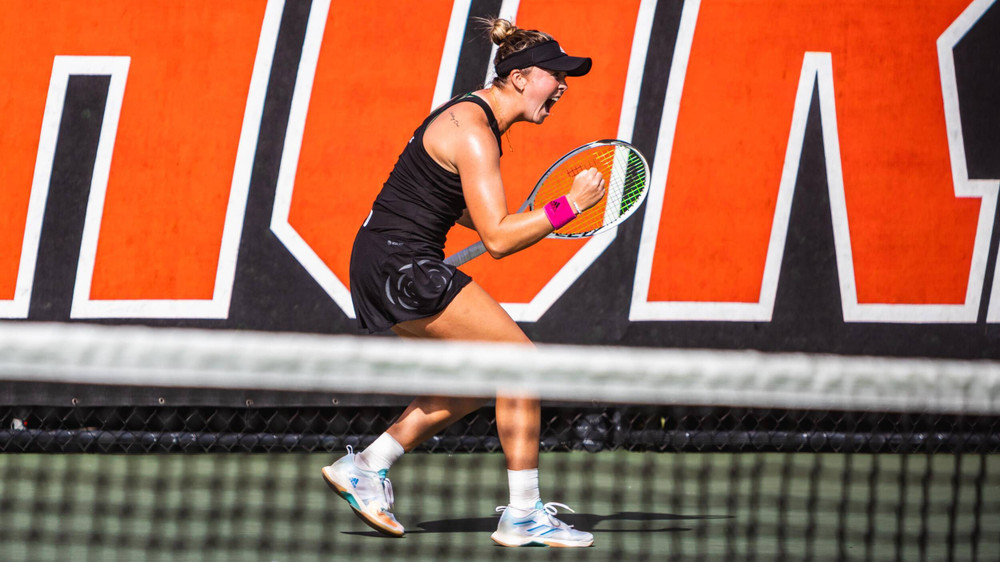 Yaroshuk-Tews also made individual history Saturday, recording her 352nd victory in 19 years as an ACC head coach. That figure moves her past 22-year North Carolina head coach Kitty Harrison (1977-98) for sole possession of fourth place on the conference's all-time leaderboard.
The Hurricanes open their ACC home slate Friday at noon against fourth-ranked NC State at the Neil Schiff Tennis Center.
To keep up with the University of Miami women's tennis team on social media, follow @CanesWTennis on Twitter, Instagram and Facebook.
RESULTS
Doubles Competition
1. Daevenia Achong/Maya Tahan (UM) def. Vic Allen/Kianah Motosono (FS), 6-4
2. Alexa Noel/Isabella Pfennig (UM) def. Anna Arkadianou/Millie Bissett (FS), 6-2
3. Audrey Boch-Collins/Mia Mack (UM) def. Olympe Lancelot/Ellie Schoppe (FS), 6-4
Singles Competition
1. No. 8 Alexa Noel (UM) def. No. 87 Anna Arkadianou (FS), 7-5, 7-6 (7-3)
2. Vic Allen (FS) def. Daevenia Achong (UM), 7-6 (7-3), 6-2
3. Isabella Pfennig (UM) def. Olympe Lancelot (FS), 6-3, 2-6, 6-1
4. Ellie Schoppe (FS) def. Audrey Boch-Collins (UM), 6-4, 6-7 (1-7), 1-0 (16-14)
5. Mia Mack (UM) def. Kristyna Lavickova (FS), 7-5, 6-4
6. Maya Tahan (UM) def. Millie Bissett (FS), 6-3, 6-4