Top-25 Test at The Schiff
CORAL GABLES, Fla. – After a pair of 7-0 wins over in-state foes to open its 2022 dual match slate, the University of Miami women's tennis team met a pair of Power Five opponents this past weekend.
Competing in ITA Kick-Off Weekend action in Waco, Texas, No. 23 Miami (3-1) played USC and Kansas on back-to-back days.
First, the Hurricanes dropped a narrow 4-3 decision to the Trojans, then ranked No. 15 and now No. 10. Miami had multiple overall match points, but fell short in a third-set tiebreaker on the final court.
Nonetheless, the way the team rebounded the following day to defeat the Jayhawks, 4-1, was a main takeaway for 21st-year head coach Paige Yaroshuk-Tews.
"I saw some bright spots," she said. "Obviously, we have some things that we need to work on. But, to play a top-15 program as tough we played SC and come up a little short and then bounce back against a solid team in Kansas, I think it says a lot about the team and kind of where we are. I think we played good tennis this [past] weekend."
One player who excelled for Miami in Waco was Isabella Pfennig, who went 2-0 in both singles and, alongside fellow sophomore Audrey Boch-Collins, in doubles. Her singles ledger included a comeback victory over No. 39 Snow Han of USC, good for the seventh top-40 triumph of her career.
The performance was particularly important for Pfennig after she went 0-3 in singles and 1-1 in doubles to begin the season in the Miami Spring Invite.
Following that weekend, though, Pfennig had a conversation with her coaches that, quite clearly, impacted her play moving forward.
"We talked after the Spring Invite [and discussed] that, like, the season starts now, just to kind of clear her head and clear any negativity that might have been there," Yaroshuk-Tews shared. "I think she did a good job with that. I think the last four sets of tennis that Bella played—she played five sets of singles in Waco—were some of her best tennis, against some really good players. So, I think that she gained some confidence. I think she left Waco feeling a little bit better about her tennis than she did going in."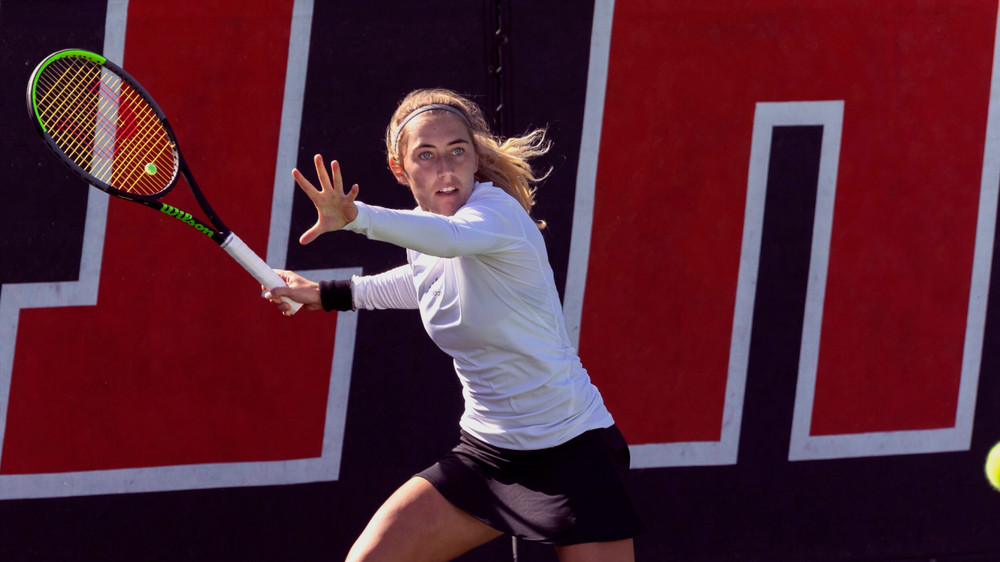 Up next for Pfennig and the Hurricanes is a return home to the Neil Schiff Tennis Center, where they play No. 17 Old Dominion Saturday at noon.
When Miami takes the court this weekend, it will have another individual in its arsenal who was not available in its first four matches or the invitational.
That individual is freshman Tatyana Nikolenko, who just arrived from Oskemen, Kazakhstan. The 5-foot-7 right-hander is a welcome addition.
"We're excited to have a new player on the team in town, someone that didn't travel to Waco with us," Yaroshuk-Tews said. "So, I think that will change the dynamic of our team, as well."
No matter who the Hurricanes put in their lineup, they will have their work cut out for them against a talented Old Dominion team.
The Monarchs are 3-1 on the season after pulling off a pair of upsets in Atlanta last week, including knocking off No. 12 Georgia Tech, to earn a spot in the ITA National Team Indoor Championship.
Old Dominion has three ranked singles players in No. 71 Yulia Starodubtseva, No. 106 Alexandra Viktorovich and No. 116 Tatsiana Sasnouskaya. In addition, Sasnouskaya and Starodubtseva form the third-ranked doubles pair in the country.
"I think Old Dominion just doesn't go away. I think that they're a mature team with some veterans, some older girls on their team. [They have], … I think, solid tennis players, hard workers and mature kids that are clearly buying in. [That shows with] a 4-3 win over Georgia Tech and a 4-3 win over Ole Miss to quality for National Indoors. So, they're hot.
"We're going to, obviously, be watching film on that match [they played Thursday at Florida] just to get to know them a little bit better," Yaroshuk-Tews added. "But, listen, we wanted to play them because we knew they were good and we're even happier that they've had the success that they've had going in because it just makes it a bigger match."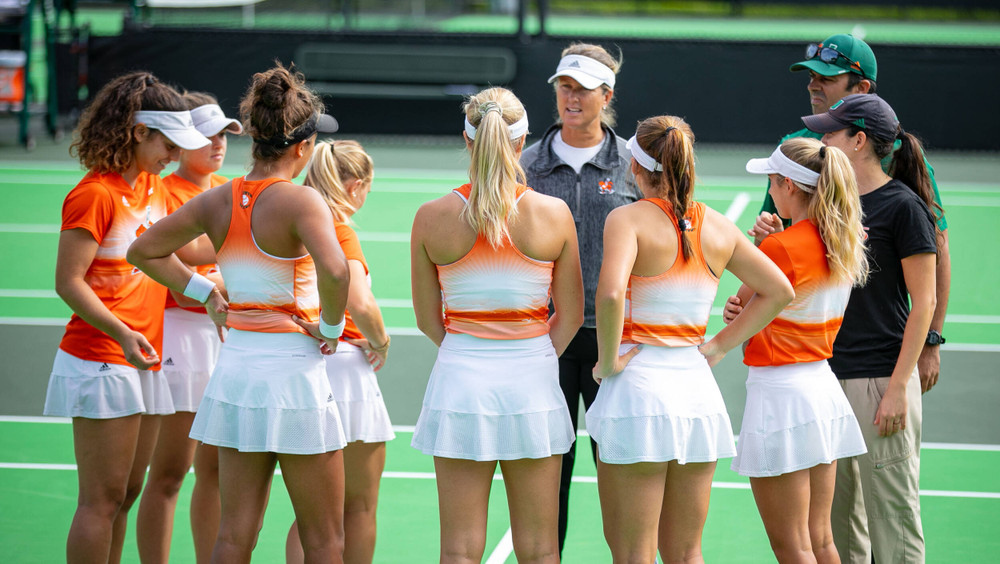 Miami is 2-0 all-time against Old Dominion, winning each match in 7-0 fashion. The sides have not met since April 10, 2004, when the Hurricanes earned the sweep on their home court.
Yaroshuk-Tews' team enters the match with two ranked singles players in Pfennig, at No. 76, and fourth-year junior Daevenia Achong at No. 104. Meanwhile, Achong and fifth-year senior Eden Richardson make up the nation's No. 40 doubles tandem.
The Hurricanes are aware they will be facing a tough, confident team come Saturday afternoon. That, however, will not change the way they get ready to for the match.
"I think we're always preparing our team to be playing a great match. We're preparing truly no differently … for FGCU than we do USC or Kansas or Old Dominion," Yaroshuk-Tews said. "I think that there are some things that we have to kind of be alert to and aware of. Some things work in their favor, meaning they're coming in hot. They're coming in [off clinching a berth to go to] National Indoors for the first time in the history of their school. But there are also some things that are in our favor. I think it's going to be 80 degrees and sunny on Saturday and they are [coming in] having played two matches up at Georgia Tech indoors, I believe.
"We're excited," Yaroshuk-Tews added in conclusion. "I'm excited to play them."
Live stats for Saturday afternoon's match between the Hurricanes and Monarchs will be available HERE.
To keep up with the University of Miami women's tennis team on social media, follow @CanesWTennis on Twitter, Instagram and Facebook.