W. Tennis Falls, 4-3, to No. 18 Auburn in NCAA Round of 32
CORAL GABLES, Fla. – The University of Miami women's tennis team dropped a 4-3 decision Saturday afternoon to No. 18 Auburn in the NCAA Team Championship Round of 32.
Ranked No. 15 and seeded No. 14, Miami (16-8, 9-4 ACC) narrowly dropped the doubles point, but nearly mounted a comeback at the Neil Schiff Tennis Center. The effort, however, fell two games short, as the Tigers advanced to the Round of 16 after a marathon affair that took over three-and-a-half hours to complete.
"Listen, we knew it was going to be a tough match. Obviously, the doubles point was a pretty big disappointment, being up big and then just, I think, in three games, [it felt like] we might've won one point," Miami head coach Paige Yaroshuk-Tews said. "It's what we were talking about all season, you don't play like that when you're up. Just a lot of kind of little things trickling in and out throughout the year, obviously, we also saw today. If you're going to make a run, you've got to make changes and we didn't make changes. So, a long match, a battle [on our] home court [in the] heat—we come out, we don't win the match, it's pretty disappointing."
The first two doubles matches ended just minutes apart, with each side taking one. First, Miami's No. 32-ranked pair of redshirt sophomore Alexa Noel and junior Isabella Pfennig defeated DJ Bennett and Kaitlyn Carnicella, 6-1.
Auburn (20-8, 8-5 SEC) leveled the doubles tally behind a 6-2 victory from No. 31 Carolyn Ansari and Ariana Arsenault over fifth-year senior Daevenia Achong and fourth-year junior Maya Tahan, together ranked No. 51.
Another 35 minutes later, after 70 total to minutes of doubles action, the Tigers narrowly claimed the doubles point. Adeline Flach and Angella Okutoyi rallied from 5-2 and 6-5 deficits, including fighting off a match point, to force a tiebreaker. Once there, they stormed back from 3-0 and 4-1 holes to defeat junior Audrey Boch-Collins and freshman Mia Mack, 7-6 (7-5), and give Auburn the 1-0 advantage.
Auburn took the first singles match to double its edge, as Bennett beat No. 88 Pfennig, 6-2, 6-1, but Miami answered just 10 minutes later with a win from its lone player without any eligibility remaining.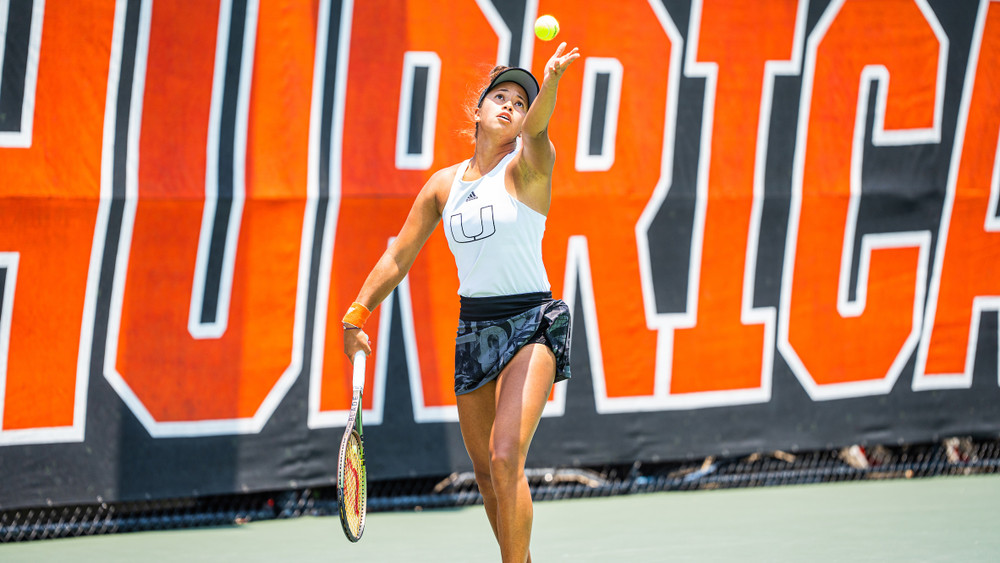 In the final match of her outstanding college career, No. 105 Achong took down No. 23 Ansari, 6-2, 6-3, to make it 2-1. The victory gave her 174 total wins—88 in singles, 86 in doubles—as a Hurricane, tied with Anna Bartenstein (2009-12) for No. 14 in program history. The victory was her sixth over a top-25 singles player—including the fifth-highest-ranked win of her career—and came in dominant fashion.
"She stepped up when we needed her this year, she stepped up in some big moments. Daev definitely had some struggles this year, as well, but towards the end of the season, when we needed her to do her job, she was there for this team," Yaroshuk-Tews said. "She was there for this program. She's been a rock for us for her five years playing for us. Obviously, we're going to miss her a lot, as a leader, as a player and as a person. So, she's meant a lot to the program."
Auburn countered with a 6-0, 6-3 win from Okutoyi over Boch-Collins to push its lead to 3-1, but the Hurricanes won each of the next two matches to pull even.
After a slow start, Mack controlled the final final dozen-plus games of her contest against Carnicella for a 6-4, 6-2 decision. Fifth-ranked Noel then defeated No. 32 Arsenault, taking the final six points of the match for a 6-4, 7-6 (7-3) triumph.
All eyes then turned to Court 6, where Tahan trailed Flach, 2-4. After dropping the seventh game to make it 2-5, Tahan broke and then held, staving off two match points in the latter game, to make it 4-5. She climbed no closer, though, as Flach logged a 6-3, 2-6, 6-4 result to give Auburn the victory.
For Miami, a strong season that featured six top-25 victories, including two over top-10 foes, came to an end with a 21st straight trip to the NCAA Round of 32. The setback snapped a 27-match NCAA Team Championship home winning streak, as the team fell to 28-2 in such contests.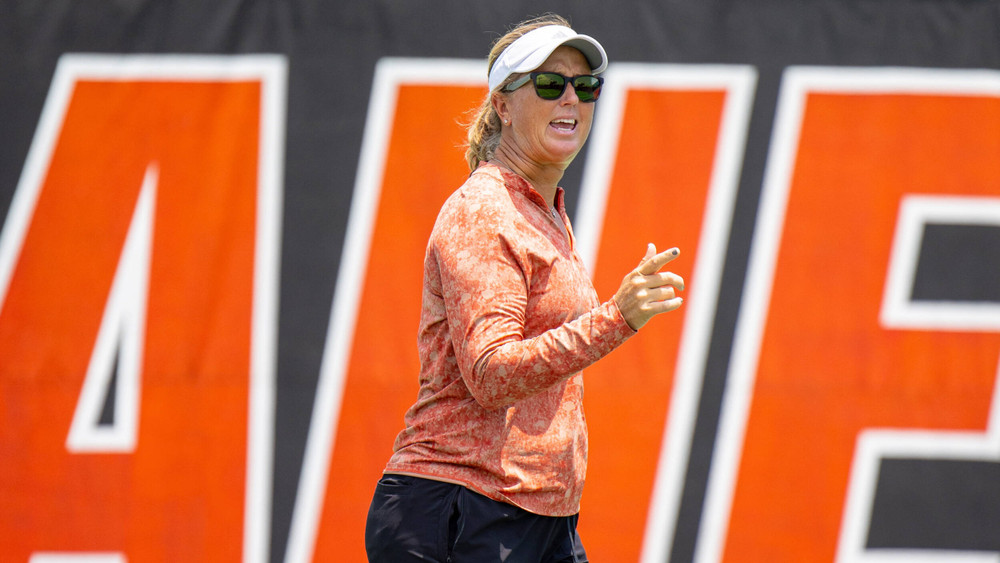 "I think that we had some big wins. We had some good tennis, kind of more towards the front of our season. I think when we hit the middle and end of our season, I don't think we were the team that we need to be going down the stretch," Yaroshuk-Tews said. "So, it's unfortunate because I don't think we're going to end up at 15 in the country. It's going to be unfortunate for the kids coming in next year. You want to do things, you want to start in that top-16 position; I don't know if that will happen. It's not how you start, it's how you finish. We needed to finish a whole lot better, but we obviously had some real bright moments."
Noel will now compete in the NCAA Singles Championship, slated for May 22-27 at the USTA National Campus in Orlando, Fla. Additionally, Noel and Pfennig and the third-alternate pair of the NCAA Doubles Championship, set for May 23-27 at the same site.
To keep up with the University of Miami women's tennis team on social media, follow @CanesWTennis on Twitter, Instagram and Facebook.
RESULTS
Doubles Competition
1. No. 31 Carolyn Ansari/Ariana Arsenault (AU) def. No. 51 Daevenia Achong/Maya Tahan (UM), 6-2
2. No. 32 Alexa Noel/Isabella Pfennig (UM) def. DJ Bennett/Kaitlyn Carnicella (AU), 6-1
3. Adeline Flach/Angella Okutoyi (AU) def. Audrey Boch-Collins/Mia Mack (UM), 7-6 (7-5)
Singles Competition
1. No. 5 Alexa Noel (UM) def. No. 32 Ariana Arsenault (AU), 6-4, 7-6 (7-3)
2. No. 105 Daevenia Achong (UM) def. No. 23 Carolyn Ansari (AU), 6-2, 6-3
3. DJ Bennett (AU) def. No. 88 Isabella Pfennig (UM), 6-2, 6-1
4. Angella Okutoyi (AU) def. Audrey Boch-Collins (UM), 6-3, 6-0
5. Mia Mack (UM) def. Kaitlyn Carnicella (AU), 6-4, 6-2
6. Adeline Flach (AU) def. Maya Tahan (UM), 6-3, 2-6, 6-4