W. Tennis Falls, 4-3, at Georgia Tech in Regular Season Finale
ATLANTA – The University of Miami women's tennis team dropped a 4-3 decision Sunday afternoon at No. 20 Georgia Tech in its last match of the 2023 regular season.
After claiming the doubles point following a 35-minute delay due to wet courts, No. 13 Miami (14-6, 9-4 ACC) could not find the three points it needed in singles at the Ken Byers Tennis Complex.
All three doubles matches ended within minutes of each other—the first two going to Miami to give the visitors the opening point.
First, redshirt sophomore Alexa Noel and junior Isabella Pfennig, together ranked No. 31, defeated Monika Dedaj and Kate Sharabura, 6-2. Fifth-year senior Daevenia Achong and fourth-year junior Maya Tahan, the nation's No. 46 duo, followed that up with a ranked win over No. 79 Kylie Bilchev and Alejandra Cruz, 6-3, to make it 1-0.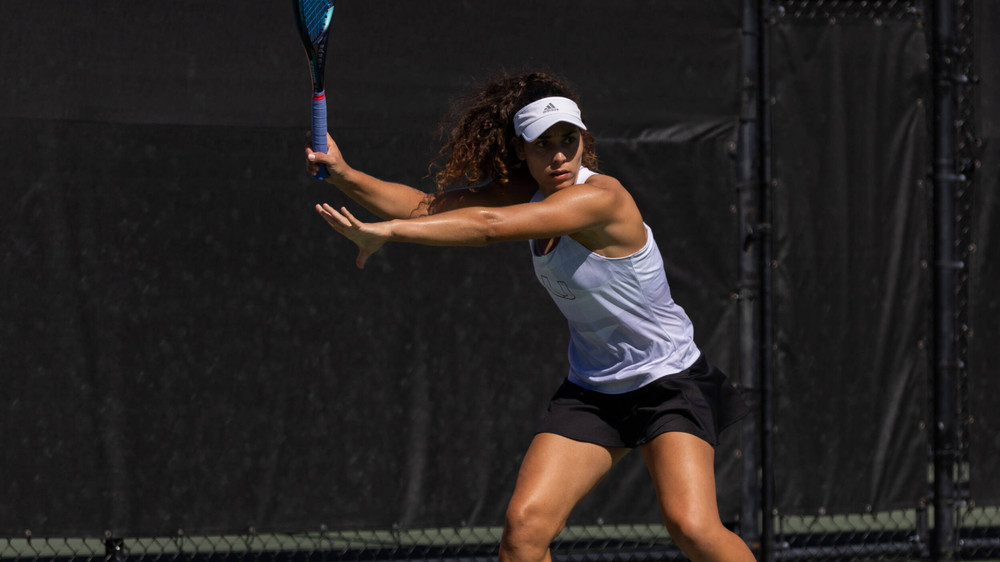 The third contest did continue, with the Georgia Tech (13-8, 7-6 ACC) duo of Rosie Garcia Gross and Carol Lee claiming a 6-3 decision versus junior Audrey Boch-Collins and freshman Mia Mack.
The Yellow Jackets claimed the first of three ranked showdowns to notch the initial singles point, as No. 24 Bilchev defeated No. 109 Achong, 6-4, 6-2, to even the match at 1-1.
Georgia Tech then took its first lead of the day behind a 6-3, 6-2 victory by No. 80 Mahak Jain over Boch-Collins.
Approximately 20 minutes later, Miami registered its first singles triumph to level the score at 2-2, as No. 81 Pfennig knocked off No. 108 Cruz, 6-2, 1-6, 6-3, in a ranked matchup. However, within minutes, Georgia Tech regained the advantage, as Sharabura completed a 6-2, 4-6, 6-2 outing against Tahan, despite losing six games in a row in the second set.
Garcia Gross clinched the win for the Yellow Jackets, rallying from a 1-4 third-set deficit, including fighting off a match point at deuce in the 5-5 game, to defeat Mack, 2-6, 6-2, 7-5.
Despite the overall defeat, eighth-ranked Noel ended the day on a positive note for Miami, as she took down No. 12 Lee in a top-15 affair, 3-6, 7-5, 6-4. The Summit, N.J., native trailed 3-5 in the second set and then won four straight games to force a third, in which she trailed, 1-3, before winning five of the last six games to claim her third top-15 win her last six outings.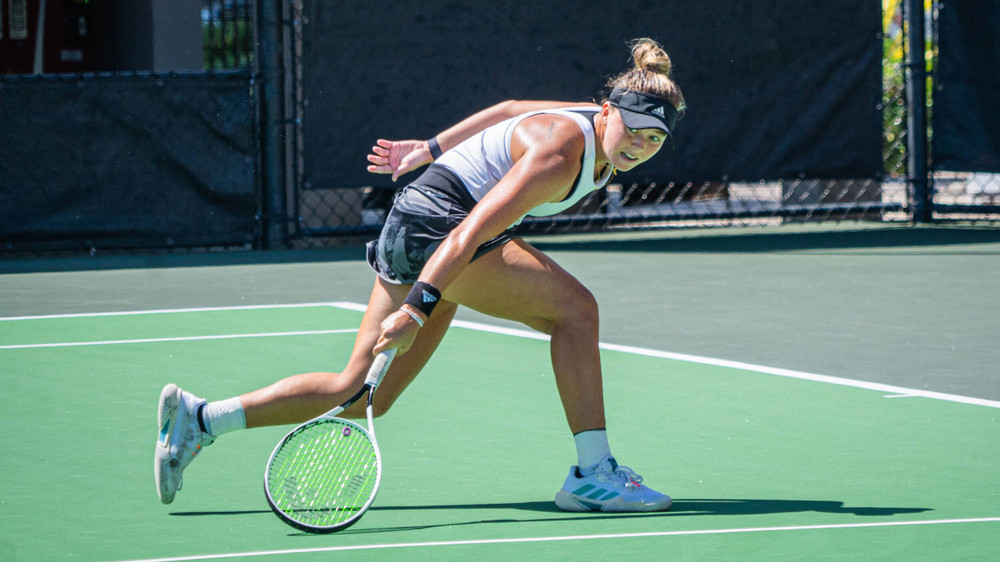 last six games to claim her third top-15 win her last six outings.
The Hurricanes will now head to Cary, N.C., for the ACC Championship as the fifth seed. Miami will receive a bye and begin play Thursday at 10 a.m. at Cary Tennis Park against No. 12-seed Clemson or No. 13-seed Virginia Tech.
To keep up with the University of Miami women's tennis team on social media, follow @CanesWTennis on Twitter, Instagram and Facebook.
RESULTS
Doubles Competition
1. No. 46 Daevenia Achong/Maya Tahan (UM) def. No. 79 Kylie Bilchev/Alejandra Cruz (GT), 6-3
2. No. 31 Alexa Noel/Isabella Pfennig (UM) def. Monika Dedaj/Kate Sharabura (GT), 6-2
3. Rosie Garcia Gross/Carol Lee (GT) def. Audrey Boch-Collins/Mia Mack (UM), 6-3
Singles Competition
1. No. 8 Alexa Noel (UM) def. No. 12 Carol Lee (GT), 3-6, 7-5, 6-4
2. No. 24 Kylie Bilchev (GT) def. No. 109 Daevenia Achong (UM), 6-4, 6-2
3. No. 81 Isabella Pfennig (UM) def. No. 108 Alejandra Cruz (GT), 6-2, 1-6, 6-3
4. No. 80 Mahak Jain (GT) def. Audrey Boch-Collins (UM), 6-3, 6-2
5. Rosie Garcia Gross (GT) def. Mia Mack (UM), 2-6, 6-2, 7-5
6. Kate Sharabura (GT) def. Maya Tahan (UM), 6-2, 4-6, 6-2