Pfennig and Achong Reenter ITA Singles Rankings
CORAL GABLES, Fla. – Three members of the University of Miami women's tennis team are featured in the ITA rankings this week, as announced Tuesday morning.
Junior Isabella Pfennig and fifth-year senior Daevenia Achong are both back on the singles list, giving Miami (9-3, 4-1 ACC) a trio of ranked singles players for the first time since the fall. Pfennig places No. 116 in the country, while Achong checks in at No. 118.
Leading the way in the singles rankings for the Hurricanes is once again redshirt sophomore Alexa Noel, who comes in at No. 11 overall. It is the second-highest mark of the season for the Summit, N.J., native.
Miami also has two ranked doubles duos for the first time in 2022-23. Achong and Noel once again hold the No. 14 spot in the country, but now Noel is also ranked No. 53 alongside Pfennig. This is the first time Pfennig is ranked in doubles this season.
In the team rankings, Miami retained its No. 13 position. The Hurricanes' lone match last week was a hard-fought 5-2 setback Saturday afternoon at second-ranked Texas A&M.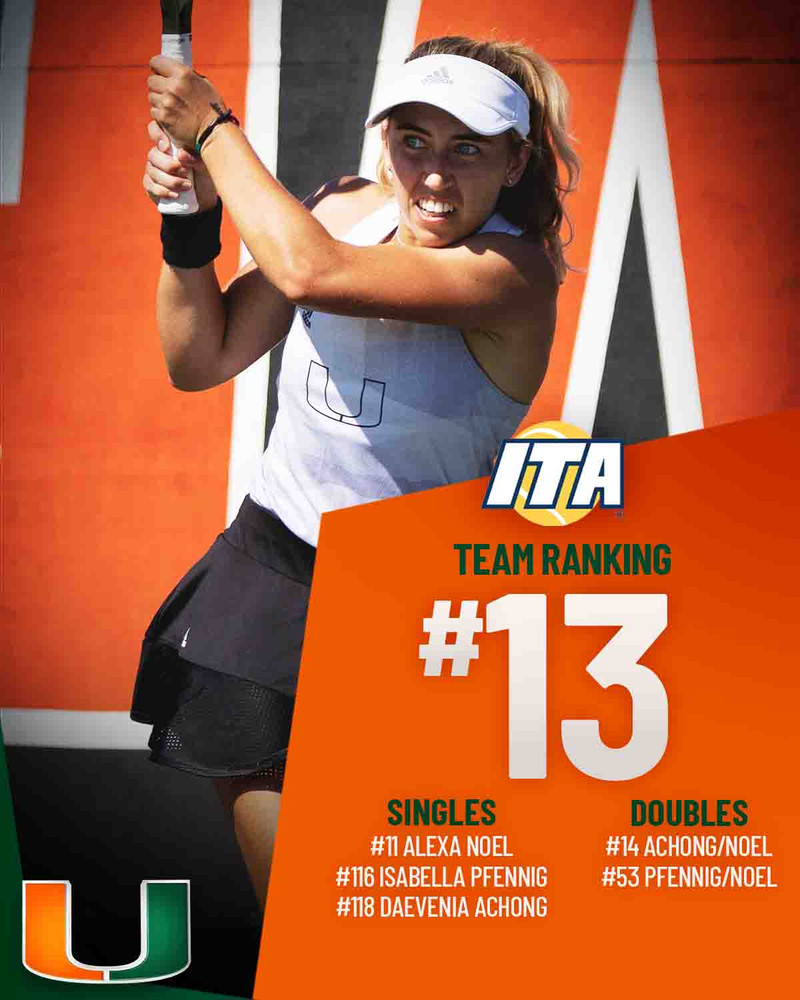 Once again, 13 of the ACC's 14 teams are ranked top-65. This week, there are 12 in the top 50, nine in the top 30, seven in the top 25, five in the top 15 and four in the top 10.
Miami is joined by top-ranked North Carolina, eighth-ranked NC State, ninth-ranked Virginia, No. 10 Duke, No. 22 Georgia Tech, No. 25 Wake Forest, No. 27 Notre Dame, No. 29 Syracuse, No. 33 Clemson, No. 35 Florida State, No. 48 Boston College and No. 64 Virginia Tech.
The Hurricanes resume play Friday at 1 p.m. when they host ninth-ranked Virginia at the Neil Schiff Tennis Center.
To keep up with the University of Miami women's tennis team on social media, follow @CanesWTennis on Twitter, Instagram and Facebook.