Noel and Pfennig Earn All-ACC Honors
CORAL GABLES, Fla. – Two members of the University of Miami women's tennis team garnered All-ACC accolades, as announced Friday morning.
Alexa Noel claimed first-team status in singles and third-team status in doubles, the latter alongside Isabella Pfennig, a third-team honoree in singles. This is the first year the ACC has split its postseason teams into the two disciplines.
Miami has now totaled 45 All-ACC accolades in the 18 years—excluding the COVID-shortened 2020 season—it has been in the league. Noel is the 21st different Hurricane to make the cut, while Pfennig is the eighth with at least three distinctions.
Since the conference went to a multiple team format in 2014, at least one Hurricane has earned first-team recognition every year and at least two players have been listed overall.
Noel logged a 34-8 singles record in her first season at Miami, good for the seventh-most wins in the country. The redshirt sophomore finished 24-4 this spring, 20-3 in dual matches (all at No. 1), 12-1 in ACC action and 23-6 versus ranked foes, including 3-1 against the ACC's other four top-10 finishers.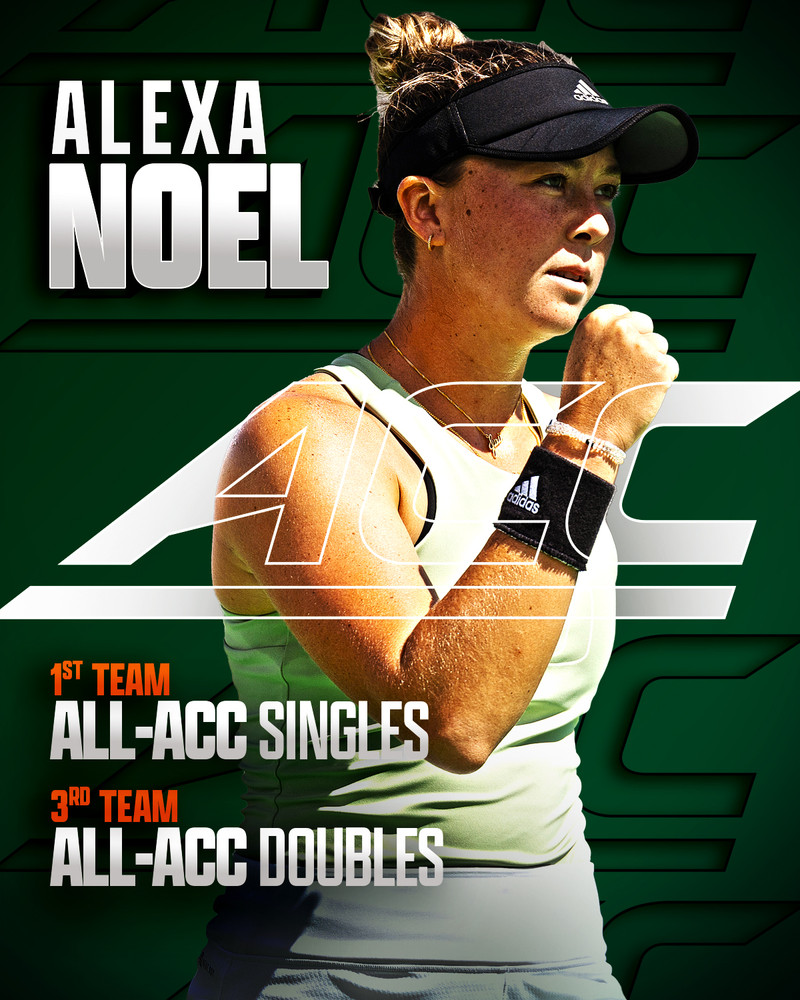 The Summit, N.J., native ended the year ranked sixth nationally after placing top-15 for the entire spring and peaking at fifth. The four-time ACC Player of the Week earned the fifth seed in the NCAA Singles Championship and advanced to the Round of 32.
In doubles, Noel and Pfennig put together a 13-6 record as a pair, all in spring competition. They went 7-4 in ACC play and 2-2 against top-25 pairs, including defeating the eventual NCAA title-winning pair of Fiona Crawley and Carson Tanguilig of North Carolina.
The Hurricane tandem ascended as high as No. 16 in the ITA rankings and closed the year at No. 36 overall. They also took part in the NCAA Doubles Championship.
Pfennig amassed a 23-15 singles record in 2022-23, including an 18-5 ledger in dual matches and an 11-2 mark in ACC competition. The junior logged seven victories over ranked foes, including four in the top 50, two in the top 25 and one in the top five against eventual NCAA runner-up Layne Sleeth of Oklahoma.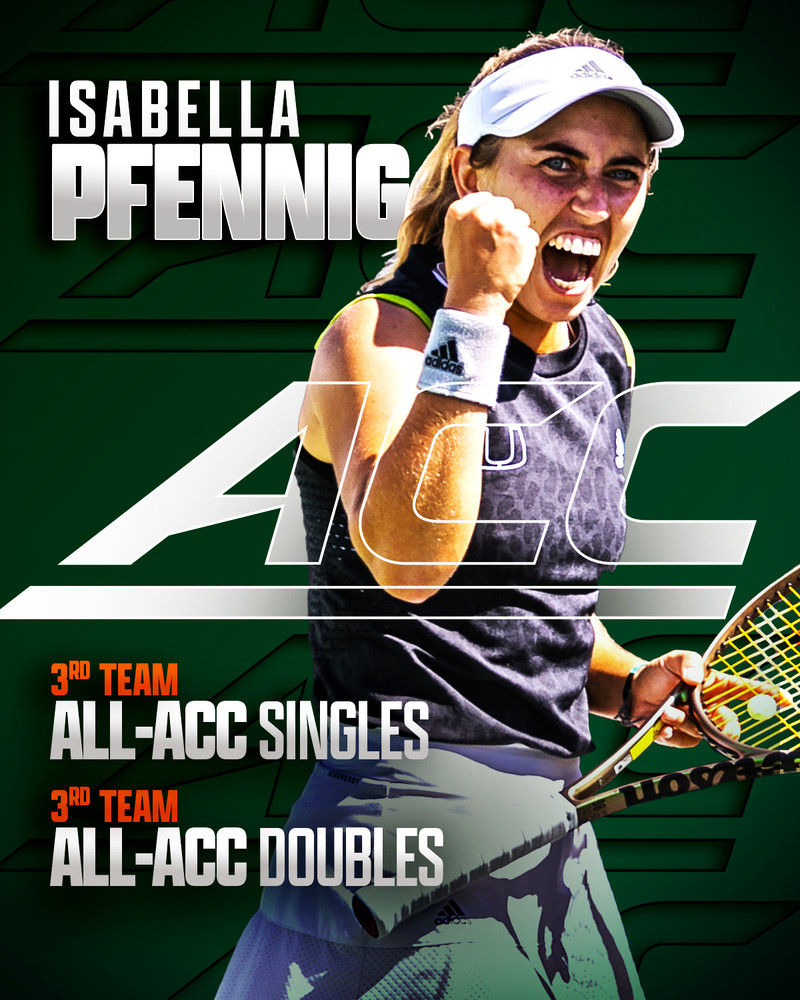 A native of Gauting, Germany, Pfennig peaked at No. 66 in the ITA singles rankings and concluded the campaign at No. 70 on the list. She was recently named a CSC First Team Academic All-American.
Pfennig previously received Third Team All-ACC plaudits in 2022 and Second Team All-ACC recognition in 2021. She is one of just five three-time designees on this year's list.
The complete list of All-ACC honorees can be found HERE.
To keep up with the University of Miami women's tennis team on social media, follow @CanesWTennis on Twitter, Instagram and Facebook.