W. Tennis Falls, 4-3, to No. 10 Virginia in ACC Quarterfinals
CARY, N.C. – After nearly three-and-a-half hours of back-and-forth action, the fifth-seeded University of Miami women's tennis team dropped a 4-3 decision Friday against fourth-seeded Virginia.
No. 13 Miami (15-7, 9-4 ACC) faced a 3-1 deficit before leveling the score, but the Cavaliers, ranked No. 10 in the country, came away with a narrow victory in the top-15 showdown.
"I just felt like it was extremely lopsided in terms of who showed up and played the type of tennis we needed to play and had the type of emptions we needed to have, and those that clearly didn't," Miami head coach Paige Yaroshuk-Tews said. "It's unfortunate because it's not fair to the kids that do [have that]. So, overall, we didn't play the type of tennis we needed to against a team [of that caliber and] we barely lose the match.  We, I think, didn't get a great start in doubles, which obviously could've been the difference.
"We didn't get a great start in three of the singles matches," Yaroshuk-Tews continued. "It's tough to beat a team that's top-10 in the country when you're losing sets the way we did. We've just got to get back on the horse and get ready for NCAAs."
Virginia (18-5, 10-3 ACC) won both completed doubles matches to take the opening point of the contest. Its first victory came from Annabelle Xu and Sara Ziodato, who topped junior Audrey Boch-Collins and freshman Mia Mack, 6-3.
Two minutes later, No. 34 Elaine Chervinsky and Natasha Subhash record a 6-3 decision against redshirt sophomore Alexa Noel and junior Isabella Pfennig, together ranked No. 29, to give the Cavaliers a 1-0 lead.
The incomplete match ended at 5-5, after No. 13 Julia Adams and Melodie Collard of Virginia rallied back from a 2-5 deficit and fought off a match point in the 10th game against fifth-year senior Daevenia Achong and fourth-year junior Maya Tahan, the country's No. 44 duo.
Ziodato doubled the lead to 2-0 with a 6-1, 6-0 victory over Tahan, but Miami then began to climb back.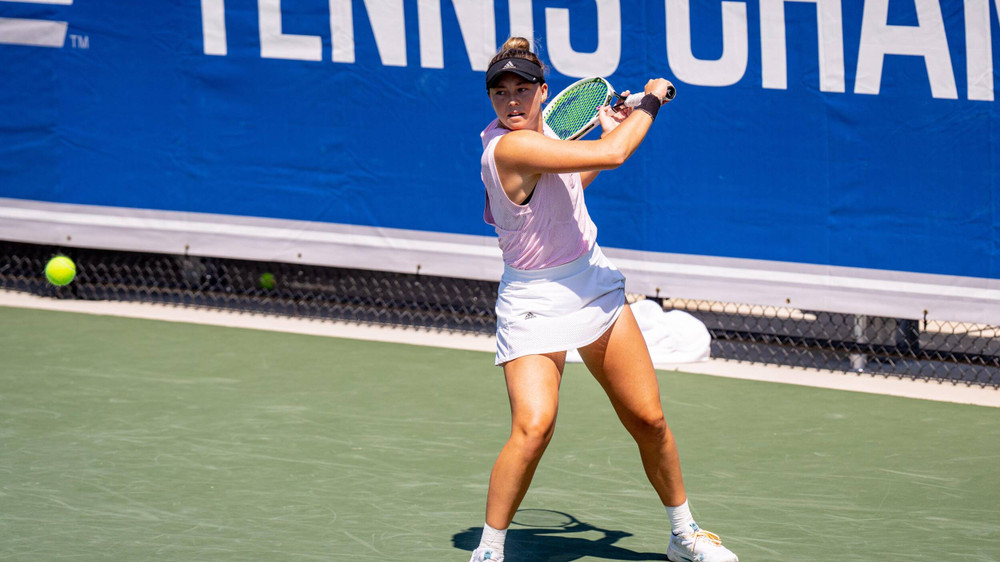 Fifth-ranked Noel, after losing the first two games, won 11 in a row on the way to a 6-2, 6-2 victory over No. 51 Subhash, putting the Hurricanes on the board.
Mack put together a comeback bid against No. 120 Shaikh, winning four straight games after dropping the first nine, but could not get all the way back and came up on the short end of a 0-6, 4-6 result.
No. 105 Achong sliced the deficit in half with an impressive 6-3, 7-5 triumph over No. 54 Adams for her second-highest-ranked win of the spring.
Several minutes later, No. 83 Pfennig evened the score for the first time all day, closing out a 6-1, 7-6 (8-6) victory against Chervinsky. The Gauting, Germany, native trailed, 4-6, in the tiebreaker, but claimed the last four points to earn the decision.
All eyes then turned to Court 4, where Boch-Collins and No. 77 Xu were even at 3-3 in the second set after the latter took the first. The two players split the next six games and went to a tiebreaker, with Boch-Collins fighting off a match point to stay alive, but she could not tack on any more points after that.
Approximately 45 minutes after the previous match ended, No. 77 Xu earned the 6-4, 7-6 (8-6) result to send Virgina to the semifinals.
"One, two and three singles played exceptionally well and they had an unbelievable day," Yaroshuk-Tews said. "Unfortunately, it takes four points to win a match and we came up short."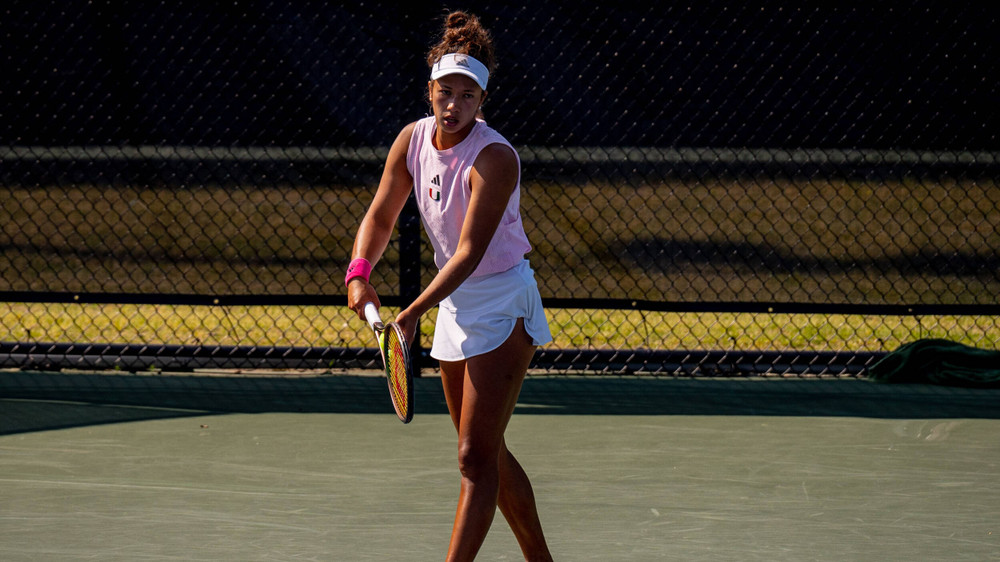 Up next for Miami is the NCAA Team Championship, with the team on track to make its 27th consecutive appearance in the tournament. The Hurricanes are currently in line to host the opening two rounds, set for May 5-6, at the Neil Schiff Tennis Center for the second year in a row.
To keep up with the University of Miami women's tennis team on social media, follow @CanesWTennis on Twitter, Instagram and Facebook.
RESULTS
Doubles Competition
1. No. 44 Daevenia Achong/Maya Tahan (UM) vs. No. 13 Julia Adams/Melodie Collard (VA), 5-5, unf.
2. No. 34 Elaine Chervinsky/Natasha Subhash (VA) def. No. 29 Alexa Noel/Isabella Pfennig (UM), 6-3
3. Annabelle Xu/Sara Ziodato (VA) def. Audrey Boch-Collins/Mia Mack (UM), 6-3
Singles Competition
1. No. 5 Alexa Noel (UM) def. No. 51 Natasha Subhash (VA), 6-2, 6-2
2. No. 105 Daevenia Achong (UM) def. No. 54 Julia Adams (VA), 6-3, 7-5
3. No. 83 Isabella Pfennig (UM) def. Elaine Chervinsky (VA), 6-1, 7-6 (8-6)
4. No. 77 Annabelle Xu (VA) def. Audrey Boch-Collins (UM), 6-4, 7-6 (8-6)
5. No. 120 Hibah Shaikh (VA) def. Mia Mack (UM), 6-0, 6-4
6. Sara Ziodato (VA) def. Maya Tahan (UM), 6-1, 6-0