W. Tennis Completes Season-Opening Fall Ranked Spotlight
CARY, N.C. – The University of Miami women's tennis team began its 2022-23 campaign over the weekend at the Fall Ranked Spotlight at the Cary Tennis Park.
Six Hurricanes played in both singles and doubles, competing against foes from 16 different programs across the nation, including 13 at the Power Five level. Fourteen of Miami's 27 singles matches and four of its eight doubles contests were against ranked opponents.
"It was a big weekend for Miami women's tennis. We played some top opponents in hard-fought matches and learned a lot," Miami head coach Paige Yaroshuk-Tews said. "We came away with some big personal victories that will continue pushing us forward. I'm happy with the toughness our kids showed this weekend. Hands down, we can play with any team in the country."
Redshirt sophomore Alexa Noel, in her first action donning the orange and green, led the way for the Hurricanes to begin the season. Ranked No. 19 nationally, she posted a 3-2 singles record against a quintet of top-60 players.
Noel's triumphs included a 6-2, 6-2 decision over No. 60 Jaedan Brown of Michigan, a 6-4, 6-3 win against No. 42 Ayana Akli of South Carolina and a 6-4, 6-2 victory over No. 27 Rebeka Mertena of Tennessee.
In addition, Noel and fifth-year redshirt senior Daevenia Achong teamed up to post a 2-1 doubles record against a trio of top-40 pairs. The duo, ranked No. 35 nationally, opened the weekend by downing No. 22 Patricija Sapaka/Domenika Turkovic of Arizona State, 6-4, and closed it by topping No. 36 Carson Tanguilig/Reilly Tran of North Carolina, 6-4.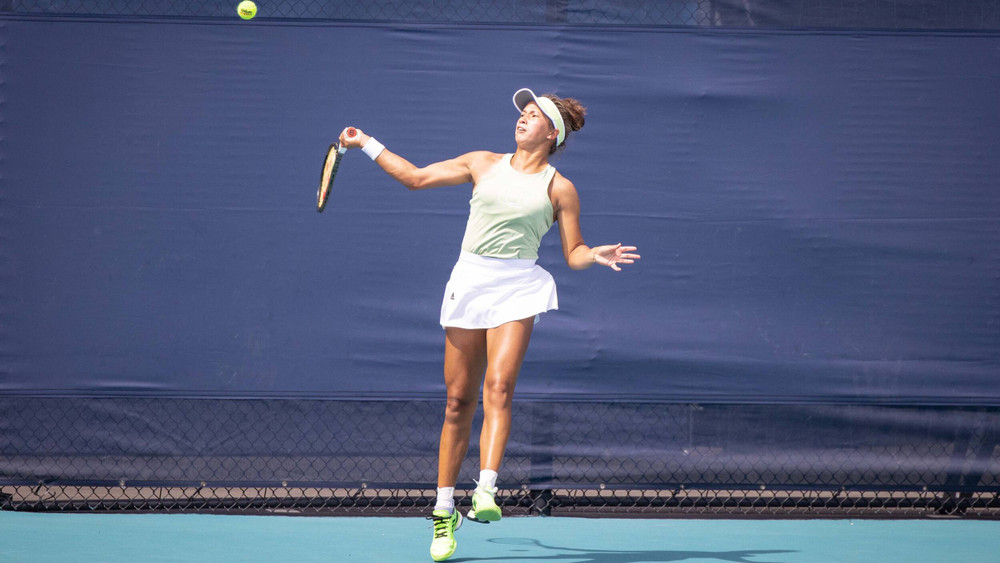 Achong posted a strong weekend in singles against excellent competition, as well. The Geleen, Netherlands, native picked up a pair of top-90 wins, earning a 6-4, 4-6, 7-6 (7-3) result against No. 90 Marie Mattel of UCF and a 6-7 (6-8), 6-1, 1-0 (0-8) triumph versus No. 69 Domenika Turkovic of Arizona State.
Junior Isabella Pfennig logged the highest-ranked win of the weekend, as she logged the first top-five victory of her superb career. The Gauting, Germany, native took down fourth-ranked Layne Sleeth of Oklahoma, 6-3, 6-4.
Fourth-year junior Maya Tahan split her four singles matches on the weekend, including edging USC's Sloane Morra, 6-1, 4-6, 1-0 (10-1). Junior Audrey Boch-Collins also took home a pair of singles wins, including defeating Lucia Marzal of Ohio State, 6-1, 6-1.
Up next for Miami is another trip to Cary for the ITA Women's All-American Championships, where select Hurricanes will play in one of the premier tournaments of the year.
To keep up with the University of Miami women's tennis team on social media, follow @CanesWTennis on Twitter, Instagram and Facebook.
THURSDAY RESULTS
Doubles A Group – Round Robin
No. 35 Daevenia Achong/Alexa Noel (UM) def. No. 22 Patricija Spaka/Domenika Turkovic (AS), 6-4
No. 28 Alexandra Pisareva/Layne Sleeth (OU) def. No. 35 Daevenia Achong/Alexa Noel (UM), 6-2
Doubles D Group – Round Robin
Hibah Shaikh/Annabelle Xu (VA) def. Isabella Pfennig/Maya Tahan (UM), 6-3
No. 51 Sophie Abrams/Amelia Rajecki (ST) def. Isabella Pfennig/Maya Tahan (UM), 7-6 (7-5)
Doubles H Group – Round Robin
Roxana Manu/Jocelyn Massey (KU) def. Audrey Boch-Collins/Tatyana Nikolenko (UM), 6-2
Laylo Blakhodirova/Fernanda Carvajal (ET) def. Audrey Boch-Collins/Tatyana Nikolenko (UM), 6-2
FRIDAY RESULTS
Singles A-1 Draw – Main Draw Round of 32
Maddy Sieg (USC) def. No. 30 Daevenia Achong (UM), 6-4, 6-4
No. 19 [8] Alexa Noel (UM) def. No. 60 Jaedan Brown (MI), 6-2, 6-2
No. 66 Isabella Pfennig (UM) def. No. 4 [4] Layne Sleeth (OU), 6-3, 6-4
Singles A-2 Draw – Main Draw Round of 32
Roxana Manu (KU) def. [5-8] Audrey Boch-Collins (UM), 2-6, 6-1, 6-3
Singles Round-Robin
Fernanda Carvajal (ET) def. Tatyana Nikolenko (UM), 6-3, 6-2
Maya Tahan (UM) def. Sloane Morra (SC), 6-1, 4-6, 1-0 (10-1)
Singles A-1 Draw – Main Draw Round of 16
No. 33 Fiona Crawley (NC) def. No. 19 [8] Alexa Noel (UM), 6-2, 6-2
No. 51 Sydni Ratliff (OS) def. No. 66 Isabella Pfennig (UM), 4-6, 6-3, 6-4
Singles A-1 Draw – West Draw Round of 16
No. 30 Daevenia Achong (UM) def. No. 90 Marie Mattel (UCF), 6-4, 4-6, 7-6 (7-3)
Singles A-2 Draw – West Draw Round of 16
[5-8] Audrey Boch-Collins (UM) def. Lucia Marzal (OS), 6-1, 6-1
SATURDAY RESULTS
Singles A-1 Draw – North Draw First Round
No. 19 [8] Alexa Noel (UM) def. No. 42 Ayana Akli (SC), 6-4, 6-3
No. 6 [5] Cameron Morra (DU) def. No. 66 Isabella Pfennig (UM), 6-1, 6-3
Singles A-1 Draw – West Draw Quarterfinals
No. 10 [6] Irina Cantos Siemers (OS) def. No. 30 Daevenia Achong (UM), 6-4, 1-6, 6-3
Singles Round-Robin
Sloane Morra def. Tatyana Nikolenko (UM), 6-0, 6-0
Maya Tahan (UM) def. Jocelyn Massey (UM), 6-2, 6-1
Fernanda Carvajal (ETS) def. Maya Tahan (UM), 7-6 (7-4), 7-5
Singles A-2 Draw – West Draw Quarterfinals
[5-8] Audrey Boch-Collins (UM) def. DJ Bennett (AU), 4-6, 7-6 (7-2), 6-1
Singles A-1 Draw – North Draw Semifinals
No. 6 [5] Cameron Morra (DU) def. No. 19 [8] Alexa Noel (UM), 6-4, 7-5
Singles A-1 Draw – Northwest Draw First Round
No. 42 Ayana Akli (SC) def. No. 66 Isabella Pfennig (UM), 6-4, 4-6, 1-0 (11-9)
Singles A-1 Draw – Southwest Draw First Round
No. 22 Carmen Corley (OU) def. No. 30 Daevenia Achong (UM), 6-4, 6-4
Singles A-2 Draw – West Draw Semifinals
Annabelle Xu (VA) def. [5-8] Audrey Boch-Collins (UM), 6-3, 6-3
SUNDAY RESULTS
Doubles A Group – Round Robin
No. 35 Daevenia Achong/Alexa Noel (UM) def. No. 36 Carson Tanguilig/Reilly Tran (NC), 6-4
Doubles D Group – Round Robin
Carmen Corley/Julia Garcia Ruiz (OU) def. Isabella Pfennig/Maya Tahan (UM), 6-4
Singles A-1 Draw – East-Northeast Draw
No. 19 [8] Alexa Noel (UM) def. No. 27 Rebeka Mertena (TN), 6-4, 6-2
Singles A-1 Draw – North-Northwest Draw
No. 46 Giulia Morlet (AS) def. No. 66 Isabella Pfennig (UM), 6-3, 7-6 (7-4)
Singles A-1 Draw – South-Southwest Draw First Round
No. 30 Daevenia Achong (UM) def. No. 69 Domenika Turkovic (AS), 6-7 (6-8), 6-1, 1-0 (10-8)
Singles A-2 Draw – West-Southwest Draw
Kaitlyn Carnicella (AU) def. [5-8] Audrey Boch-Collins (UM), 6-1, 7-6 (7-4)
Singles A-2 Southeast Draw/ Round-Robin
Jocelyn Massey (KU) def. Tatyana Nikolenko (UM), 6-2, 6-2
Leena Bennetto (PR) def. Maya Tahan (UM), 6-3, 7-6 (12-10)