Pfennig and Achong Named CSC Academic All-Americans
CORAL GABLES, Fla. – Two members of the University of Miami women's tennis team received College Sports Communications (CSC) Academic All-America status, as announced Thursday afternoon.
In the inaugural year of a tennis-specific team, Isabella Pfennig claimed CSC First Team Academic All-America recognition and Daevenia Achong tallied second-team plaudits.
Just 18 Division I players—three teams of six—in the nation made the cut. Only Miami and Arizona State had multiple representatives on the list, while the Hurricanes had as many selections as the rest of the ACC combined.
Pfennig went 23-15 in singles and 19-12 in doubles during her junior campaign, totaling 42 overall victories. She ended the year ranked No. 70 in singles and No. 36 in doubles, the latter alongside redshirt sophomore Alexa Noel, with whom she participated in the NCAA Doubles Championship. Pfennig is a two-time All-ACC honoree and a 2021 ITA All-American.
An economics major with an accounting minor, Pfennig owns a dazzling 3.991 GPA through three years of college. The Gauting, Germany, native has earned Provost's Honor Roll (3.75+ GPA) recognition in all six semesters, making the President's List (4.0) in five of them. In addition, she is a member of the prestigious Omicron Delta Kappa (ODK) Honor Society and is a two-time All-ACC Academic Team pick, with a third such honor likely on the way.
Achong, a fifth-year senior, posted a 14-15 singles ledger and an 18-9 doubles mark this season. She capped the year ranked No. 82 in singles, as well as both No. 47 and No. 48 in doubles, the former with Noel and the latter with fourth-year junior Maya Tahan. A 2022 NCAA Doubles Championship runner-up and ITA All-American, Achong is a two-time All-ACC designee.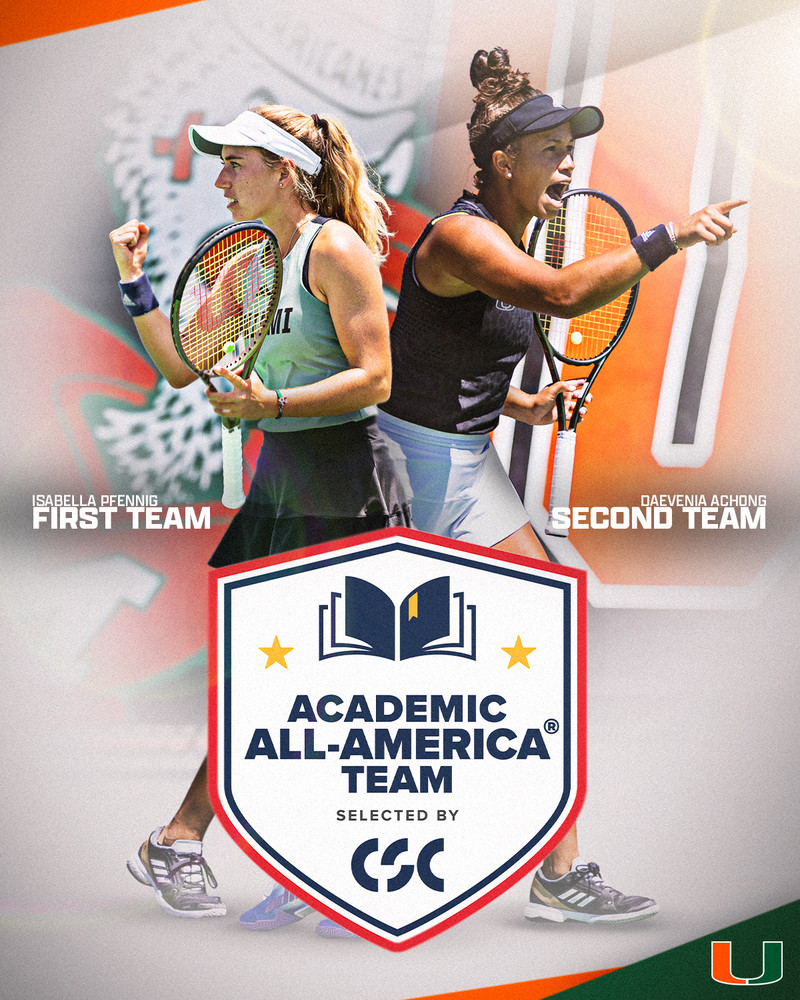 After majoring in finance and minoring in business technology, Achong earned her bachelor's degree from Miami in May 2022, finishing as a five-time Dean's List (3.5+ GPA) designee with a 3.748 undergraduate GPA. She then spent the last year in graduate school and added a master's degree in finance this month, posting a 3.79 GPA. An ACC postgraduate scholarship recipient, Achong is a member of both ODK and the Mortar Board Honor Society. She, like Pfennig, is also a soon-to-be three-time All-ACC Academic Team selection.
Achong and Pfennig are the fourth and fifth Academic All-Americans—fifth and sixth occurrences—in program history, with the prior four all earning the plaudit in the at-large, non-sport-specific category. The duo follows Bianca Eichkorn (Second Team in 2011 and Third Team in 2010), Audra Cohen (Second Team in 2007) and Megan Bradley (First Team in 2005).
The full release on the CSC Academic All-America tennis teams can be found HERE.
To keep up with the University of Miami women's tennis team on social media, follow @CanesWTennis on Twitter, Instagram and Facebook.
CSC FIRST TEAM ACADEMIC ALL-AMERICANS
Marianna Argyrokastrit, Arizona State, Jr., 4.00, Business (Business Admin)
Emmanouela Antonaki, Mississippi State, Gr., 4.00, Sport Administration
Chloe Beck, Duke, Sr., 3.98, Psychology
Irina Cantos Siemers, Ohio State, Gr., 3.74, Sports Management (G)
Kit Gulihur, North Florida, Gr., 4.00 International Affairs
Isabella Pfennig, Miami, Jr., 3.98, Economics
CSC SECOND TEAM ACADEMIC ALL-AMERICANS
Daevenia Achong, Miami, Gr., 3.74 Finance
Emilia Alfaro, East Tennessee State, Gr., 4.00, Applied Data Science (G)
Jessica Braun, Ball State, Sr., 4.00, Logistics
Natasha Subhash, Virginia, Sr., 3.91, Commerce
Domenika Turkovic, Arizona State, Gr., 4.00, Sports Law & Business
Valencia Xu, Stanford, So., 4.00, Undeclared
CSC THIRD TEAM ACADEMIC ALL-AMERICANS
Diana Cabrera, Missouri State, Gr., 3.86, MBA
Sarah Hamner, South Carolina, So., 3.84, Undeclared
Elena Jankulovska, Illinois State, Jr., 4.00, Psychology
Maria Oreshkina, Wyoming, Gr., 4.00, Geospatial Information Science
Mary Stoiana, Texas A&M, So., 3.59, Sport Management
Lisa Zaar, Pepperdine, Sr., 3.85, International Studies (Management)
NOTE: The above GPAs are as of the time of submission deadline, prior to the end of the 2023 spring semester, hence the difference from the listed numbers in the body of the release.