Three from W. Tennis Earn All-ACC Accolades
CORAL GABLES, Fla. – A trio of University of Miami women's tennis players received All-ACC honors, as announced Thursday afternoon.
Daevenia Achong and Eden Richardson both garnered First Team All-ACC plaudits, while Isabella Pfennig picked up Third Team All-ACC distinction.
Miami has now totaled 42 All-ACC accolades in the 17 years—excluding the COVID-shortened 2020 season—it has been in the league. Richardson is the 20th different Hurricane to make the cut, while Achong and Pfennig are the ninth and 10th Miami players to earn multiple All-ACC honors.
Since the conference went to a multiple team format in 2014, a Hurricane has earned first-team recognition every year. This is the first time since 2017—Sinead Lohan and Stephanie Wagner—multiple Miami players did so.
In addition, the last time Miami had three players receive All-ACC honors was in 2016 (Sinead Lohan, Stephanie Wagner and Wendy Zhang).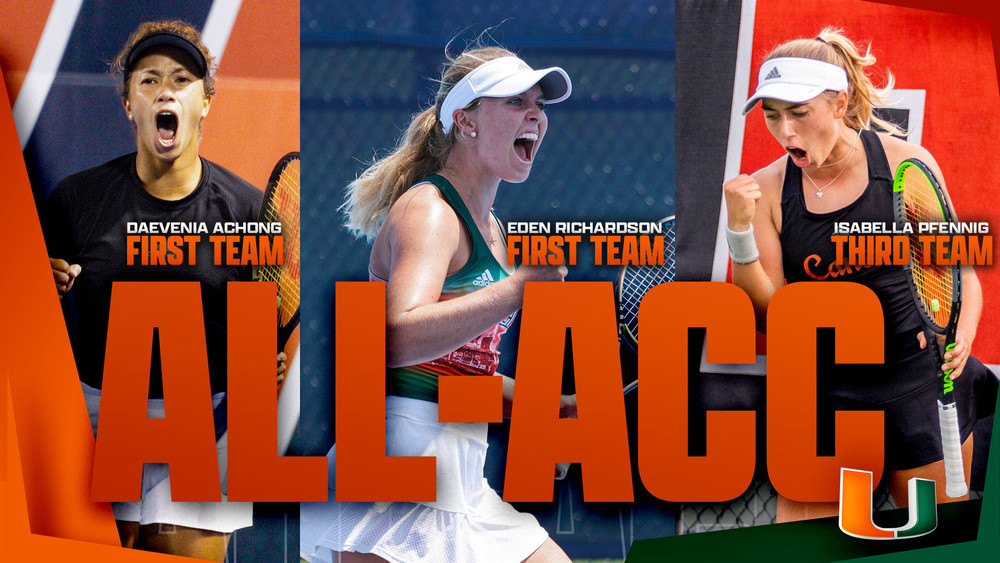 A fourth-year junior, Achong received Second Team All-ACC status as a freshman in 2019. The Geleen, Netherlands, native co-led Miami in both singles and doubles wins, finishing with 29-13 and 29-11 marks, respectively.
Achong placed No. 42 nationally in singles and, alongside Richardson, sixth in doubles. She primarily played at the No. 2 singles spot and capped 2021-22 with four top-25 victories to go along with a 12-1 ACC record.
In doubles, Achong and Richardson reached the NCAA Doubles Championship title match, becoming the third Miami pair to make the final. They went 11-5 versus ranked foes, including 5-3 against top-15 pairs, notching three top-10 triumphs.
Richardson, who hails from Bath, England, played atop the singles lineup in nearly every match this spring and took the No. 46 spot in the year-end rankings. She went 19-15 overall, including 3-3 against top-10 players, with a straight-set road win the over newly-minted ACC Player of the Year, Emma Navarro.
A sophomore from Gauting, Germany, Pfennig earned Second Team All-ACC honors last year and has now picked up all-league distinction in consecutive seasons. She turned in a 23-15 record in singles, including an excellent 17-4 ledger in dual matches, all in the top half of the lineup.
In addition to logging seven ranked singles wins and finishing No. 88 in the country, Pfennig notched a strong 18-11 record in doubles competition. She went 13-6 in the spring, including 4-1 in ACC action.
The complete list of All-ACC honorees can be found HERE.
To keep up with the University of Miami women's tennis team on social media, follow @CanesWTennis on Twitter, Instagram and Facebook.