University of Miami Athletics
Eden Richardson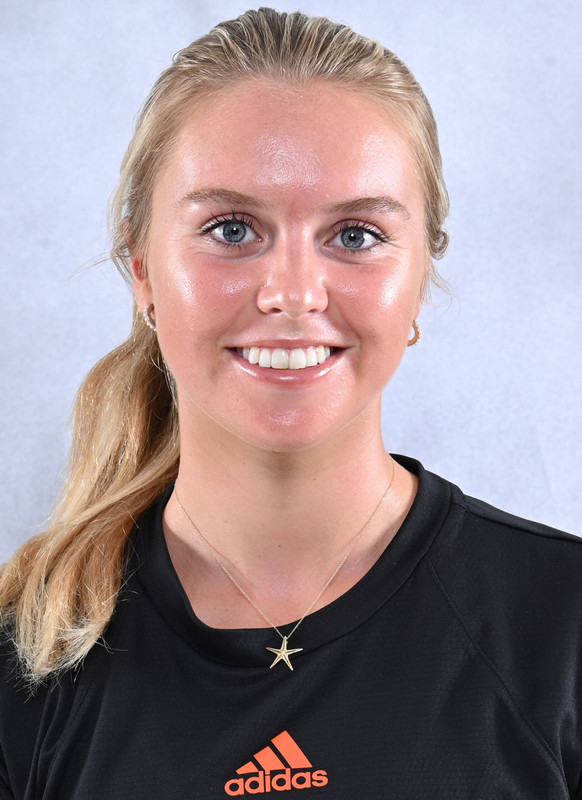 As a Fifth-Year Senior (2021-22): NCAA Doubles Championship runner-up … ITA All-American (doubles) … ITA Collegiate All-Star Team … First Team All-ACC … All-ACC Academic Team … Two-time ACC Player of the Week (1/18, 3/22) … ITA Scholar-Athlete
Finished 19-16 in singles and 29-11 in doubles … Made the third NCAA Doubles Championship finals appearance in program history, alongside Daevenia Achong, and the first since 1988 … Became the 24th player to make multiple NCAA Doubles Championship finals, including the first to do so at two schools and the third to do so twice as an unseeded player … Played in the NCAA Singles Championship … Part of Miami's first ITA Collegiate All-Star Team doubles duo since 2006 … Ascended as high as No. 37 in the ITA singles rankings and finished No. 46 … Finished, alongside Achong, sixth in the ITA doubles rankings, the top mark by a Miami tandem since 2014 …  Ended the year seventh in the ITA Southeast Region in singles and, alongside Achong, first in doubles, becoming the first Miami duo to do so since 2011 … Finished 5-11 against ranked singles players, including 3-3 versus top-10 foes … Went 11-5 against ranked doubles duos, including 8-5 against the top 40, 5-3 versus the top 15 and 3-3 against the top 10 … Co-led the team in ranked doubles victories, overall doubles victories, doubles winning percentage (.725), spring doubles victories (21), spring doubles winning percentage (.724), dual match doubles victories (15) and ACC doubles victories (eight) … Placed second in combined singles/doubles victories (48) and combined singles/doubles ranked victories (16), tied for second in dual match doubles winning percentage (.682), finished third in ranked singles victories and tied for third in ACC doubles winning percentage (.615) … Went 12-12 in spring singles competition, including 10-10 in dual matches and 6-6 in ACC action, while playing almost exclusively atop the lineup … In the Miami Spring Invite, beat eighth-ranked Jaeda Daniel of NC State, 2-6, 6-4, 6-4 … Beat No. 109 Cristina Mayorova of Clemson, 7-6 (7-2), 7-6 (7-2) … Took down No. 44 Carolyn Campana, 6-3, 4-6, 6-3, at No. 15 Wake Forest … Stunned fifth-ranked Emma Navarro, the reigning NCAA champion and eventual ACC Player of the Year, 6-3, 6-3, at No. 11 Virginia, handing the top-200 WTA player her second collegiate loss and first of 2021-22 … Knocked off eighth-ranked Chloe Beck, who was previously unbeaten in 2022 dual matches, of fifth-ranked Duke, 6-1, 7-5, in the ACC Championship semifinals … Topped Evgeniya Levashova of No. 21 UCF, 7-6 (7-3), 6-1, in the NCAA Team Championship Round of 32 … Finished 21-8 in spring doubles action, including 15-7 in dual matches and 8-5 in ACC play, while competing exclusively atop the lineup alongside Achong … Went 6-0 in first eight matches and 10-2 in last 12, including 7-1 in final nine … Won both matches in the Miami Spring Invite, posting a 6-3 triumph over Kylie Collins/Peyton Stearns of the eventual NCAA champion, Texas, and downing NC State's Amelia Racjeki/Abigail Rencheli, 6-3 … Logged a 6-0 decision against Tatsiana Sasnouskaya/Alesya Yakubovich of No. 17 Old Dominion … Took down sixth-ranked Anna Brylin/Brooke Killingsworth at No. 15 Wake Forest, 6-4 … Defeated Anna Arkadianou/Petra Hule of No. 61 Florida State, 6-4 … Posted a 6-4 victory against No. 75 Margaryta Bilokin/Eliza Omirou of No. 10 Duke … Won, 6-0, versus No. 86 Shiori Ito/Sofya Treshcheva of No. 71 Syracuse … Earned a 6-2 triumph against No. 37 Marice Aguiar/Laura Lopez of Boston College … Beat No. 31 Karolina Berankova/Georgia Drummy of fifth-ranked Duke, 6-3, in the ACC Championship semifinals … Opened the NCAA Team Championship with a 6-1 result against Alanna DiFrancesco/Elodie Foster of No. 61 Stetson … Tallied a 6-3 win over No. 48 Evgeniya Levashova/Marie Mattel of No. 21 UCF in the NCAA Round of 32 … Started the NCAA Doubles Championship with a first-round victory over No. 34 Julia Adams/Ellie Schoppe of Furman, 6-2, 7-5 … Upset second-ranked and second-seeded Fiona Crawley/Elizabeth Scotty of North Carolina, the latter a reigning national champion, with a 6-4, 6-1 showing in the NCAA Round of 16 … Edged No. 11 Peyton Stearns/Allura Zamarripa of Texas, the latter the eventual NCAA singles champion, by a 7-6 (7-3), 5-7, 1-0 (10-5) margin to earn the fifth NCAA Doubles Championship semifinal berth in Miami history … Topped No. 12 Ayumi Miyamoto/Lisa Marie Rioux of Oklahoma State, 7-6 (7-5), 6-2, in the NCAA Final Four … Registered a 7-4 mark in fall singles competition … Went 2-2 in the Fall Ranked Spotlight, posting a 6-1, 6-2 decision against Tennessee's Eleonara Molinaro and a 5-7, 6-3, 6-3 result versus South Carolina's Allie Gretkowski … Notched a 1-2 record at the June Stewart Invitational … Went 1-1 at the ITA Southeast Regional Championship, defeating UCF's Jaleesa Leslie, 6-1, 5-7, 4-1, ret. … Finished 1-1 in the Miami Fall Invite … Amassed an 8-3 ledger in fall doubles play, all with Achong … Compiled a 2-1 record at the Fall Ranked Spotlight, defeating Tennessee's Tenika McGiffin/Eleonara Molinaro, 6-2, and Ohio State's Luna Dormet/Lucia Marzal, 6-4 … Logged a perfect 3-0 mark at the June Stewart Invitational, including downing ninth-ranked Anna Ross/Holly Staff of host Vanderbilt, 6-2 … Went 2-1 in the ITA Southeast Regional Championships, edging Georgia Tech's Kylie Bilchev/Ava Hrastar, 8-6, to reach the quarterfinals … Posted a 1-1 mark in the Miami Fall Invite.
LSU Highlights (2017-21): 2018 NCAA Doubles Championship title winner … Two-time ITA All-American (2019 singles & 2018 doubles ) … 2018 ITA Collegiate All-Star Team … 2018 ITA Southern Region Rookie of the Year … Two-time First Team All-SEC (2018 & 2019) … 2018 SEC All-Freshman Team … Two-time LSWA Player of the Year (2018 & 2019) … 2018 LSWA Freshman of the Year … Three-time First Team All-LSWA (2018, 2019 & 2020)
Prior to College: Ascended as high as No. 130 in the ITF Juniors rankings … Defeated two players with a top-40 ranking, Morgan Coppoc and Lara Escauriza … Competed in the Junior Wimbledon main draw thrice (2014-16) in doubles and once in singles (2016) … Won the British U16 national title in 2014 … Represented her homeland at the 2016 Junior Fed Cup in Bari, Italy.
Personal: Full name is Eden Holly Richardson … Born Sept. 3, 1998 …. Parents are Michael Richardson and Lesley Jones … Does not have any siblings … Earned a degree from LSU in May 2021 after majoring in sport administration with a minor in business … Enrolled in Miami's sport administration master's program … Favorite athlete is Serena Williams because of her mentality and commitment to playing her game, as well as her unique fashion style … Best sports memory is winning the title 2018 NCAA Doubles Championship … Chose Miami because of the campus, the city, the prospect of having a great last season and earning a top-level sport administration master's degree … Committed to Miami over Boston College, Georgia and Loyola Marymount.
SINGLES
YEAR
TOTAL
FALL
SPRING
DUAL
CONF
*RNK
2017-18!
28-6
10-3
18-3
18-2
7-0
4-5
2018-19!
22-12
9-2
13-10
13-9
8-3
8-10
2019-20!
14-6
4-5
10-1
10-1
3-0
1-2
2020-21!
9-12
2-4
7-8
7-8
3-6
0-2
2021-22
19-16
7-4
12-12
10-10
6-6
5-11
CAREER
92-52
32-18
60-34
58-30
27-15
18-30
DOUBLES
YEAR
TOTAL
FALL
SPRING
DUAL
CONF
*RNK
2017-18!
24-11
6-4
18-7
13-7
6-3
8-4
2018-19!
21-8
9-1
12-7
12-6
5-4
5-6
2019-20!
17-8
8-5
9-3
9-3
3-1
3-2
2020-21!
10-14
2-5
8-9
8-9
4-7
2-3
2021-22
29-11
8-3
21-8
15-7
8-5
11-5
CAREER
101-52
33-18
68-34
57-32
26-20
29-20
! = at Louisiana State University
*RNK = record vs. ranked opponents