Step up, Execute and Play to Win
CORAL GABLES, Fla. – The University of Miami women's tennis team turned in a splendid showing this past weekend in the Old Dominion State.
The Hurricanes earned a 6-1 road win Friday over Virginia Tech in Blacksburg, Va., and then matched that result Sunday against No. 11 Virginia in Charlottesville, Va.
Ninth-ranked Miami (11-2, 6-1 ACC) proved it is a force to be reckoned with on a national level as it continued its excellent campaign and, in turn, its ascent up the national rankings. Head coach Paige Yaroshuk-Tews, though, is most impressed with the mentality her team continues to show.
"Again, I think I'm just so impressed with their poise, their calmness," she said. "We're not sensing them [being] any different on match day. They're having fun, they're trusting one another and they're bringing the best versions of themselves to the court. So, it's nice to see."
Of the Hurricanes' 10 singles victories this weekend, there is no doubt which one stood out the most and it belonged to fifth-year senior Eden Richardson.
An LSU transfer in her first year at Miami, Richardson posted one of the most impressive victories in the program's stellar history. Then ranked No. 56, Richardson tallied a straight-set triumph over then-fifth-ranked Emma Navarro, 6-3, 6-3.
The reigning NCAA champion, Navarro is a top-200 player in the WTA rankings. She had just one prior loss in her college career and entered Sunday on a 22-match winning streak since falling to another Hurricane, Estela Perez-Somarriba, on April 4, 2021, in Coral Gables, Fla.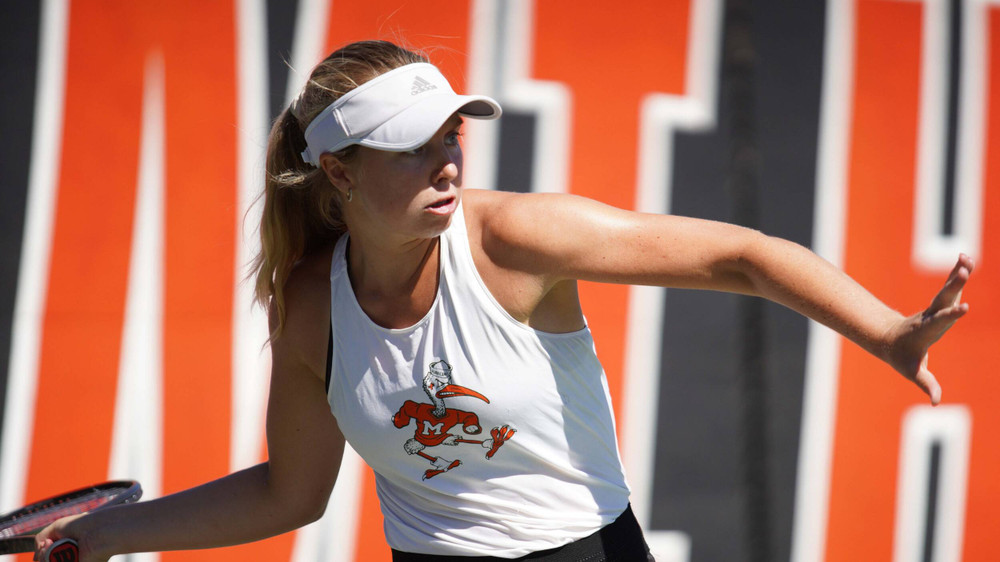 "One of Eden's strengths is her quickness. She's very quick around the court. She kind of keeps the court small, she stays up on the baseline," Yaroshuk-Tews said. "I think she played a type of game that Emma didn't love. She was able to bring Emma in. I've coached against Emma two other times with Stela, who has different strengths and weaknesses than Eden, of course. But one of Eden's strengths is she has the ability to draw somebody forward and another strength is that she likes going forward, she likes playing the net.
"And I think another strength [in this match was] that she came in as such an underdog that, you know, sometimes you can sneak up on people and surprise them," she continued. "Look, it's easy to get in those matches and compete, right? It's not easy to execute the match and get the 'W.' So, for Eden to just stay calm and posed and just stay in her lane and get the job done was huge."
Richardson earned ACC Player of the Week accolades and jumped to No. 42 in the singles rankings following her big victory over Navarro.
Meanwhile, fourth-year junior Daevenia Achong moved up six spots to No. 52 in the country and sophomore Isabella Pfennig jumped all the way from No. 112 to No. 64, a 48-spot increase.
In doubles, Achong and Richardson made a slight drop and now hold the No. 20 position. Meanwhile, third-year sophomores Diana Khodan and Maya Tahan vaulted 10 places and now check in at No. 62 nationally.
The Hurricanes will see numerous ranked players and pairs on the other side of the net this coming weekend when they play two fellow top-10 teams in Coral Gables. Miami will host top-ranked North Carolina and No. 10 Duke at the Neil Schiff Tennis Center, the first Friday at 5 p.m. and the latter Sunday at 11 a.m.
Miami, North Carolina and Duke are three of the four highest-ranked teams in the ACC, which is annually one of the best leagues in the nation. The talent will be on full display this weekend and the Hurricanes will have another opportunity to show their caliber.
"What an amazing accomplishment for our conference; we've got [four teams] in the top 10 and three are going to be beating the heck out of each other. May the best team win," Yaroshuk-Tews said. "I think we've got a shot in both matches. We're obviously the lower-ranked team [one of the] matches, but playing on your home turf and playing in front of your home crowd, I think, means something. So, I think the girls are excited. I think that's the best way to say it. I don't think we feel like we have anything to prove; they feel like they're playing like a top team and they're excited to see if we can go get [one or two] more."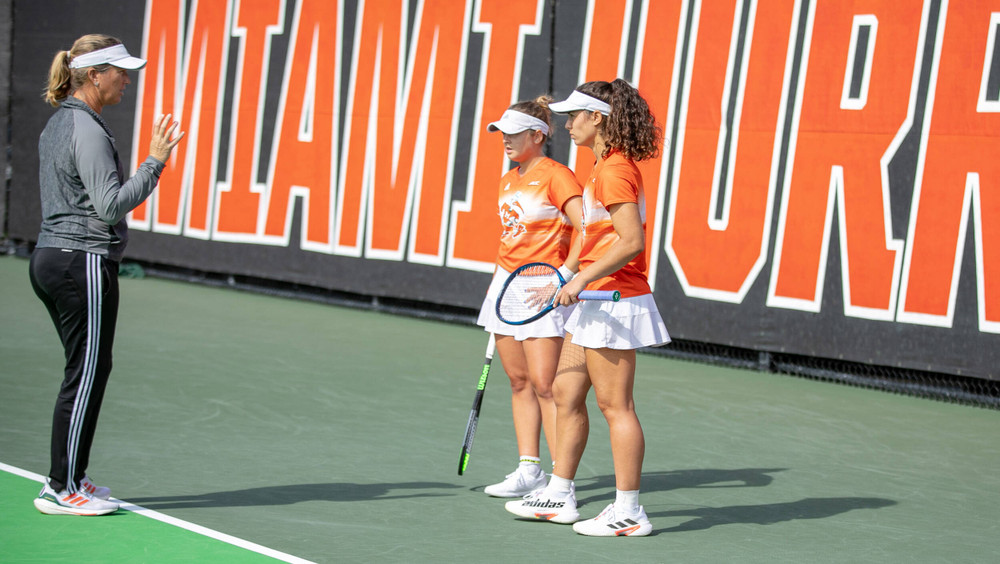 North Carolina heads into the weekend at a perfect 17-0 (6-0 ACC) on the year, dropping more than one point in only two matches. It features five ranked singles players, all in the top 35, with three in the top 15. The team also has three ranked doubles duos, including the top pair in the country.
Reilly Tran leads the singles group at No. 10 overall, followed by Cameron Morra at No. 12, Elizabeth Scotty at No. 16, Carson Tanguilig at No. 33 and Fiona Crawley at No. 34. Crawley and Scotty sit atop the ITA doubles list, with Tran and Alle Sanford at No. 39, then Crawley and Tran at No. 71.
Miami is 14-19 all-time versus North Carolina, but it owns a winning 6-5 record on its home court in the series. The Tar Heels earned a 7-0 win on March 6, 2021, in Chapel Hill, N.C. in the teams' last meeting, en route to reaching the NCAA Final Four and finishing 30-1 (13-0 ACC) on the year.
"We expect just to see relentless play. They have an ability to just make balls," Yaroshuk-Tews said of the 2022 Tar Heels. "At the top of the lineup, they have to ability to put balls away, as well. But for the most part, they kind of lull you to sleep a little bit in some positions. They really do. And I don't say that with disrespect; I say that with a lot of respect. They're relentless and the balls keep coming back. We just can't wait to start playing tennis at two-all or three-all and walk back and look at each other and go, 'Wow, we can do this.' We've got to expect it from point one."
The Blue Devils, meanwhile enter the weekend at 11-1 (6-0 ACC) on the year after winning eight consecutive matches. Duke has three ranked singles players, with two in the top 20, and three ranked doubles pairs.
Chloe Beck places seventh nationally in singles, with Georgia Drummy at No. 20 and Emma Jackson at No. 89. Beck and Margaryta Biolkin form the team's top-ranked doubles tandem, checking in at No. 65, while Bilokin and Eliza Omirou hold then No. 75 spot, followed by Drummy and Karolina Berankova at No. 80.
The Hurricanes sport a 12-19 all-time ledger against Duke, including a 6-6 mark at home. The Blue Devils took each of the last two meetings by a 4-3 final score, most recently on March 7, 2021, in Durham, N.C.
"Duke is always very talented. They play very good doubles. They've got a talented player in Drummy at one," Yaroshuk-Tews shared. "All these teams are so similar with a few just finite differences, maybe a strength here or there. I think we're all pretty darn close and it just kind of comes down to who's going to show up that day, step up, try to execute, do what they know how to do and play to win."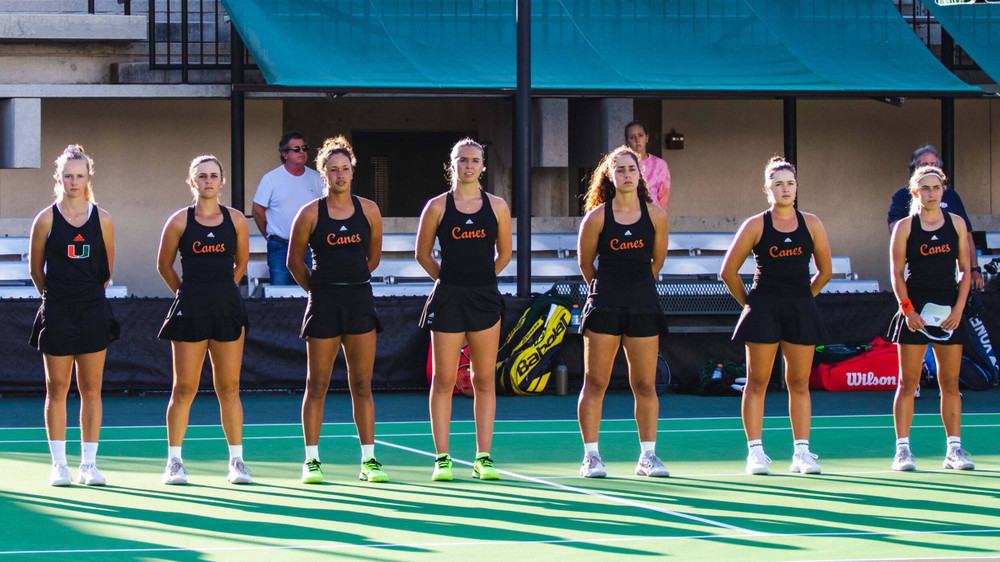 The first 50 fans at Friday's match will receive free pizza, while all women's tennis alumni at Sunday's match will receive a free adidas t-shirt.
Live stats for the Hurricanes' contest against the Tar Heels can be found HERE, while live stats for the outing versus the Blue Devils will be available HERE.
To keep up with the University of Miami women's tennis team on social media, follow @CanesWTennis on Twitter, Instagram and Facebook.