Achong and Richardson Fall in NCAA Doubles Final
URBANA, Ill. – Daevenia Achong and Eden Richardson of the University of Miami women's tennis team came up one match short of a national title.
After an incredible run to the NCAA Doubles Championship final that included beating three higher-ranked teams, the Hurricane duo dropped a 2-6, 5-7 decision to the country's top-ranked and top-seeded tandem, Jaeda Daniel and Nell Miller of NC State.
The third pair in program history to reach the title match, including the first since 1988, No. 13-ranked Achong and Richardson turned in a tremendous week at the University of Illinois' Khan Outdoor Tennis Complex to cap one of the finest seasons ever by a Miami pair.
"I saw an NC State team come out and just [play] pretty much perfect. I mean, they were pretty perfect at the beginning of the match," Miami head coach Paige Yaroshuk-Tews said." I think it put us on our back toes a little bit. You're in a big moment, playing a team that's playing aggressive and not really missing at all. I think it took them a little while to recover from that. I have to give credit to NC State; they played great tennis."
Daniel and Miller, who earned a 6-4 win over Achong and Richardson on March 6 in Raleigh, N.C., opened the match with seven straight points, en route to a 2-0 lead. The Hurricanes then held to get on the board.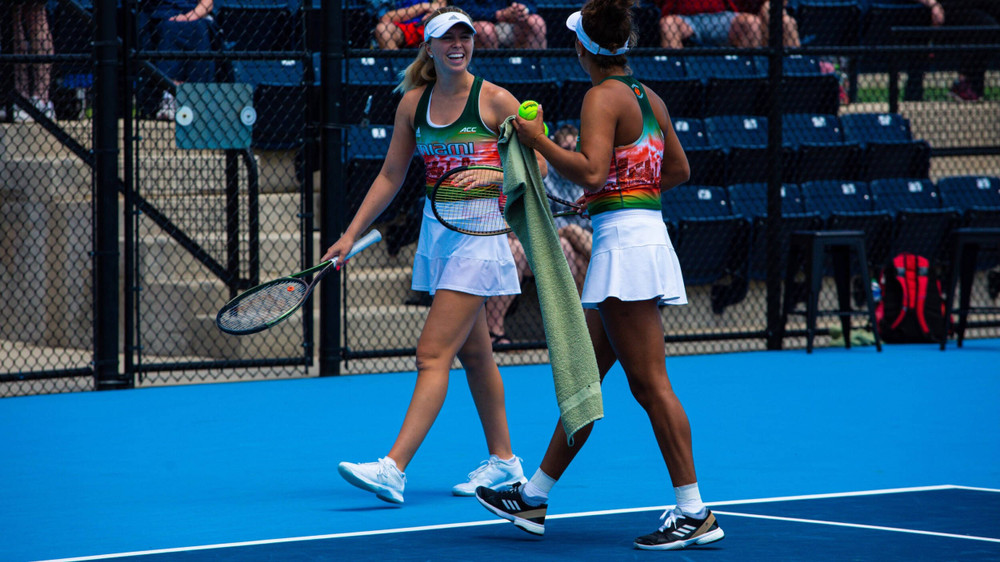 Each of the next three games went to the Wolfpack, putting Miami at a 1-5 disadvantage. NC State had a set point in the next game, but Achong, a fourth-year junior, and Richardson, a fifth-year senior, fought it off at deuce. Daniel and Miller, though, held in the next game to win the opener, 6-2.
NC State broke at deuce to start the second set and then consolidated to take a 2-0 lead. Miami countered by holding at love and the Wolfpack responded with another hold to take a 3-1 edge.
After that, the Hurricanes began to shift momentum, taking four of the next five games, including a break at deuce to level the set at 3-3. Even after NC State broke back at deuce, Miami won consecutive games to go in front, 5-4, in the second set.
NC State, however, did not lose a game the rest of the way, taking each of the final three to claim the set and win the national championship with a 6-2, 7-5 decision.
"We changed our formations a little bit; we stepped back. We saw that we were just targets at the net and it wasn't working for us and it was working for them," Yaroshuk-Tews said of the second set. "We made that adjustment and it worked there for a while, and then they made another adjustment and we didn't really recover from that one. So, we did something well and then they did something a little bit better."
Achong and Richardson, who made the third consecutive appearance in an NCAA final by a Miami player or pair, ended their stellar 2021-22 campaign at 29-11, including 21-8 this spring. They went 15-7 in dual matches, all atop the lineup.
In addition, the duo finished 11-5 versus ranked foes, including 5-3 against top-15 tandems. That includes three top-10 triumphs, one over second-ranked Fiona Crawley and Elizabeth Scotty, the latter a defending national champion, in the NCAA Doubles Championship Round of 16.
The 29 victories for Achong and Richardson are the most by any Miami player since 2013-14 when Monique Albuquerque went 32-8 and Clementina Riobueno went 30-8. The prior high since then was a 26-11 mark by Wendy Zhang in 2016, when she joined Stephanie Wagner to form Miami's most recent ITA All-American doubles pair.
By reaching the national championship match, Achong and Richardson will not only earn ITA All-America status, but also be part of the prestigious ITA All-Star Team. They will be the fifth and sixth individuals—seventh and eighth total honors—to do so during Yaroshuk-Tews' illustrious 21-year tenure as head coach, including the first doubles duo to make the cut since Audra Cohen and Melissa Applebaum in 2006.
"I'm just so proud of them. I'm proud of the success they've had," Yaroshuk-Tews said. "I'm proud of their seasons in singles and doubles, [as well as] just as people. I think they have a little sour taste in their mouths, but they have a lot to be proud of and we're, obviously, very proud of them."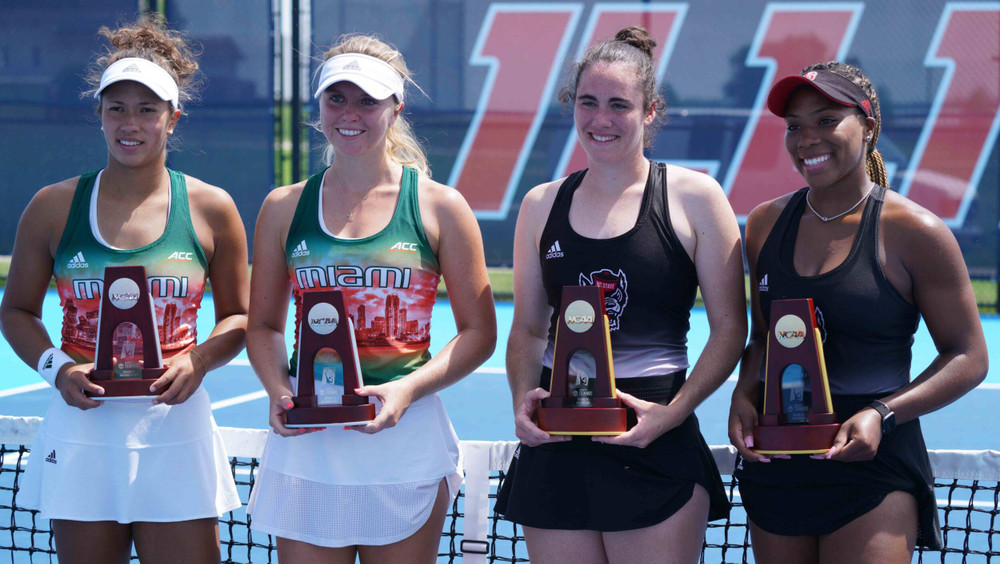 For Richardson, Saturday marked the end of a tremendous college career which she capped by becoming just the 24th two-time NCAA Doubles Championship finalist ever, including the first to do so at two different schools. The 2018 national champion and a soon-to-be three-time ITA All-American, Richardson registered 193 total victories, as she finished 92-52 in singles and 101-52 in doubles.
The Bath, England, native, whose 29 doubles triumphs this year were her most in a season, logged 47 ranked victories in her career, with 18 in singles and 29 in doubles.
Meanwhile, Achong, who hails from Geleen, Netherlands, will return to Miami next year for her final season of eligibility.
For more information on the NCAA championships, including final brackets, visit the tournament homepage HERE.
To keep up with the University of Miami women's tennis team on social media, follow @CanesWTennis on Twitter, Instagram and Facebook.
SATURDAY RESULT
NCAA Doubles Championship Final
No. 1 [1] Jaeda Daniel/Nell Miller (ST) def. No. 13 Daevenia Achong/Eden Richardson (UM), 6-2, 7-5