FINAL FOUR! Achong and Richardson Earn NCAA Semifinal Berth
URBANA, Ill. – For the first time since 1988, a University of Miami women's tennis duo is headed to the NCAA Doubles Championship Final Four.
After over two-and-a-half hours, including a 29-minute weather delay that shifted play indoors during the second set, fourth-year junior Daevenia Achong and fifth-year Eden Richardson earned a 7-6 (7-3), 5-7, 1-0 (10-5) triumph to clinch their spot in the finals.
The Miami duo, ranked No. 13, defeated No. 11 Peyton Stearns and Allura Zamarripa of Texas, the NCAA team national champion. The Hurricanes have now sent a player or pair to the Final Four in six of the past seven NCAA tournaments.
"I thought we were pretty incredible," Miami head coach Paige Yaroshuk-Tews said. "We were attacking returns, we were shutting down the middle, we were using the lob and line when we had to. I think, tennis-wise, we looked great."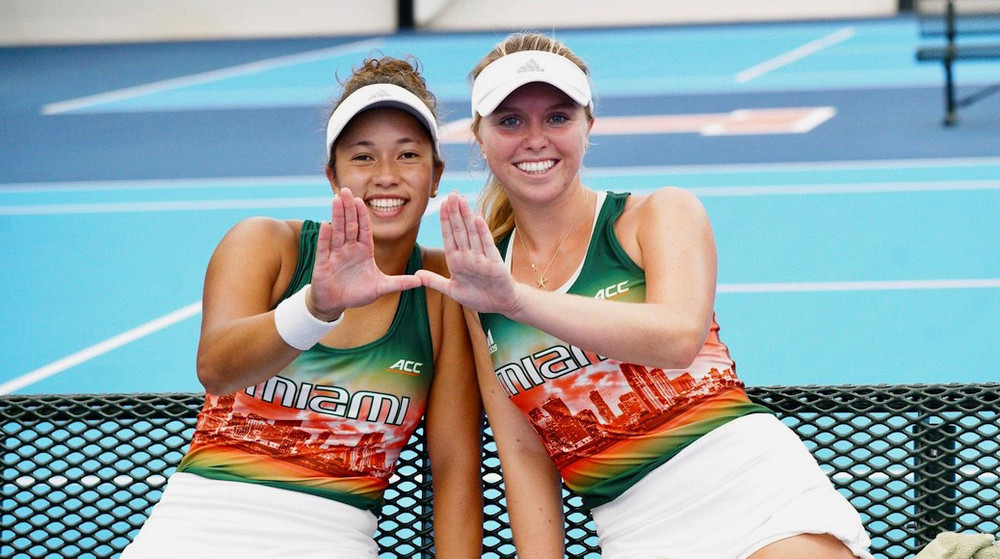 As was the case in the Round of 16, the match started with four straight breaks—both that went Miami's way came at deuce—and then two holds. This time, though, the next two games were also holds and the score sat at 4-4.
The Longhorns, whose pair included the last two NCAA Team Championship Most Outstanding Players, took a 5-4 lead with a break at deuce. In that game, Miami rallied from a 0-40 deficit to pull even, but double-faulted on the deciding point.
The Hurricanes, though, would not be deterred, breaking back and then consolidating to go ahead, 6-5. Texas then countered with a hold to force a tiebreaker, in which Miami took the first three points.
That quickly became a 5-2 lead and then, after exchanging points, a 6-3 margin. Texas then double-faulted to give the tiebreaker to Miami, 7-3.
Achong and Richardson continued their strong play in the second set, opening with a break at love and then holding to take a 2-0 edge. That gave the tandem four the last five games and, it seemed, control of the match.
However, after rain forced play inside, the Longhorns began to regroup. Stearns and Zamarripa took three games in a row, including holding twice at deuce to go in front, 3-2. Miami answered with a hold at deuce of its own to pull level at 3-3.
Texas then charged a head, 5-3, but Achong and Richardson would not go away. They evened the score at 5-5 without even facing a set point, then went ahead 30-40 in the 11th game. Texas recovered to hold and followed it with a break to win the second set, 7-5.
"I think the first game when we went inside, we actually looked pretty good receiving. We had opportunities to go up 3-0. It didn't go our way. I think that we were one step slow," Yaroshuk-Tews said. "They started stepping up on the baseline and cracking balls, especially picking on the net player. We were kind of one step slow to them. I just kept trying to tell the girls, 'Keep going after it. It's going to go our way. We've got to keep going after it.'"
In the 10-point super-tiebreaker, Miami took command from the jump. The Hurricanes raced out to a 5-1 lead at the first changeover and then, after back-to-back Texas points, extended that margin to 8-3.
The Longhorns won consecutive points to make it 8-5, but Miami closed it out shortly thereafter, on the first match point of the night, to take a 7-6 (7-3), 5-7, 1-0 (10-5) decision.
"To lose the second set and come out and play the way we did at the beginning of the tiebreaker, I think was incredible," Yaroshuk-Tews shared. "I think it just showed a ton of toughness and belief in themselves and their game. They were very coachable. We started poaching and making moves, and it changed the match."
Miami placed a tandem in the NCAA Doubles Championship semifinals each year from 1984 to 1988, but no Hurricanes have reached that milestone again until now. The last Hurricanes to make the Final Four in doubles were Ronni Reis and Jami Yonekura, who fell in the 1988 title match.
In addition, Achong and Richardson are just the fifth Miami duo, including the first since Paula Iversen and Mariette Verbruggen from 1991 to 1992, to log a total of three NCAA Doubles Championship wins.
For Richardson, this is the second semifinal appearance of her stellar career. The Bath, England, native won the title in 2018 alongside Jessica Golovin while at LSU. It is the first bid for Achong, whose lone prior appearance in the field was a first-round setback in 2019.
"Listen, I'm so happy for them. I'm so happy for the program," Yaroshuk-Tews said. "…These kids, they deserve it. They're great kids. They know what they're doing, they know how to play. They've had a very solid season and they've brought that tennis into the NCAA tournament. A lot of teams don't bring it into the tournament. I'm super happy."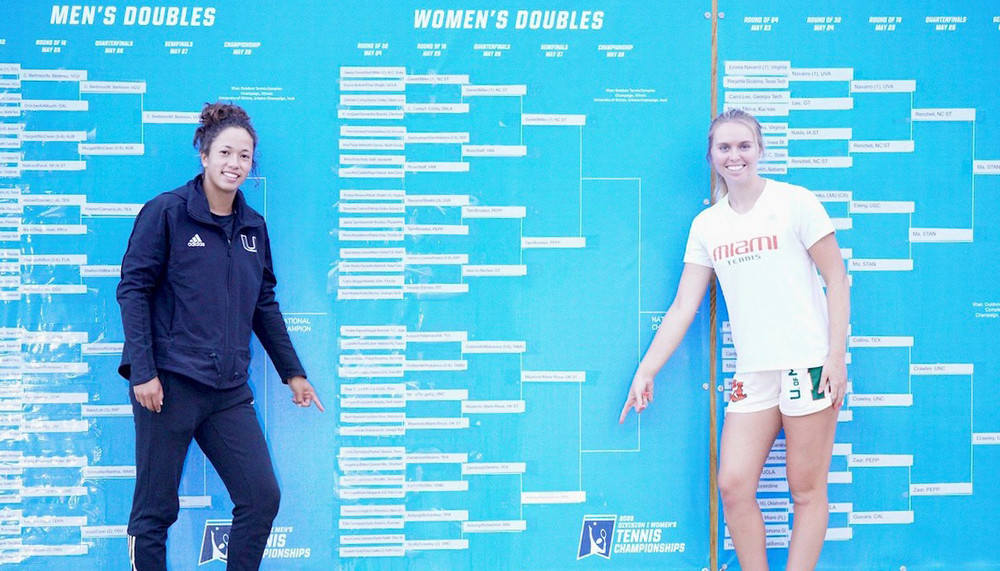 Following NCAA Singles Championship semifinals berths in 2015 (Stephanie Wagner), 2016 (Sinead Lohan), 2017 (Estela Perez-Somarriba), 2019 (national champion Perez-Somarriba) and 2021 (national runner-up Perez-Somarriba), Miami has now put a player or pair in the semifinals in all but 2018 over the last seven tournaments. No NCAA Championships were held in 2020 due to the COVID-19 pandemic.
Up next for Achong and Richardson is a matchup with No. 12 Ayumi Miyamoto and Lisa Marie Rioux of Oklahoma State. Action is slated for Friday at 4 p.m. ET at the Khan Outdoor Tennis Complex.
For more information on the NCAA championships, including schedules, brackets and live stats, visit the tournament homepage HERE.
To keep up with the University of Miami women's tennis team on social media, follow @CanesWTennis on Twitter, Instagram and Facebook.
THURSDAY RESULT
NCAA Doubles Championship Quarterfinals
No. 13 Daevenia Achong/Eden Richardson (UM) def. No. 11 Peyton Stearns/Allura Zamarripa (TX), 7-6 (7-3), 5-7, 1-0 (10-5)
FRIDAY SCHEDULE
NCAA Doubles Championship Semifinals
4 p.m. ET: No. 13 Daevenia Achong/Eden Richardson (UM) vs. No. 12 Ayumi Miyamoto/Lisa Marie Rioux (OKST)