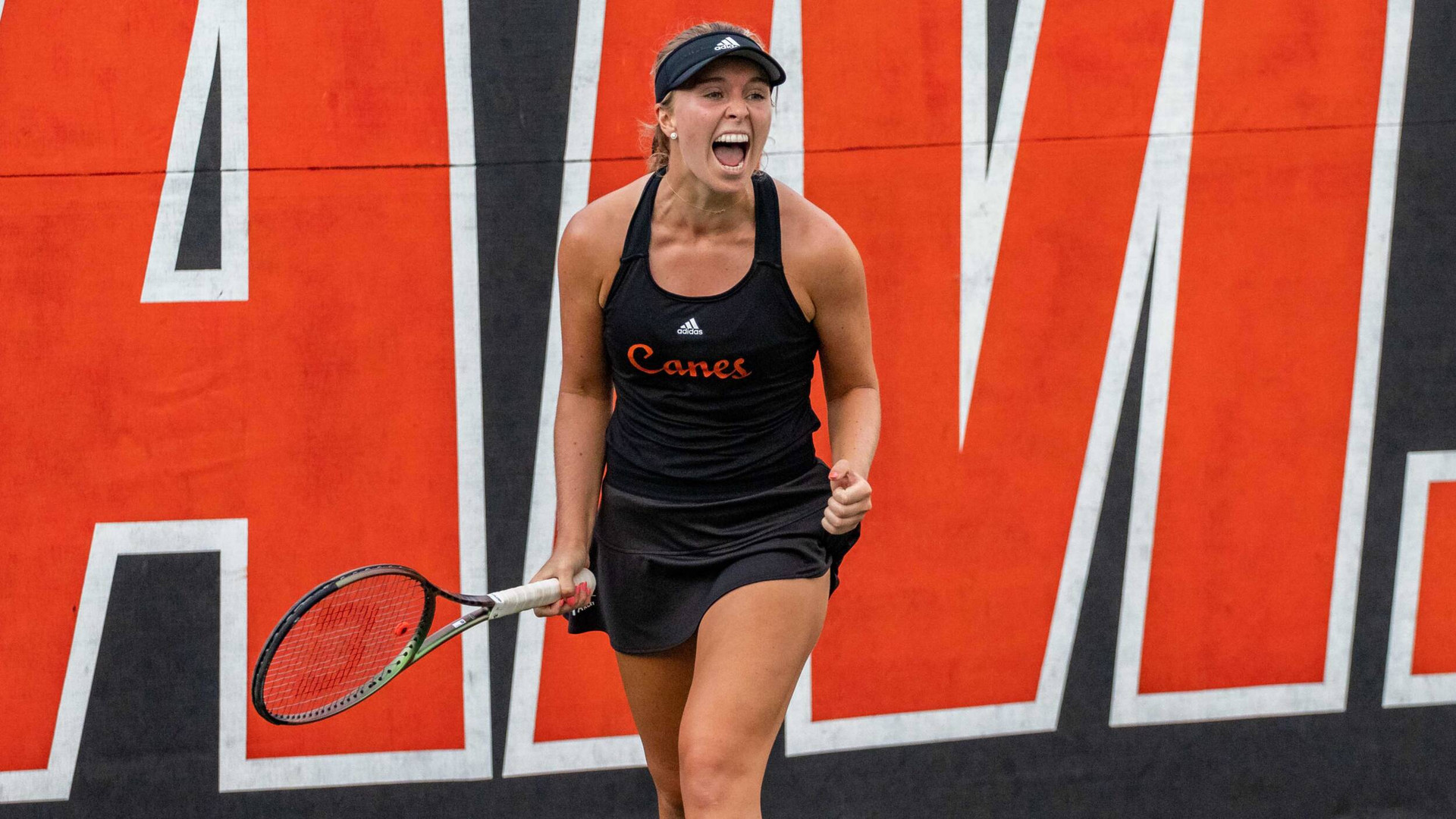 CORAL GABLES, Fla. – The University of Miami women's tennis team is headed into the final weekend of the regular season.
The Hurricanes have two matches left, both on their home court at the Neil Schiff Tennis Center. First, they play No. 71 Syracuse Friday at 5 p.m. and then they host Boston College Sunday at 11 a.m.
The latter contest will serve as Senior Day for fifth-year standout Eden Richardson, who will be recognized in advance of the match.
"It's pretty crazy how fast the season has gone, actually, and that we are at the last few matches of the regular season," she said. "But, I'm excited. I'd love to go out on a high note and go into the postseason on a high note. So, I'm excited more than anything. It is a bit crazy that it's nearly over, but all good things."
Richardson is in her first season at The U and has made a significant impact on the program. She played atop the lineup in both singles and doubles nearly all season.
The Bath, England, native is ranked No. 50 in singles and, alongside fourth-year junior Daevenia Achong, checks in at No. 28 in doubles.
A 2018 NCAA doubles champion at LSU, the Tigers did honor her last season as she wrapped up her fourth year there. However, Richardson knew she still had time left in her college career.
Heading into Sunday's ceremony at Miami, that is not the case.
"I think it will be a little bit surreal. On my last Senior Day, I knew that I was still going to be playing tennis for another year, but this time around, my tennis career is almost over," Richardson said. "Just the postseason matches [are left]. So, it's a little bit more [of a feeling that] you're going into the real world, so to say."
Although Richardson has not been at Miami for a long time, she has enjoyed her tenure as a Hurricane and knows The U will be a part of her life moving forward.
The connection among the people is what has really stood out to Richardson during her year in Coral Gables.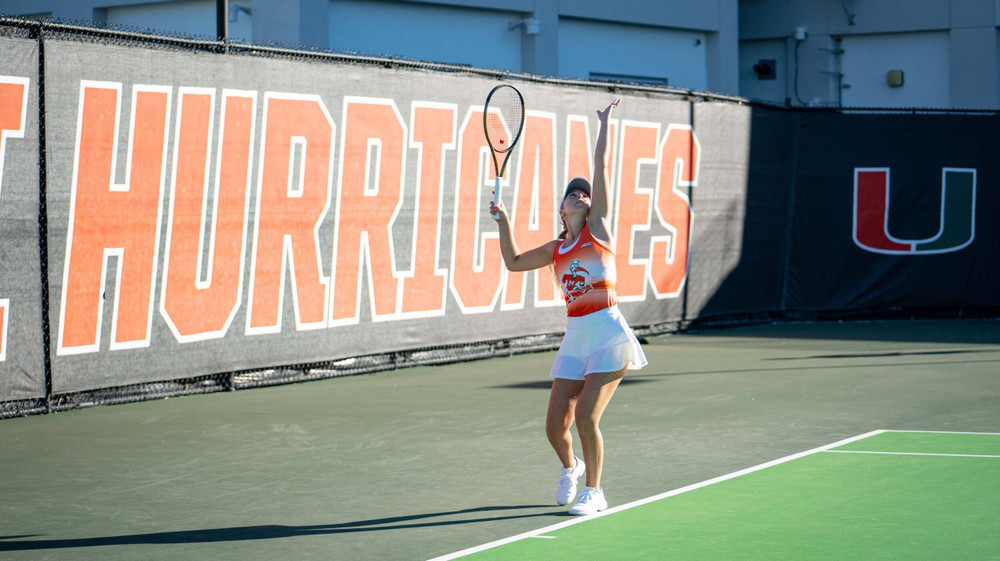 "Honestly, it's been amazing. I feel like everyone here is one big family, that's probably the biggest thing," Richardson shared. "I haven't been here that long, but it feels like I've been here much longer. These are people that I will keep in touch with forever, really."
While Richardson is looking forward to being honored on Senior Day, she knows there is much more on the docket this weekend. Miami (14-4, 8-3 ACC) is in search of two wins to close out its regular season slate.
The Hurricanes have some goals in front of them and a pair of victories this weekend would help move them in the direction of achieving them.
"Our eyes are still on hosting," Richardson said. "We want to be as high a seed as possible. If we can get to the top eight, that would be great. To do that, we really need to take care of business this weekend."
Ranked No. 14 in the country, Miami is still in position to host and still has a shot at finishing in that top eight.
It did, however, drop six spots in the rankings this week after an unexpected 5-2 setback last Friday at then-No. 44 Notre Dame. Nonetheless, the team quickly rebounded for a 7-0 sweep Sunday afternoon at Louisville.
That triumph—Miami's first shutout in ACC play this year—came after some good conversations following the defeat against the Fighting Irish.
"We did talk about it. We spoke as a team," Richardson said. "And then I had some good conversations with Paige and Alex on the bus to Louisville. I think that really helped me. And we talk as just a team, as well, without the coaches, about our goals and I think that's also important. We definitely spoke about it and how we can improve from that."
The 5-foot-7 right-hander also feels those discussions will be beneficial for the team not just in its last match, but for the remainder of the season.
"Yeah, for sure," she said. "You never want to lose, but if you are going to lose, it's best to learn from it, I think."
Richardson also knows the team cannot change its mindset heading into this weekend.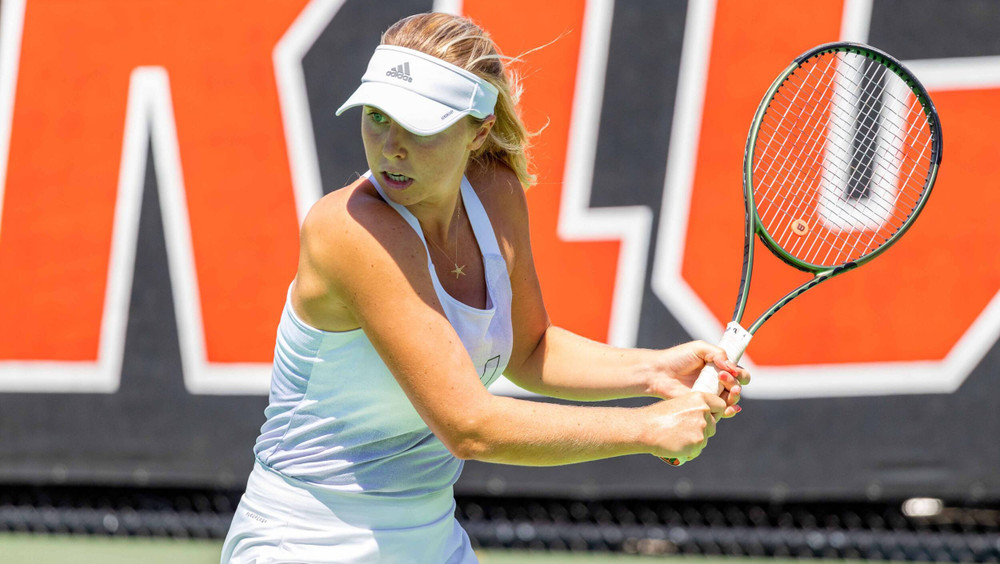 In fact, the Hurricanes are looking to see if they can pick up a couple more sweeps to conclude the regular season.
"I think we just go into it with how we have with all of our other matches," Richardson said. "We really want to win six or seven; we want all of them. We're going to get greedy and we want to get every point on every court."
Syracuse is 9-9 (3-8 ACC) on the season and is one of 11 ACC teams featured in the national rankings.
The Orange do not have any ranked singles players, but do have two ranked doubles duos. Miyuka Kimoto and Polina Kozyreva place No. 40, while Shiori Ito and Sofia Treshcheva come in at No. 86.
Miami is 12-1 all-time versus Syracuse, including an unblemished 8-0 at home. Most recently, the Hurricanes logged a 4-3 road victory on March 12, 2021.
Boston College, meanwhile, heads into the weekend at 8-10 (3-8) on the year after winning two of its last three outings.
The Eagles sport no ranked individuals, but do have a ranked tandem, with Maria Aguiar and Laura Lopez at No. 37.
Miami owns a 26-2 all-time mark against Boston College, including a perfect 18-0 leader at  home. In the last matchup, the Hurricanes tallied a 5-2 road triumph on March 14, 2021.
On the other hand, Miami has three players in the national singles rankings, with Achong at No. 31 and sophomore Isabella Pfennig at No. 80 joining Richardson. In doubles, third-year sophomores Diana Khodan and Maya Tahan place No. 59, alongside Achong and Richardson, giving the Hurricanes two ranked pairs.
Live stats for Friday's meeting with Syracuse can be found HERE, while live stats for Sunday's meeting with Boston College will be available HERE.
To keep up with the University of Miami women's tennis team on social media, follow @CanesWTennis on Twitter, Instagram and Facebook.